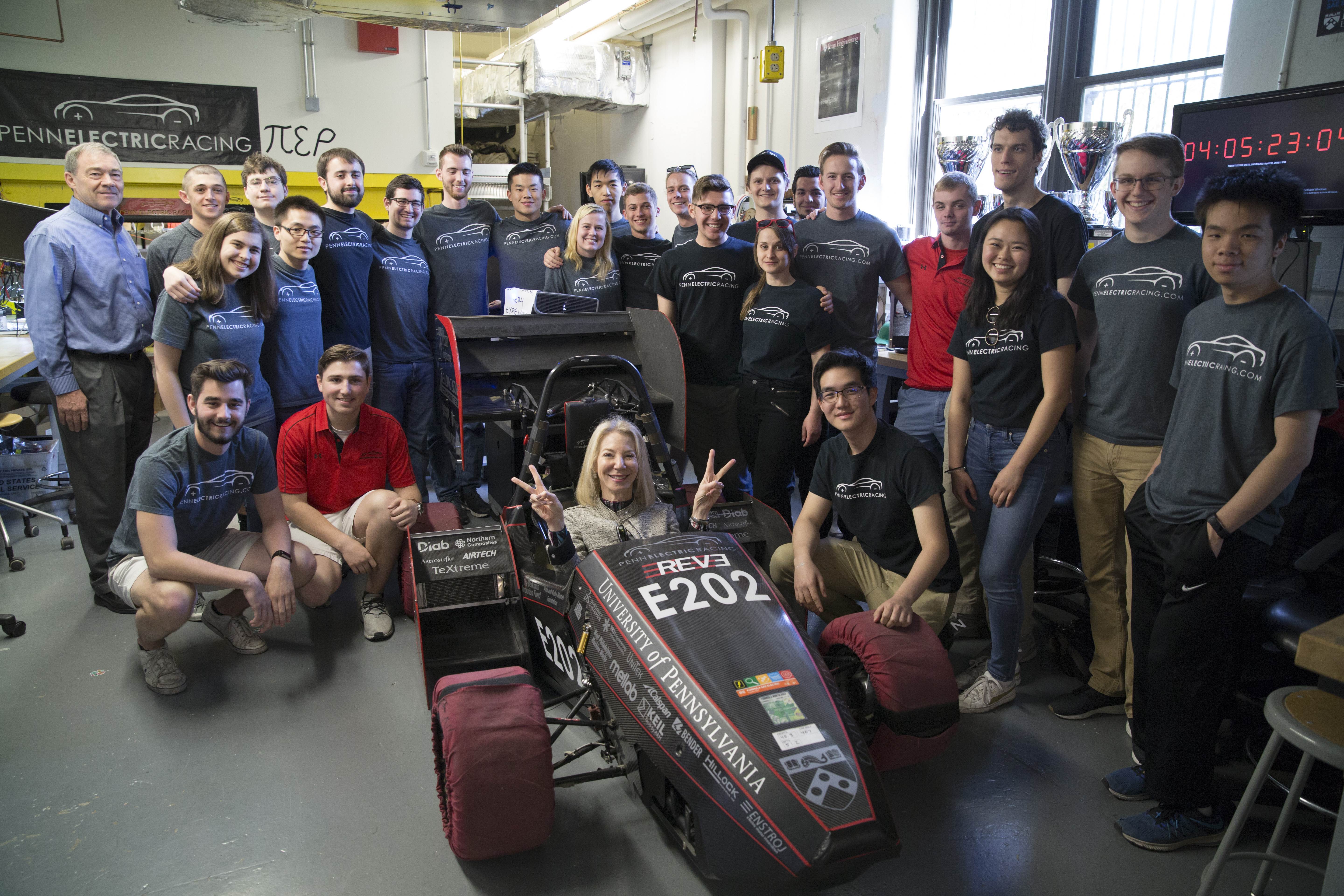 Imagine a future where electric cars rule the road, cutting emissions that contribute to both smog and climate change, simultaneously improving public health and shrinking ecological footprints. That's the future that the Penn Electric Racing (PER) team of about 60 students at the University of Pennsylvania is striving toward when they design and build electric speedsters to race in the Formula SAE Electric competition in Lincoln, Neb., each year.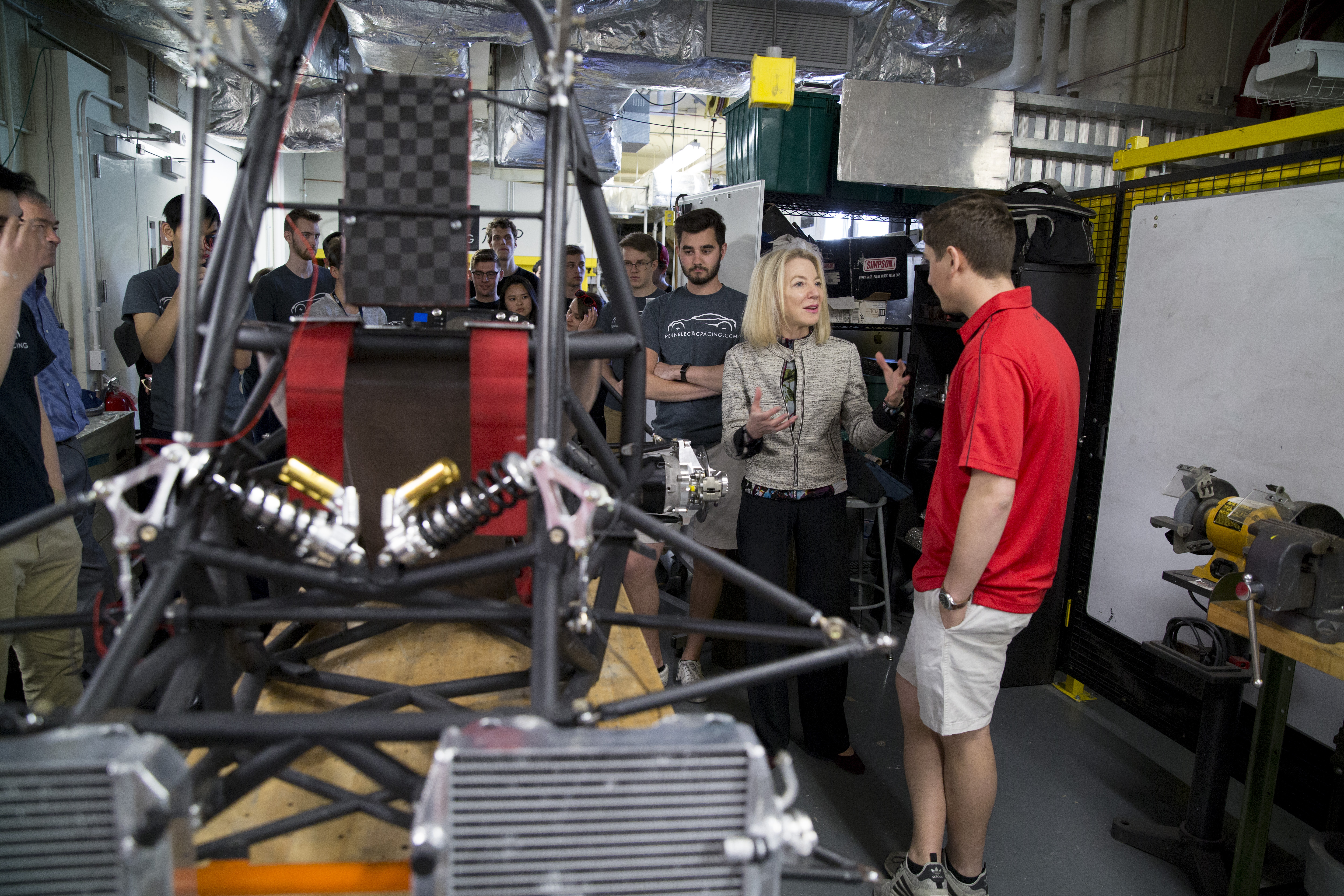 On April 26, Penn President Amy Gutmann paid the students a visit in their workshop to hear more about the club and its successes and congratulate the students on how far they've come. The students walked Gutmann through their design process and the anatomy of their team, showing her last year's award-winning car as well as the framework for this year's car, which features an innovative new design. 
Penn has a long history of participation in sustainable motor sports, starting with its solar car team in 1989, which designed hyper-efficient vehicles that could race across country on solar energy. In 2006, as technologies evolved, Penn began designing a new car called the Renegade, an electric dragster powered by lead acid batteries that competed in drag races. 
From 2011 to 2013, Penn participated in a project that challenged students to convert a Honda scooter that once ran on gas into an electric scooter. But it wasn't until 2013 that PER took its current form, when students designed REV0, an electric car that achieved speeds as high as 190 kilometers per hour. Since then, the students have designed and built three other electric cars and are currently in the process of building REV4, their fifth. 
In 2015, the students took home first place in the SAE Formula Competition with REV1. Although a mechanical failure in the powertrain during the endurance event prevented REV2 from winning first place in 2016 (it came in second), during the competition it set a record for fastest ever acceleration time, making it the quickest car in North America. In 2017, the team took home first place once again with REV3, both in the Formula SAE competition as well as the Formula North competition in Canada, in which they were competing for the first time.
REV4, which will compete in Formula SAE and Formula North in June, is going to be the students' first four-wheel drive car, with four separate motors integrated inside each of the rims. The students also completely redesigned the car's battery pack to be much higher performance both electrically and mechanically.
"REV4 is a super exciting car," said Connor Sendel, a Management & Technology student in mechanical engineering in the School of Engineering and Applied Science and in operations and entrepreneurship at the Wharton School. "If you looked at it, you wouldn't necessarily notice there were any major differences, but to accommodate the four-wheel drive design we pretty much had to redesign everything to because the architecture is so different."
Sendel is the co-captain and operations lead for PER, handling all of the non-engineering related aspects of the club, which include everything from sponsorship to project management and media.
Sendel pointed out that one of the most impressive aspects of the club is that it is almost entirely self-funded. In addition to grants from Engineering's activities funds, they have more than 50 sponsors that are supporting the team in a number of ways, both financially and through knowledge, discounts, facilities, and free parts.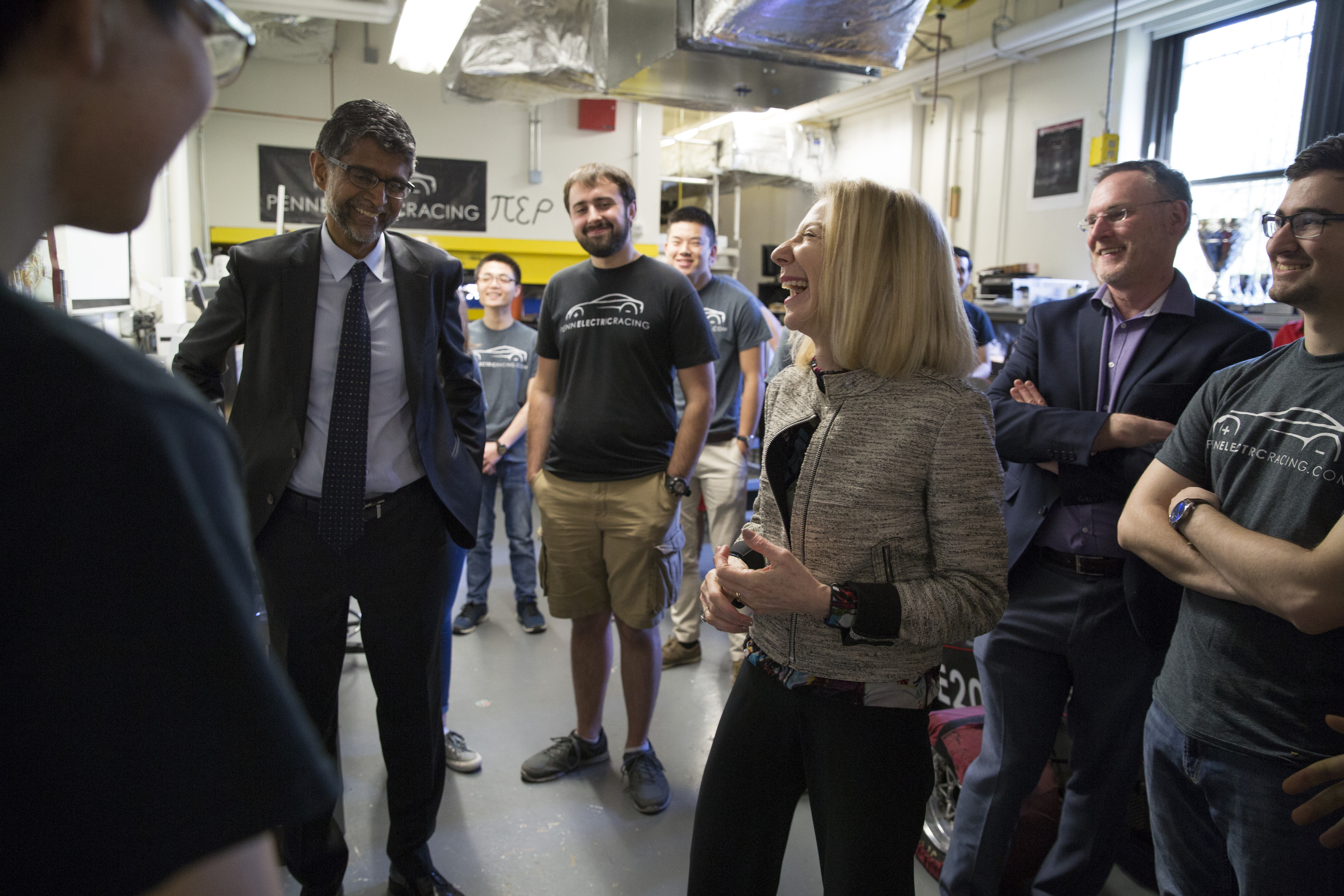 He added that the club gives him and other students the ability to work on involved, hands-on project before they graduate, an opportunity that might not present itself through typical coursework. 
"It's really important to have the experience of working on an interdisciplinary project," Sendel said. "It gives you the ability to apply some of the things you're learning in class and to learn even more things that you might not otherwise get exposure to. I've learned so much doing a real hands-on, full scale engineering project that I might not have learned in my classes, where I'm getting the background but not necessarily applying it to the real world. All the students on the team go on to land awesome internships because they have experience doing crazy projects like this, which really help them develop their skills."
Sendel explained to Gutmann that many of the team members have completed internships at auto companies, car companies, and tech companies, where they've learned methodologies for tackling design problems, testing and validating certain components, and using certain software packages. 
"This club," he said, "is the vehicle for applying all that knowledge that people are picking up and using it to build the best race car we can build."
Gutmann said she was particularly impressed by the amount of effort and teamwork that go into designing the cars.
"One genius won't do it," she said. "The team has to come first. If you can get a group of talented people with a diverse skill set to really work together, you'll win every time."