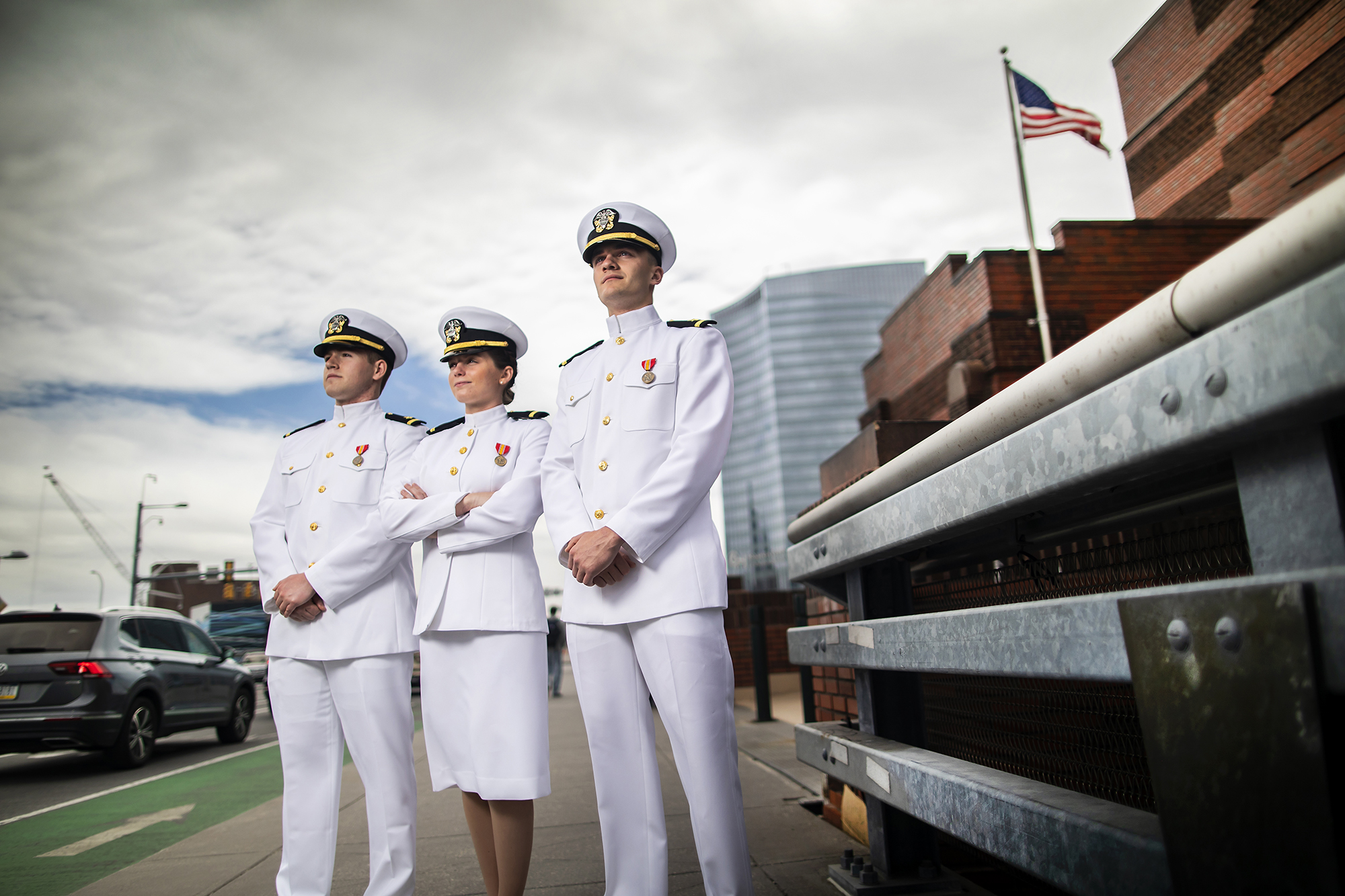 Most 17-year-olds don't know what they want to do for the next 10 years of their lives. However, May graduates Robert Blend, Allan Cate, and Madeline McAvoy made a commitment back in high school. All three went to Penn on NROTC scholarships, completing their commissioning ceremony on May 14. Later this summer, they will ship out for training and spend at least the next four to five years giving back to the U.S. Navy.
"It's personal development for the service of others," says Cate, a double major in political science and science, technology, and society from Burke, Virginia. "We're told, right now, it's about you. It's about building you up into an officer who's going to lead others."
But there's a switch. Once the students graduate and become active-duty naval officers, it's not about them anymore, Cate says. "It's about the people that you're serving. The people that you're taking care of and managing, leading."
NROTC students are responsible for taking an additional class per semester in naval sciences, in addition to physical training at least twice a week. By the time students arrive at the commissioning ceremony, "they've achieved a ton," says Daniel Westcott, a lieutenant and NROTC battalion advisor. "They're probably the most driven students in any university setting. And they have to be."
Time management is crucial, he says, not just in the day-to-day but also in long-range planning. "They're not just thinking about tomorrow. They're thinking about years from now," Westcott says. "At the end of the day, we are training them to become leaders."
NROTC students can enter one of a multitude of career paths after graduating; Navy option students can pursue Surface Warfare, Naval Aviation, Submarine Warfare, Nursing, or Naval Special Warfare. Marine Corps options can include Marine Corps Aviation or Marine Corps Ground careers.
Cate, who will be reporting for the Basic Division Officer Course followed by duty as a surface warfare officer out of San Diego, hopes to follow his naval service with a career in government. He says he is interested in climate security, "preventing troop deployments, preventing state breakdown by kind of fixing things at the source and making areas more resilient to climate pressures."
Originally from Farmers Branch, Texas, Blend will report for basic underwater demolition/SEAL training in Coronado, California, for training as a Navy SEAL officer. He graduated in May from the Wharton School with a concentration in finance and real estate.
Blend fell in love with the idea of being a Navy SEAL. "It's something about the way that they approach life: with two feet first, with no hesitation," he says. "That's the type of person I wanted to be: hard charging, never quitting, resilient."
McAvoy was drawn to nursing. Originally from Fairfax Station, Virginia, she is a caregiver, the one friends turn to. Nursing is oriented towards patient care, she says. "You're able to really give your whole self."
This summer, McAvoy will report to Navy Medicine Readiness and Training Command in Camp Pendleton, California, for duty in the Navy Nurse Corps.
"You're committing to this path, but in a way it has been freeing," she says. Rather than stressing about an acute-care nurse externship, McAvoy has been able to use her summers to complete a community health internship, work as a camp nurse, and even fit shoes at a running store.
She, Blend, and Cate have been "able to kind of play around and explore, without having to worry about the implications for our future careers," she says. "It's weird, because we're on such a straight path, but we were able to do more with a little bit less risk."
For Blend, there was a freedom in this structure. "I didn't have to worry about recruiting and all the classic Wharton stuff," says Blend, who spent the summer after his junior year working at a tech startup.
"I feel like we really got the best deal of both worlds," he says. "I found that the connections and the network that I've been able to make at Penn have been extremely impactful and probably will carry that through my naval career."
The commissioning ceremony is a rite of passage as the students move through their evolution, says Blend. "It's supposed to signify the transition from professional development and working on yourself to now becoming a selfless leader," he says. "Everything from this point forward is not about us but about the people we're leading, and the team and the mission."