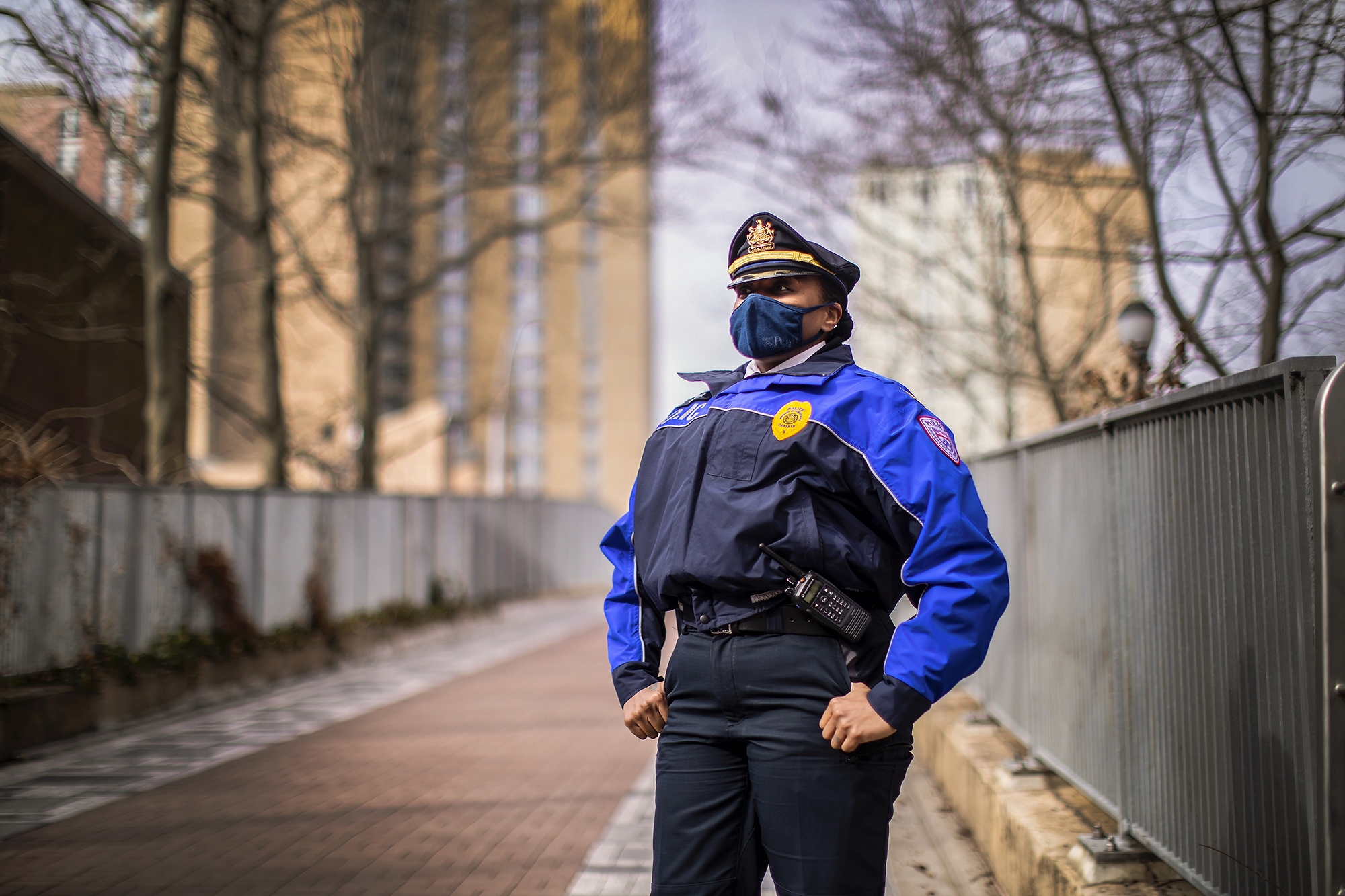 A new position in the University of Pennsylvania Police Department (UPPD) is dedicated to working with the campus and Philadelphia communities on issues of diversity. Nicole McCoy, a former lieutenant, was promoted to captain and is the Division of Public Safety's new commanding officer of diversity, equity, and inclusion.
Vice President for Public Safety and Superintendent of Penn Police Maureen S. Rush says one reason the position was created was because the Division of Public Safety (DPS) listened to the concerns of students, faculty, and members of the West Philadelphia community.
"We need to be sure that we have a representative, a person who is going to take the whole mission of Penn Police Department and the Division of Public Safety and make sure that message is amplified and explained throughout to the different sectors," she says. "We make great efforts and succeed in hiring a diverse workforce that reflects the diversity of the community we serve."
As with any new position, the role is unfolding, Rush says.
"What we want it to do is have a central person who has a strategic plan to work with the community in West Philadelphia, to work with the community inside of Penn—its faculty, staff, and students—and also to work within the Police Department on the issues of diversity, equity, inclusion," she says.
As McCoy applied for the rank of captain last year, DPS was creating the new position. Rush says she immediately knew McCoy was the right fit for the job.
McCoy, who has worked at Penn since 2002, is a member of the 457th class of officers to graduate from the Northwestern University Center for Public Safety's School of Police Staff and Command. As one of the most challenging law enforcement management programs in the nation, the Center provides comprehensive training for senior law enforcement leadership. McCoy is one of only 49 graduates in this class.
On Jan. 1, she hit the ground running in her new role.
"She has already jumped all in, and she's been out and about, and the reception has been amazing," says Rush.
In her new role, McCoy says her job is to make sure the community knows about the UPPD's work and its contributions to the community.
"I have, in the past few years, worked with our community associations in West Philadelphia, but now as the commanding officer, I attend all of the community meetings for the University City associations. Even though they're just outside of our boundaries, it's still important that they have someone that they can reach out to and discuss prime issues. So I'm a liaison between them and the Philadelphia Police Department. I meet with them monthly."
Inside the University, McCoy communicates with the cultural resource centers, such as Makuu: The Black Cultural Center, the African-American Resource Center, and the Office of Social Equity and Community.
"It will be a big part of my job to interact with the students so they know we're here for them, and especially for the minority population," says McCoy, who is African American. "It's important for them to see that there's somebody who looks like them in the position of authority. This is a position that, if you want future change with equality and inclusion, it starts by having a seat at the table. It starts with minorities joining the department."
McCoy says being able to talk to people and share the "wonderful things" that UPPD offers people excites her most about the new role.
"To help you feel seen—that's what makes me feel so good," she says. "To be able to talk to people. When you have a random conversation with someone in the 7-Eleven or CVS about things that we do and how we reach out, it just really makes me feel good."
However, McCoy realizes this new role is not without obstacles.
"The challenge is to get people to participate and want to have a conversation," she says. "The challenge is explaining that you can't change anything unless you're part of it. Just standing out on the sidelines and saying, 'You shouldn't do this, you shouldn't do that,' isn't going to work. You have to be in the middle of it."
In her new position, McCoy says she feels a greater responsibility to affect the people around her.
"I have an opportunity to change a wider group of people and to influence people from middle school to senior citizens," she says. "I have a chance to reach to a lot more people than I have before in this position specifically. Even inside of our department, part of my job will be to make sure that everyone feels represented, included, and that we're fair. I take pride in being able to step out of my office to talk to another officer and say, 'Hi, how are you feeling today?' or 'How's your life going?'"
Rush says the role will come with some delicate conversations and situations that will need to be tackled.
"It is really painful for all of us in Public Safety to hear that particularly students of color, Black students, don't feel emotionally safe, that the sight of a police officer doesn't necessarily make them feel safe emotionally or physically," she says.
McCoy's role is to understand and work through this. The Penn Police plan to hold focus groups within the department in which McCoy will share what she's learned about why an African American student or an international student might see a police uniform and not feel emotionally or physically safe.
"We have to understand that in order to help change it," says Rush. "She's [McCoy] going to be a conduit in both worlds."
McCoy echoes the pain of the realization that the community didn't have "the warm and fuzzy feeling" when it came to police. However, she sees her new role as an opportunity to change the perception.
"You see what happens at some other police departments and we try to explain to people that that's not who we are," she says. "That's in my mind every day when I come here, when I sit on interview panels. I think, 'Who would I want interacting with my children, with my mother, or my friends?' I want everybody to see how hard we work at making sure that we are the people whom you would want showing up your doorstep."
Rush explains UPPD's mission is simple, but one the entire department takes very seriously.
"Our mission is to provide safety and security to the members of University City, West Philadelphia community, and Penn community, and also visitors," she says. "There are many people traversing our campus, so our mission is to make everyone feel safe and be safe. While we expect all of our officers to be community-oriented, Captain McCoy will help the Division to also put an accent on the emotional security that people feel."
You may reach DPS at any time by calling the PennComm emergency communications center at 215-573-3333 or publicsafety.upenn.edu.