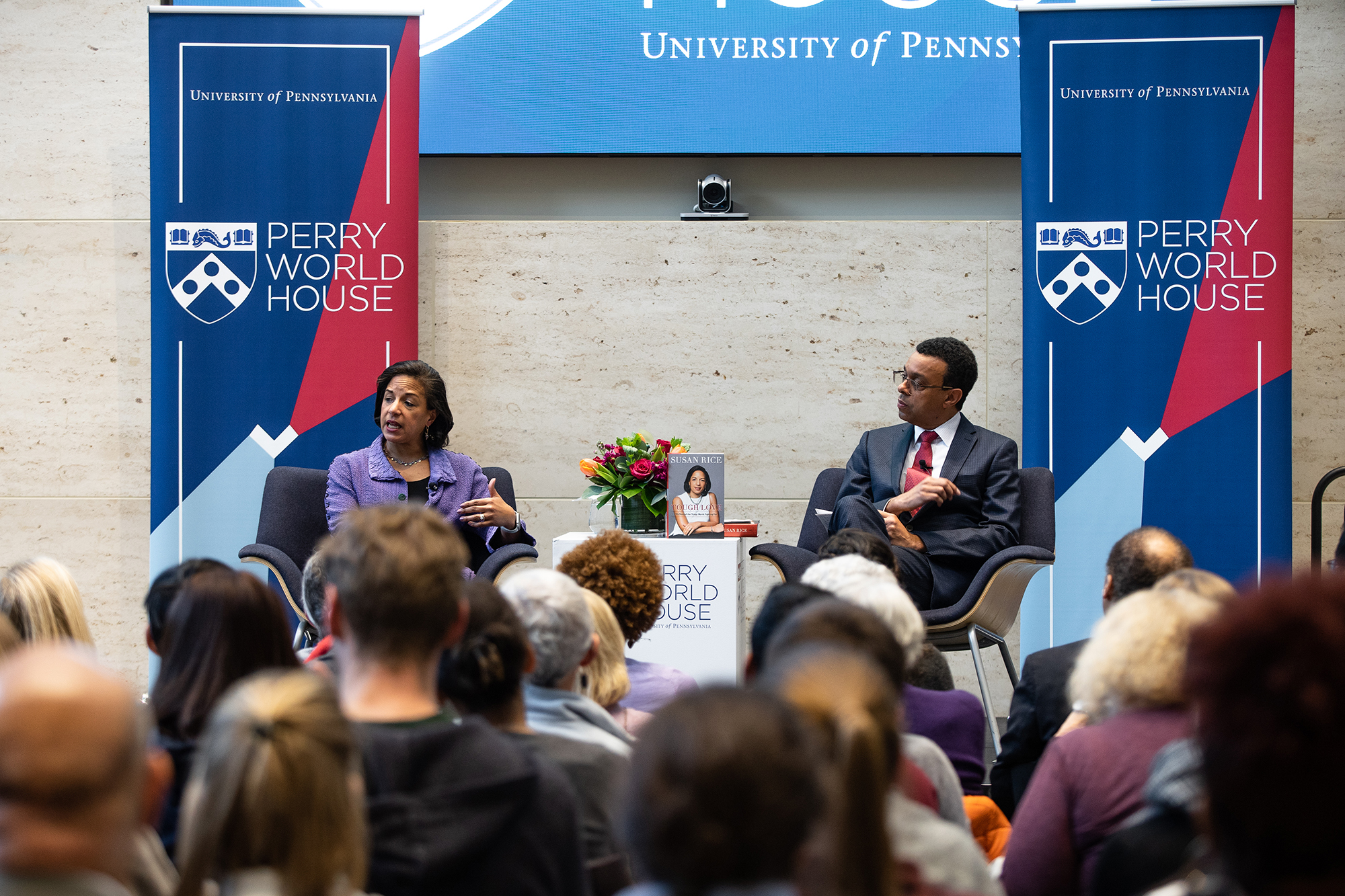 America's domestic political divisions are currently the country's greatest national security vulnerability, said Susan Rice, the former national security adviser and United Nations ambassador.
"But the good news about that is it's a problem of our own creation, and therefore it's one that we have the capacity to address," Rice said during a talk at Perry World House (PWH) about her new book, "Tough Love: My Story of the Things Worth Fighting For." Her day at Penn also included smaller sessions with faculty, graduate and undergraduate students.
She told the over 300 attendees at PWH she sees these divisions even within her own family, with a son who is conservative and a daughter who is more progressive than Rice.
"We have at our dinner table a microcosm of our national political debate, and we have the real challenge of cohering and staying united as a loving family in the face of these real differences," Rice said.
Among other steps that can be enacted at a community and national level to bridge such divisions, Rice, who served as 2018-2019 PWH Global Order Distinguished Visiting Fellow, suggests the idea of mandatory civilian national service for Americans aged 18-22, where they would be required to come together, live together and work together. 
"I think it's really hard to hate people when you actually know them," she said.
The wide-ranging talk, moderated by Provost Wendell Pritchett, delved into Rice's family, upbringing, and education and her time in the Clinton and Obama administrations. She also spoke about things she felt she got right, and wrong, during her time in government.
"If you look at the span of any administration, there will be ups and downs. I personally am not entirely unbiased, but when I look back on our work in national security and foreign policy in the Obama administration, I give us pretty good marks," she said. "I think there are places where we fell short, but what I think we did particularly well is to harness the cooperation of allies and partners to confront really important challenges that the United States alone could not have dealt with effectively."
Some of the work she said she's most proud of includes the Paris Agreement on climate change, putting Iran's nuclear program "in a box;" dealing with the threat of ISIS, and the handling of the Ebola epidemic.
"Many of the things that I would say I'm most proud of have been at the top of this administration's list to undo. We'll see how that goes," she said.
She also discussed what she called the insufficient attention given to the Rwandan genocide, intervention in Libya, and the complex issues surrounding Syria as among her most challenging as a policy maker.
"I try in the case of Syria and Libya and a number of other issues to be candid about what I think we got wrong and what I think we got right and to also weigh where I personally got things right and got things wrong," she said. Pointing out that no one is perfect, she said, "I think the only way to learn in the world, and to teach, is to be willing to be candid about it."
In response to an audience member's question on how the U.S. should handle Russia's tampering with our democracy, Rice suggested two actions the administration should take.
"One is making it very clear we are committed to NATO, and we are not going to allow ourselves to be divided from those partners from a security or economic basis," she said. She said the current administration is sending mixed messages about America's commitment to its alliances.
"The other is we have to exact higher costs, raise the price for Russia for its ongoing interference" she added. "It's not just 2016, which was very serious, but it's every day since then. They are actively working to pit Americans against each other by using social media to pour salt in our domestic wounds, in our divisions."
She also dished a little about what it was like working with President Obama.
"I say this not in praise but in frustration that he was always the smartest person in the room, and that really sucks when you think you're pretty smart and you're trying to give your best advice," she said. "But the great thing about that was that he insisted that we think many steps down the field in presenting recommendations and that if you had a perspective he wanted to hear it and but you better be prepared to defend it."
Obama "pressure-tested" every idea, and no matter what you presented him, he read the material.
"We made our share of mistakes but not for lack of trying and not for failure to really consider and analyze the risks and the benefits," she said.
Photographs by Andrew Cui.