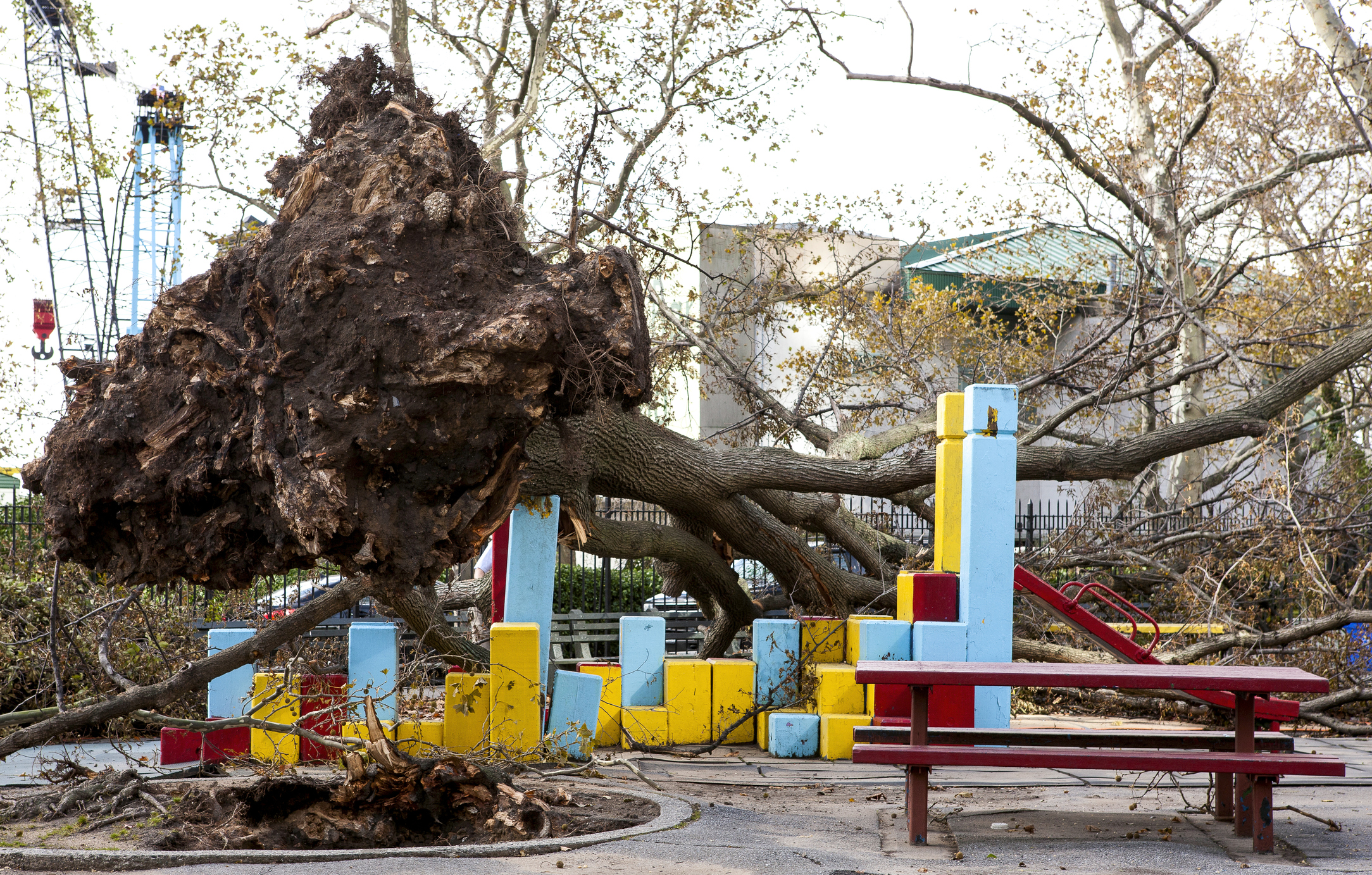 Eight years after Hurricane Sandy hit New York City, Perry World House (PWH) hosted a panel discussion on the lessons learned from the storm's aftermath and how cities can use these lessons to better recover from extreme weather events and climate change. The event was co-sponsored by the Wharton Risk Management and Decision Processes Center, Stuart Weitzman School of Design's Ian L. McHarg Center, and Penn Institute for Urban Research.
Lolita Jackson, special advisor for climate policy and programs in the New York mayor's office and a visiting PWH fellow, kicked off the discussion with a summary of the devastating impacts of the storm: 44 deaths, hundreds of homes destroyed and thousands more damaged, several days of power outages, and $19 billion in damages and lost economic activity.
Jackson then introduced Caswell Holloway, New York's deputy mayor for operations in 2011-13. Holloway discussed his involvement in a 2007 major upgrade to the city's hurricane plan, when, even though the likelihood of a hurricane making a direct hit on the city was low, Mayor Michael Bloomberg charged Holloway with reassessing their existing plans because of the devastation in New Orleans caused by Hurricane Katrina.
With that newly-crafted plan in hand and with experience evacuating parts of the city during Hurricane Irene in 2011, Holloway said the plan's immediate execution as Sandy hit "went well," but it soon became evident that the real challenge would be in figuring out what comes next. "It soon became clear that the impacts on the city were phenomenal," said Holloway. "And one of the big questions that the mayor had was 'What about next time?'"
Part of that answer came in the form of New York Special Initiative for Rebuilding & Resiliency (SIRR), the landmark plan designed to protect the city from the impacts of extreme weather events and climate change. Marc Ricks, chief operating officer of SIRR in 2012-13, said that the work towards developing this plan started in the immediate aftermath of Sandy, even as many who were impacted by the storm were still trying to recover. "I was surprised by the willingness of people, even in the most impacted communities, to engage with this," said Ricks. "They understood that this could happen again and were welcoming of that engagement even as they were still recovering."
The resulting "blueprint," published towards the end of Bloomberg's administration, was focused on understanding what happened during Sandy, what potential scenarios could happen in the future, and what could be done to mitigate their impacts given limited resources and a need for long-term strategies that crossed administrations. Ricks put teams to work on the report, including climate analysis, city-wide infrastructure and the built environment, community rebuilding and resiliency, and community outreach, the team led by Jackson.
Next, Anthony E. Shorris, New York's first deputy mayor in 2014-18 under Bill de Blasio, shared some of the biggest lessons learned after Sandy. This included the need for cities to be "humble about what they are good at" and not to "over-learn" from disasters, with the example given by Shorris and others of the hesitancy of residents to evacuate during Sandy because of evacuations made for Irene when the storm's impact was not as severe.
Shorris said that "focus and clarity are the key to accomplishment in government," something that's being carried through in New York City's "Green New Deal," which provides an outline for strong, fair recovery framed around growth, equity, sustainability, and resiliency. "A set of limited and focused objectives is what creates power for change," he said.
The last panelist was Penn's Billy Fleming, Wilks Family Director of the McHarg Center. For helping cities and coastal communities become more resilient to climate change, Fleming emphasized the importance of federal reforms, such as the role of the Army Corps of Engineer in shaping the U.S. response to the climate crisis, as well as what local and regional organizations can do to prepare. Strategies include making investments that anticipate the challenges of climate change instead of only responding to crises, identifying projects before a crisis hits, and pairing adaptations with carbon emission reductions. Fleming also discussed two upcoming books, "An Adaptation Blueprint" a series of lessons for future administrations available later this year, and "Drowning America: The Nature and Politics of Adaptation," available from Penn Press in early 2021.
During the panel discussion, with questions from Jackson and from the audience, panelists discussed the importance of community engagement; the need for coordinated responses between federal, state, and local levels; and the need for people with a dedicated focus on long-term strategies for the future without needing to manage on day-to-day crises.
When asked about how to memorialize the lessons learned from crises like Sandy, Ricks emphasized that books of Fleming and others are one way to capture this institutional memory. "It's hard to do that thinking in the middle of a crisis," he said. "You do that thinking after, when you can do the analytics, and books like Fleming's are places to learn when you're not in a crisis."
A video of the virtual talk can be seen on Perry World House's YouTube channel.