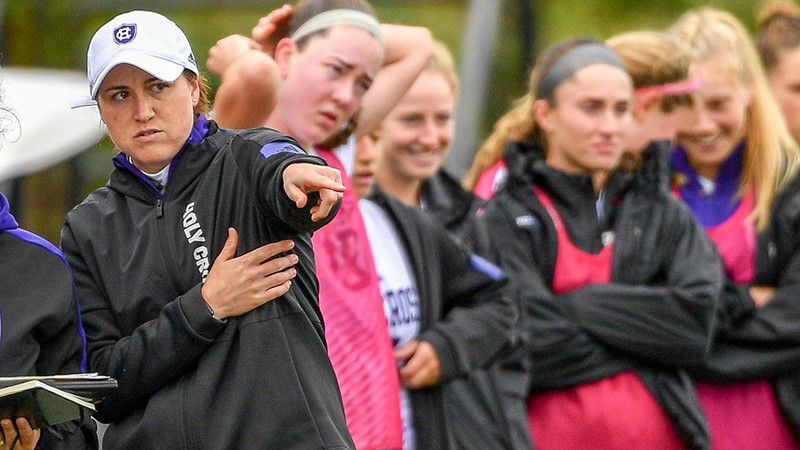 Casey Brown, the 2019 Patriot League Coach of the Year who led Holy Cross to new heights, has been named the Douglas N. Brush Head Coach of Women's Soccer.

"I am thrilled to welcome Casey to Penn to continue the upward trajectory of our women's soccer program," says M. Grace Calhoun, the T. Gibbs Kane, Jr. W'69 Director of Athletics. "She has had incredible success as a student-athlete, assistant coach, and head coach at prestigious academic institutions, and I am confident that her success will carry over to Penn. Casey is a strong believer in the academic and athletic balance, which is critical to our mission in the Ivy League, and has demonstrated the ability to build a positive team culture and connect with her student-athletes. I look forward to the future success of our women's soccer program under Casey's leadership."

Brown led Holy Cross to its best season in nearly two decades in 2019 as the Crusaders reached their first Patriot League Tournament since 2000. Holy Cross posted its best Patriot League record (3-1-5) since 2000 and just the third overall winning record (5-4-8) since 1999.  
"I could not be more excited to be a part of such a prestigious institution as the University of Pennsylvania as the leader of the women's soccer program," Brown says. "I feel so aligned with the values of the department and I especially want to thank Dr. Calhoun, Scott Ward, Rudy Fuller, Keith Maurer, and the rest of the search committee for the opportunity to join this fantastic community of top professionals. I look forward to continuing the upward trajectory of this program as we look to reach new heights and provide an unbelievable experience for our current and future student-athletes. I feel a great sense of pride to lead Penn women's soccer and I cannot wait to get to work."

Brown arrived at Holy Cross in 2016 and began changing the trajectory of a program that had not finished better than seventh place in the Patriot League since 2008. In just four years, Brown leaves the program with the second-most Patriot League victories in Holy Cross history, and the highest Patriot League winning percentage. Five Crusaders were named All-Patriot League in 2019, the most since 2000.

The Natick, Massachusetts, native is also invested in the holistic development of her student-athletes. Holy Cross posted the highest team grade point average (3.61) in program history, which was the best among the department's 27 teams. Brown also instituted a new community service program, which contributed to the most service hours of all Division I women's soccer programs.

Prior to arriving at Holy Cross, Brown served as the associate head coach at her alma mater, Boston University, from 2013-16. The Mid-Atlantic Assistant Coach of the Year in 2015, Brown helped BU to three Patriot League championships and NCAA Tournament appearances (2013-15). Twice, the Terriers advanced to the NCAA Second Round and earned national rankings.

She began her career as a graduate assistant coach at LIU Brooklyn from 2010-12. The Blackbirds won the Northeast Conference regular season championship in 2010, and won the NEC Tournament title and advanced to the NCAA Tournament in 2011.  

Brown was an All-American and three-time America East Defensive Player of the Year at Boston University, helping the Terriers to four NCAA Tournaments and three conference titles. A four-time all-conference selection and three-time all-region pick, Brown was the America East Tournament Most Outstanding Player in 2007. She was drafted by the Boston Breakers of the National Women's Soccer League in 2010.

She earned her bachelor's degree in communication from Boston University in 2010 and a master's in exercise physiology and sports nutrition from LIU Brooklyn in 2012.