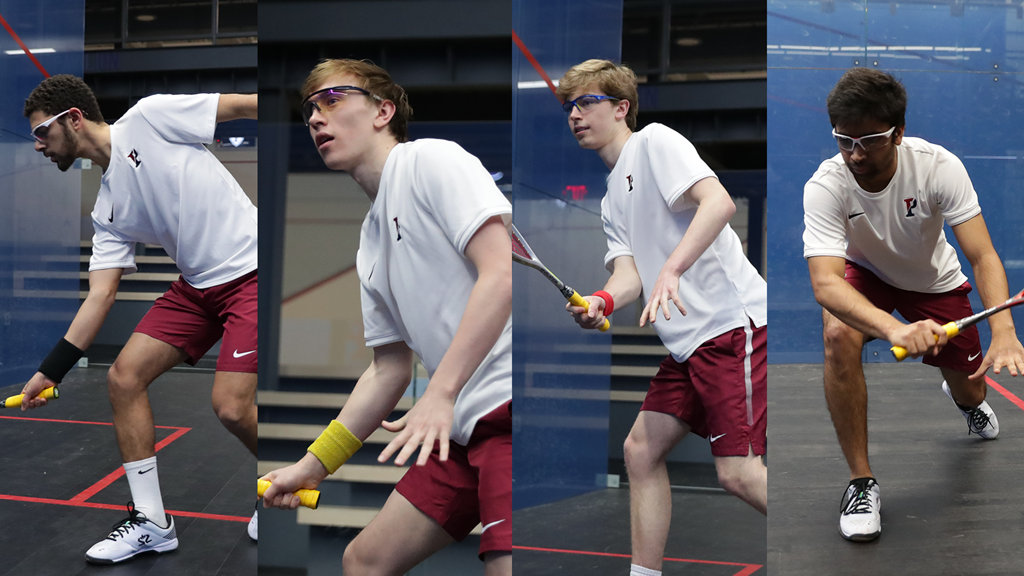 A quarter of players on the 14-3 men's squash team have received All-American honors from the College Squash Association (CSA), the most in school history. Junior Andrew Douglas and sophomores Aly Abou Eleinen and James Flynn are First-Team All-Americans, and junior Yash Bhargava is a Second-Team awardee.
For the first time in school history, the men's squash team advanced all the way to the Potter Cup, the CSA men's National Team Championships, where they were felled by No. 1-ranked Harvard. 
Douglas, a co-captain from Brooklyn, New York, is the program's first three-time First-Team All-American and he was also a unanimous First-Team All-Ivy selection. Competing in the No. 1 slot, he finished the season with an 11-5 record, including 5-2 in Ivy League play. He defeated a number of First-Team All-Ivy opponents over the course of the season. Due to an injury, he did not take part in the CSA Individual Championships.
Eleinen, from Alexandria, Egypt, became the first men's player since 1986 to advance to the A Division final of the CSA Individual Championships; he was defeated by Harvard's Marwan Tarek. For the season, he played the No. 2 spot and had a 17-4 record. Like Douglas, Eleinen was also a unanimous First-Team All-Ivy selection. He was a First-Team All-Ivy awardee and CSA First-Team All-American last year as well.
The team's No. 3 spot this season was occupied by Flynn. The Toronto, Canada, native compiled a 14-3 record (5-1 in conference). In the A Division of the CSA Individual Championships, he defeated top seed and defending champion Victor Crouin of Harvard before falling to teammate Eleinen in the quarterfinals.
Bhargava, from Mumbai, India, won the Molloy Cup at the CSA Individual Championships, Penn's first Molloy Cup champion since 2016. He went 16-4 this season—6-1 in Ivy League play—and won 12 of his final 14 matches.