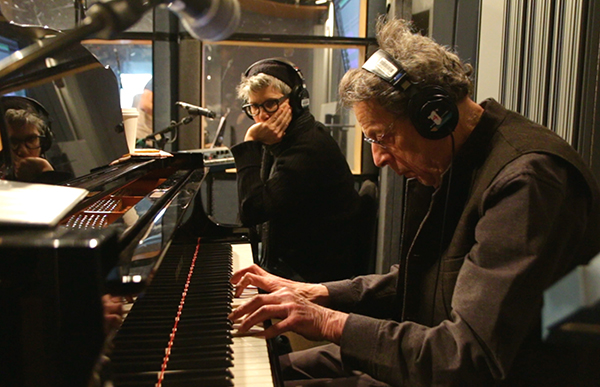 In 1974, the Institute of Contemporary Art was the first venue in Philadelphia to present part of composer Philip Glass' iconic "Music in Twelve Parts." Forty-six years later, it will receive a complete performance for the first time in Philadelphia at the Annenberg Center for the Performing Arts, and will mark one of several thrilling performances as part of the three-week "#GLASSFEST." 
#GLASSFEST, which kicks off Feb. 21 and ends March 14, was conceived to recognize and celebrate the decades-long relationship Glass has had with Penn, particularly with the Annenberg Center, where his work was presented in the 1980s by Annenberg and WXPN, and then throughout the 1990s and into the early 2000s. 
"We've had a long association with Glass, and because he's such a significant 20th-century composer, in so many categories of music, we felt it was important to revisit his work and his legacy here," says Christopher Gruits, executive and artistic director of the Annenberg Center. "He's been a monumentally prolific composer, so in #GLASSFEST we present both his most recent compositions as well as an overview of his body of work."
James Primosch, a professor of music in the School of Arts and Sciences, notes that Glass is historically viewed as a pioneer in the minimalist style, and also known for his sheer productivity. 
"He's just written a heck of a lot of music in pretty much every genre," Primosch says. "Opera, symphony, theater works, film—the [film] style is so readily imitated that you hear Glass-like gestures in many movie soundtracks that are not by Glass.
"It's almost a kind of thumbprint or an idiom that I'm sure people are thinking of when they say, 'OK, we need some sort of Philip Glass-like [score] here.'"
Glass is the winner of a Golden Globe (Best Original Score, "The Truman Show"), a BAFTA (Anthony Asquith Award for Film Music, "The Hours"), and has been nominated for an Academy Award for Best Original Score three times. This, in addition to a Kennedy Center honor and countless recognitions in the music world. 
"This is somebody who is connecting across boundaries into other art forms," Primosch explains.
Glass will first be celebrated at the Annenberg Center with a performance by The Crossing, a Philadelphia-based choir in residence at Annenberg this season. They will juxtapose Glass' "Knee Play" interludes from the composer's opera "Einstein on the Beach" with those of David Byrne, composed for Robert Wilson's 1985 opera "CIVIL warS." 
The Crossing was approached to do a show based on the music of Glass, and the music choir's new conductor, Donald Nally, had the idea to create a show based on the music and concept of Glass' "Knee Plays." They built this new production from there, taking two distinct pieces and melding them together in a new way. The concert is narrated by Dito van Reigersberg, a co-founder of Pig Iron Theatre and a popular Philadelphia performer.
"We've woven these pieces together in a really interesting way that goes back and forth between Glass and Byrne. I feel like this kind of does everything," Nally says. "It has highs and lows, and it's joyful but it's also comedic; it's a concert, but one that feels very much like theater."
Next in the lineup, on Feb. 29, is the full presentation of "Music in Twelve Parts," performed by the Philip Glass Ensemble. The pieces, conceived between 1971 and 1974 and regarded for their use of repetition, span five hours. The show includes two intermissions and a dinner break.
Following that is a special performance by pianist Jenny Lin, presenting Glass' piano etudes and putting them in conversation with pieces by Schubert, Debussy, and more. This performance takes place in the Egypt Upper Gallery at the Penn Museum and, says Gruits, is a great way to "get a sense of Glass as a composer, in juxtaposition with other composers before him." 
This all culminates in the world premiere of "The White Lama: The Improbable Legacy of Theos Bernard," a theater piece by Nikki Appino, co-commissioned by the Annenberg Center, that features a new score composed collaboratively by Philip Glass, Tenzin Choegyal, and Appino—and which will be performed live by Glass and Choegyal.
Appino says she structured the production by the score.
"That feels a little different for me, and I like it because it provides such an interesting and solid skeleton that things can be generated upon," she says. "To start the piece, I created a mind map of all my ideas, and then started the process of trying to find a creative vocabulary for the collaborators to work with."
The piece is a loosely historical telling that follows Theos Casimir Bernard, a religious studies scholar who was one of the first Americans to explore the monasteries of Tibet; he notoriously disappeared in 1947 after wandering out on a mountain trail in the Himalayas. Appino says "White Lama" is ultimately about the nature of spiritual development and the yearning so many people experience. 
The piece is a biography made up of music, projected imagery, and orated prose performed by Kevin Joyce. 
"It's not a straight narrative; it's not a piece of theater. It's sort of a hybrid concert," she explains. "One structured upon this person who existed, Theos Bernard, but it's not just about him."
The new score by Glass, Appino, and Choegyal was made in a workshopping process, in part using archival images as inspiration. There is also Tibetan influence in the new piece. 
#GLASSFEST aims to underline the composer's body of work, but also Annenberg's commitment to bringing artists of the world to Penn. 
"Penn has had a long history of showcasing Philip Glass' work. ICA, [the Stuart Weitzman School of Design], WXPN, and the Annenberg Center all have championed his work since 1974," says Gruits. "#GLASSFEST not only celebrates this phenomenal musician, it brings artists to the campus and the city that might not otherwise perform here. We're thrilled to continue the legacy."