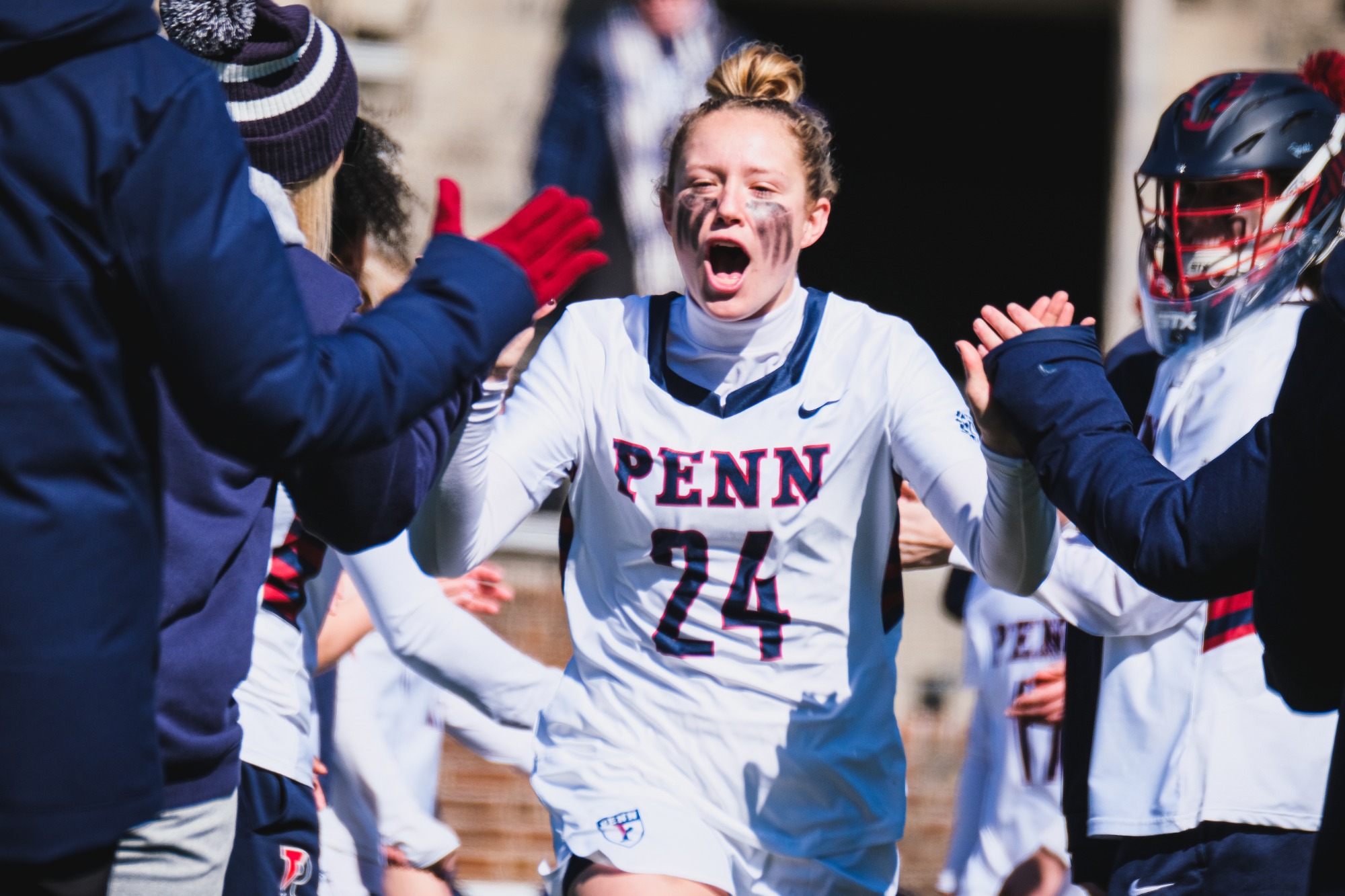 The first thing Karin Corbett noticed about Gabby Rosenzweig was her quickness.
Corbett, longtime head coach of the women's lacrosse team, saw the Somers, New York, native play several times when she was in high school and says she came away "very impressed" with Rosenzweig's hustle and speed.
More in-depth scouting revealed a player with an out-of-this-world work ethic who would do everything in her power to reach her full potential. 
"We always love kids like that," Corbett says.
In March, Rosenzweig, a senior communications major and attacker on the women's lacrosse team, concluded her career at Penn as the No. 1 points scorer in the history of the program, and two assists shy of the school assists record.
She did so through hard work.
Chief of the Quakers for 21 seasons, Corbett has 11 Ivy League Championship rings. She has coached more than 100 All-Ivy players and almost three dozen All-Americans, and says Rosenzweig's work ethic is second to none.
"I have never coached a kid that has worked so hard to be so good," Corbett says. "Some players don't want to put that effort in all the time, put that much time into their game, but she was one of the few that really put hours and hours in to be as good as she is." 
Rosenzweig has been playing lacrosse since she was in third grade. Her father Niall, who played the sport collegiately at Ithaca College, was her first coach.
She also played basketball in her youth. Her mother Peggy played ball in college for Fordham University, and would help Rosenzweig work on her game.
Her strong work ethic, she says, comes from her mother. 
"She taught me what you need to do in order to reach your goals from a really young age," says Rosenzweig.
Growing up in Somers, which is just north of New York City, Rosenzweig had dreams of being a college basketball player. She was a 1,000-point scorer, four-year varsity player, and two-time captain of the Somers High School girls' basketball team, and an all-state selection. 
A shining star on the lacrosse field as well, she decided to pursue the sport in college after playing lights out at a tournament her sophomore year and receiving a flood of recruiting interest from some of the country's top collegiate programs.
She says she chose Penn after experiencing the comradery of the players on the lacrosse team, how they interacted and rooted for one another. 
"I was on a visit where I had some time alone with a large group of, like, 10 girls on the team hanging out in the house and I could just tell how much they wanted each other to succeed," Rosenzweig says. "That was something that stood out to me the most. It's also an incredible school and a winning program, and the coaches really stood out to me. I loved the way they preached hard work."
Before college, Rosenzweig played midfielder, a defensive player, but she was asked to switch to attacker, an offensive-minded post, her freshman year in order to fill a void behind the net.
Corbett says the coaches were confident she could make the transition, even though it would require a new field of scope.
"She had a really good stick," she says. "She could catch and throw both hands. She was a good shooter. She was quick; we thought she could dodge from behind. And then just seeing her vision develop, we knew that it was a perfect spot for her."
The transition, Rosenzweig says, wasn't necessarily hard, but took a lot of work.
"It came kind of naturally to me as well because I have this really big competitive drive and want to be the best," she says. "I think that really translates to attack in a lot of ways."
She started the first game of the season, a 9-7 win over Delaware on Feb. 18, 2017, at attacker and had one goal and one assist. 
"I was so nervous for my first game," Rosenzweig says. "I scored my first goal that game and it was the funniest thing. It was literally like a random ground ball I just picked up and shot in."
On her birthday, April 19, 2017, the Quakers beat No. 6 Princeton 17-12 under the lights at Franklin Field—the only time Rosenzweig beat the Tigers during her years at Penn. She had two goals and one assist in what she calls one of her most memorable games.
She started every game at attacker for the 13-4 Quakers, who won their 10th Ivy League title in 11 seasons, and every game the rest of her career. 
Second on the team in assists, tied for third on the team in scoring, and fourth on the team in goals, Rosenzweig had a pretty good freshman year. In the first round of the NCAA Tournament against Navy, she had a team-high three goals in the Red & Blue's 10-11 loss.
But she was by no means satisfied. 
She freely admits that she came to college with one move, and it was a successful move, but it would soon be scouted and possibly neutralized.
In the offseason, from the summer into the fall, Rosenzweig practiced and drilled over and over again, adding a plethora of moves to her repertoire. Corbett says the improvements she made to her game across all four seasons made her a threat from up top and down low, with one of the best shots on the team and the ability to dodge from anywhere on the field.
Sophomore year, she began to show her stuff.
She tied the single-season scoring record with 85 points. Her 36 assists were tops on the team and in the Ivy League, and the third-highest one-season total in school history. Her 49 goals were second on the team and the fourth-highest single-season mark in the history of the program. She ranked second in the conference in points, seventh in goals, and 23rd in the country in points per game (4.47).
During awards season, her name was called time and again. She was a First-Team All-Ivy selection, a Second-Team ECAC All-Star, an IWLCA Third-Team All-American, an Inside Lacrosse honorable mention All-American, and a Tewaaraton Award nominee.
The Quakers finished 14-5, and won their 11th Ivy League title in 12 years. They advanced to the second round of the NCAA Tournament, where they fell to Stony Brook.
Junior year, Rosenzweig was even better.
She has said that her favorite part of playing lacrosse is getting assists and being able to create with her teammates.
"That's how some of the best memories on the field are made, by being creative with your teammates and being able to celebrate each other," she says.
Rosenzweig and her teammates must have scores of memories from the 2019 season, when she set Penn's single-season scoring record with 98 points, and the single-season assists record with 63.
Nationally, she ranked seventh in points per game (5.4) and assists per game (3.5). She scored at least four points in all but two games, and was third on the team with 35 goals.
The Red & Blue ended the season with a 12-6 record, and lost to Georgetown in overtime in the first round of the NCAA Tournament.
In the semifinals of the Ivy League Tournament, Penn avenged a loss to No. 24 Dartmouth, who had defeated the Quakers 15-11 during the regular season. Rosenzweig had three goals and four assists in the Red & Blue's 15-14 postseason win.
Near season's end, she was named a unanimous First-Team All-Ivy selection, a First-Team ECAC All-Star, an Inside Lacrosse Third-Team All-American, an IWLCA Third-Team All-American, and a Tewaaraton Award nominee.
Her senior season was cut short by the coronavirus. 
The Quakers played five games before the season was canceled, and had a 4-1 record. They defeated No. 19 Georgetown 17-6 in the season opener in Washington, D.C. Rosenzweig had three goals and five assists. 
In what turned out to be the last game of the season, the Red & Blue lost to No. 4 Loyola 15-19 on March 7 at Franklin Field. Rosenzweig had four goals and one assist. Her younger sister Livy, a junior at Loyola, had two goals and two assists.
Rosenzweig says the decision to cancel the season was "devastating" but necessary.
"I feel like this was really our year," she says, "and we were ready. It was the last time that my senior class would play together. Usually you can prepare for your last game. You know it's coming or at least you get a Senior Day. It was hard to have our class end on something like that. I love them so much, and they're my best friends, and we've been through four years of lacrosse together, and it wasn't supposed to end like that, so it was really heartbreaking for sure and still is."
Two games into her final season, Rosenzweig made history one last time in a Penn uniform. On Feb. 22 at Franklin Field, she broke Sherry Marcantonio's 37-year-old points record in a 15-12 win over Johns Hopkins.
Her record-breaking, 238th point came with 16:59 remaining in the game, an assist to senior midfielder Erin Barry. 
Rosenzweig says breaking the record was "one of the best experiences I've ever had in my life."
"I never want to forget that moment and that day," she says. "It just felt so good because I worked really hard over the years to improve my skills."
The fact that the history-making point was an assist to Barry—the fifth-highest goal scorer in school history—made it all the more special, she says. 
"I was just so happy that it was to Erin, who's such an amazing player and one of my best friends," says Rosenzweig. "I was really happy that the assist was to her."