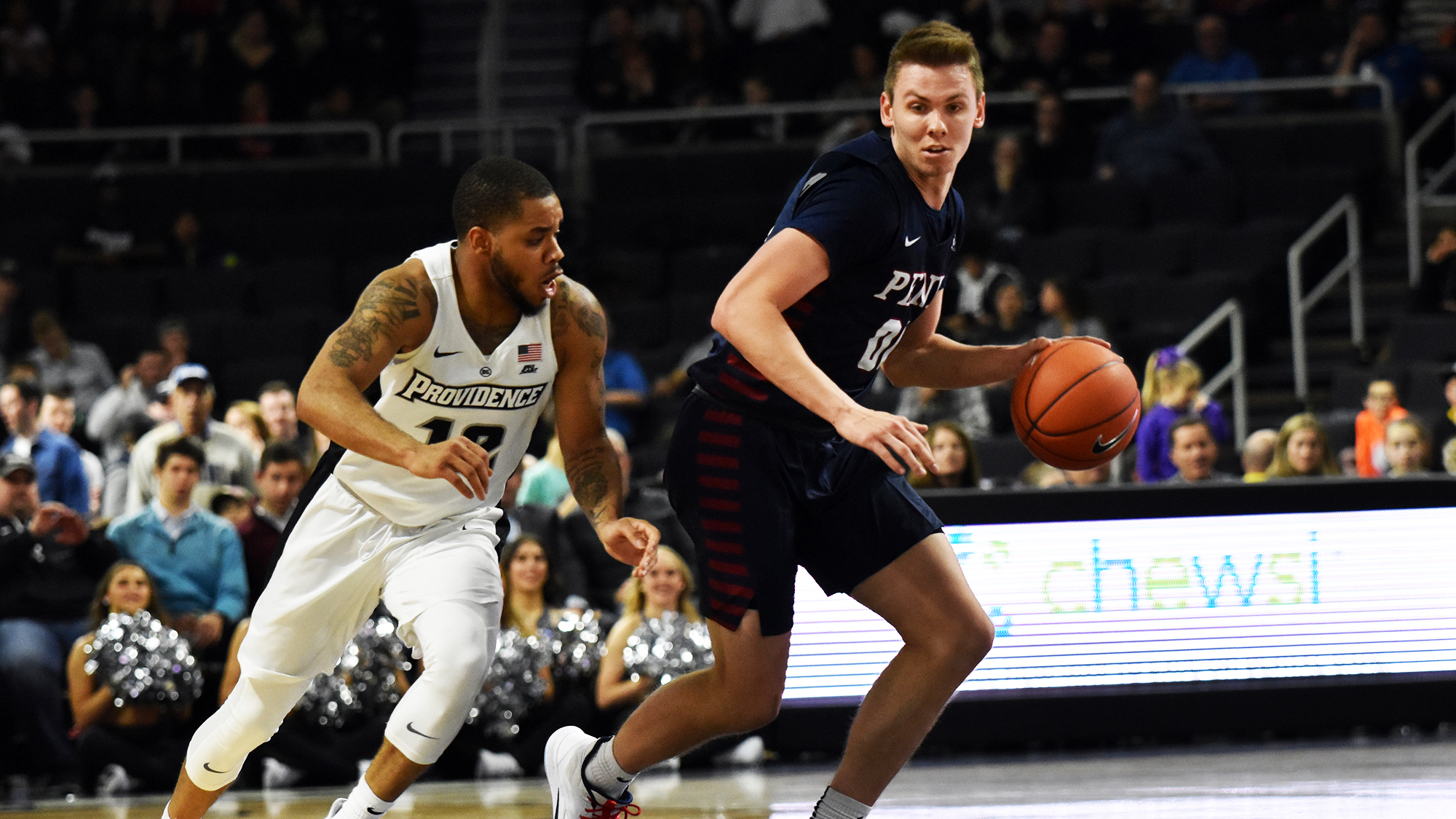 Fiery shooting from three-point range and the return of freshman guard Jordan Dingle, who missed the previous game with an injury, facilitated the men's basketball team's 81-75 victory over Providence on Saturday afternoon in Rhode Island. 
Senior guard Ryan Betley scored 14 points in the first half, draining four of six shots from behind the arc; Dingle scored 16 points in the second half—14 in the final 9:14.
Three minutes into the contest, Penn took its first lead of the game, a three-pointer from junior guard Eddie Scott, which put the Quakers up 5-4.
Cascading threes from Betley and freshman forward Max Martz gave the Red & Blue a 20-13 advantage with 11:51 left in the half.
Providence made it a four-point game, 24-20, on a fast-break layup at the 9:20 mark. Betley responded with two threes in a row, which pushed Penn's lead to 10, 30-20.
The Quakers were ahead by nine, 32-23, with 6:36 left in the half. Betley scored a layup to increase the lead to 11. Senior forward A.J. Brodeur's jumper in the paint and a layup by Dingle put the Red & Blue up by 15.  
Penn led 47-30 at the break. Brodeur had a quiet 15 points in the first 20 minutes, shooting 7-10 from the floor. 
Dingle's bucket 90 seconds into the second half upped the Quakers' lead to 19. The Friars went on a 13-2 run over the next five minutes to trim the Red & Blue's advantage to 51-43. 
With 8:51 left in the game, Providence had cut Penn's lead to six, 58-52. Dingle hit a three to give the Quakers a nine-point advantage, and Betley followed with his own triple to extend it to 12 with 6:24 remaining.
After a layup by the Friars, the two teams traded threes, and then Dingle drained his second three in a row, which gave the Red & Blue a 70-57 lead with 4:31 on the clock.  
Penn was up by double digits until the final 30 seconds. Providence got within six with 19 seconds remaining, but got no closer.
Betley had 22 points, eight rebounds, two assists, and two steals. He was 8-14 from the field and 5-9 from three.
Brodeur had 17 points, 10 rebounds, two assists, and two blocks. He has scored in double figures in 30 straight games. Dingle put up 19 points, three rebounds, four assists, one block, and one steal.
Penn shot 52.6 percent from the field (30-57) and 50 percent from the three-point line (11-22).
On Thanksgiving night, the Quakers take on UCF in the first round of the Wooden Legacy tournament in Anaheim, California.