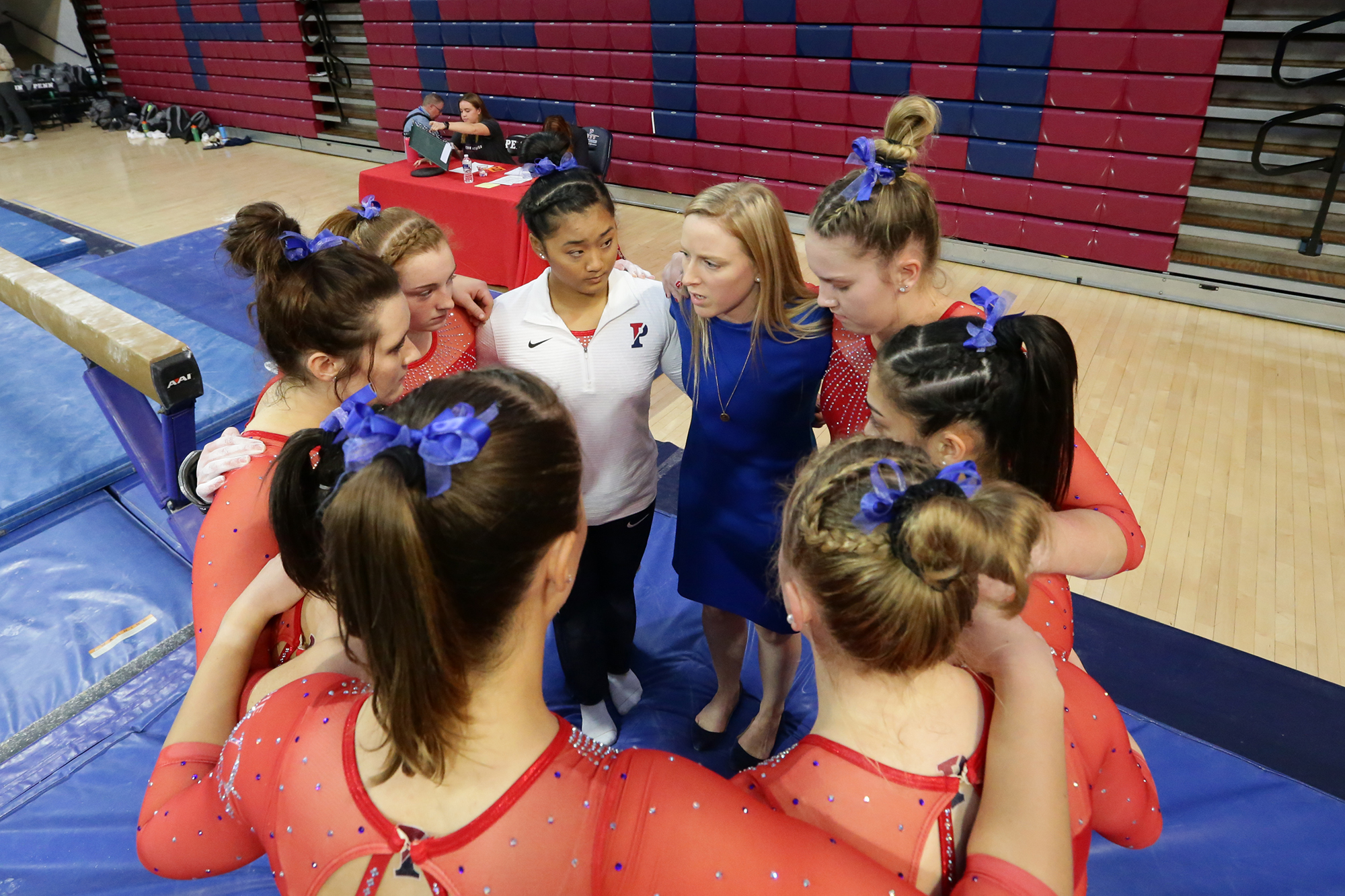 Kirsten Becker, a graduate of the College of Arts & Sciences, an Ivy Classic champion as a student-athlete, and assistant coach at Penn, has been promoted to head women's gymnastics coach, the T. Gibbs Kane, Jr. W'69 Director of Athletics and Recreation M. Grace Calhoun announced on Tuesday. Becker has served as the program's assistant coach for the past five years, helping lead the Quakers to the 2020 Ivy Classic title and their highest team score in program history in 2019.
"We are excited to promote one of our most accomplished gymnasts and our current assistant coach, Kirsten Becker, to head coach," Calhoun said. "Kirsten is a strong leader who is composed, organized, and passionate about the program. She has proven her ability to recruit high-level scholars and athletes and build strong relationships, and her technical ability has led to record-breaking scores and Ivy Classic titles. We look forward to the bright future of Penn women's gymnastics."
Penn recorded a score of 194.850, its second-best score in the program's history, to win the Ivy Classic title this winter. As the program's beam and floor exercise coach, Becker led the Quakers to their best beam score (49.125) in school history at the event.
"I am extremely honored to accept this position and excited to continue the success and growth of the Penn gymnastics program," Becker said. "I will strive to create a positive experience for every student-athlete. I know how special the current student-athletes are and look forward to picking up right where we left off last season. Thank you to Dr. Calhoun and the Penn Athletics administration for entrusting me with this responsibility. Penn has been a part of many of my most cherished memories over the last 10 years, and I'm excited to continue this journey. Go Quakers!"
In 2019, the Red and Blue compiled its best National Qualifying Score (NQS) ever and its score of 195.075 at Maryland was the best in program history, breaking a 15-year old record. The year before, Becker coached the first NCAA Regional qualifier in five years in Alex Hartke.
As an assistant coach, she mentored 20 all-ECAC gymnasts, six ECAC Scholar-Athletes, four ECAC individual champions, and three Ivy Classic champions. This past year, two Penn freshmen were named ECAC Co-Specialist of the Year (McCaleigh Marr) and ECAC Co-Rookie of the Year (Rebekah Lashley). Both are firsts for the program.
A decorated collegiate gymnast for Penn, Becker, née Strausbaugh, was a two-time team captain and the 2013 ECAC Gymnast of the Year. A two-time NCAA Regional qualifier, she helped the Quakers to two ECAC Championships and two Ivy Classic titles. Becker was the 2013 USA Gymnastics Collegiate Nationals Uneven Bars champion and was Penn's nominee for the prestigious NCAA Woman of the Year award.
A 2013 Penn graduate with a degree in communication, she is currently pursuing a master's in organizational dynamics from the University. She is married to Penn football assistant coach and former quarterback Ryan Becker, a 2013 graduate of the Wharton School.