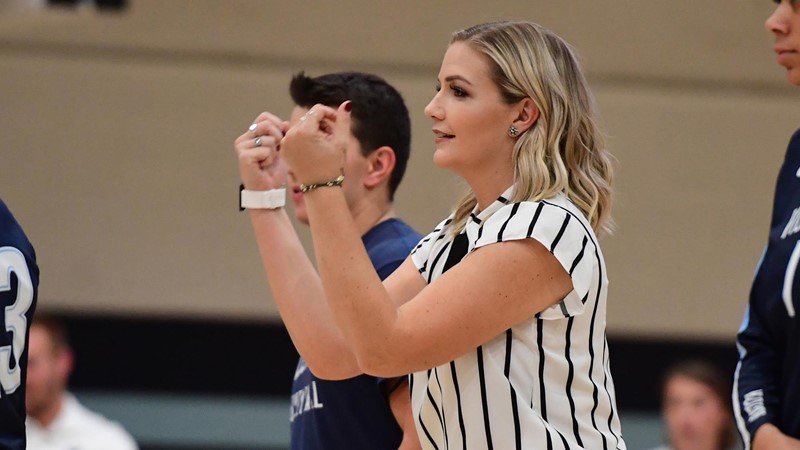 Meredith Schamun, who helped lead Villanova to a 39-23 record in her two seasons as the assistant coach and recruiting coordinator, has been named the new head coach of the women's volleyball team. A highly decorated setter at Rice, Schamun also served two seasons as an assistant coach at Tulane and two seasons at the University of Central Florida (UCF) following a professional playing career.
"Meredith impressed our search committee with her experience, technical knowledge, leadership and passion for volleyball," says M. Grace Calhoun, the T. Gibbs Kane, Jr. W'69 Director of Athletics. "She was an outstanding student-athlete at Rice and has a true appreciation for the Ivy model of intercollegiate athletics, which provides an unrivaled academic and athletic experience for our student-athletes. Her recruiting connections around the country, especially in her native Southern California, will serve the program well. I look forward to watching Penn volleyball compete for Ivy League championships in the near future."
Schamun (pronounced shah-MOON) helped Villanova to a pair of Big East Tournament appearances and a combined 23-13 record in conference play. In 2019, the Wildcats were 22-9 overall and 13-5 in the Big East, and ranked 60th in the final NCAA RPI (out of 335 teams). She coached the Wildcat offense, which finished second in the league in hitting percentage, and trained Villanova's all-time assist leader Emma Decker, who earned a spot on the All-Big East team.
"I am honored and humbled to be named the next head coach for Penn volleyball," Schamun says. "I would like to thank Dr. Calhoun for this opportunity. I would also like to thank Matt Valenti, Rachel Hiller, and the rest of the search committee for putting their faith in me to lead this program. I have incredible mentors and have been blessed to work with several teams of inspiring young women on my journey to this point; I am forever grateful for their support. I look forward to becoming part of the Quaker family and leading this program as we build a tradition of excellence."
Prior to arriving at Villanova, Schamun served two seasons as an assistant coach at Tulane, helping the Green Wave to the highest RPI jump in the nation (157 spots) in 2016. That season, Tulane had its first winning season in three years and finished fifth in the American Athletic Conference. In 2014 and 2015, Schamun was the director of volleyball operations at UCF, helping organize travel, scheduling, and recruiting for the Knights, which won the conference title and reached the NCAA Championship field in 2014.
She also has nearly a decade of club volleyball experience, including the past two years with East Coast Power Volleyball. She is a cap I certified member of USA Volleyball and the American Volleyball Coaches Association.
Schamun played collegiately at Rice, where she was a highly decorated setter and four-year starter for the Owls. The Conference USA Setter of the Year in 2009, Schamum was a two-time All-C-USA First Team, AVCA All-Region, and AVCA All-America honorable mention selection. She helped lead the Owls to a conference championship and two NCAA Championship berths, and finished her career as Rice's all-time leader in assists with 5,190.¬ Following graduation, Schamun played professionally in Germany for a season.
She graduated from Rice in 2011 with a bachelor's degree in kinesiology and policy studies for healthcare administration, and earned a master's from UCF in sport and exercise science in 2015.