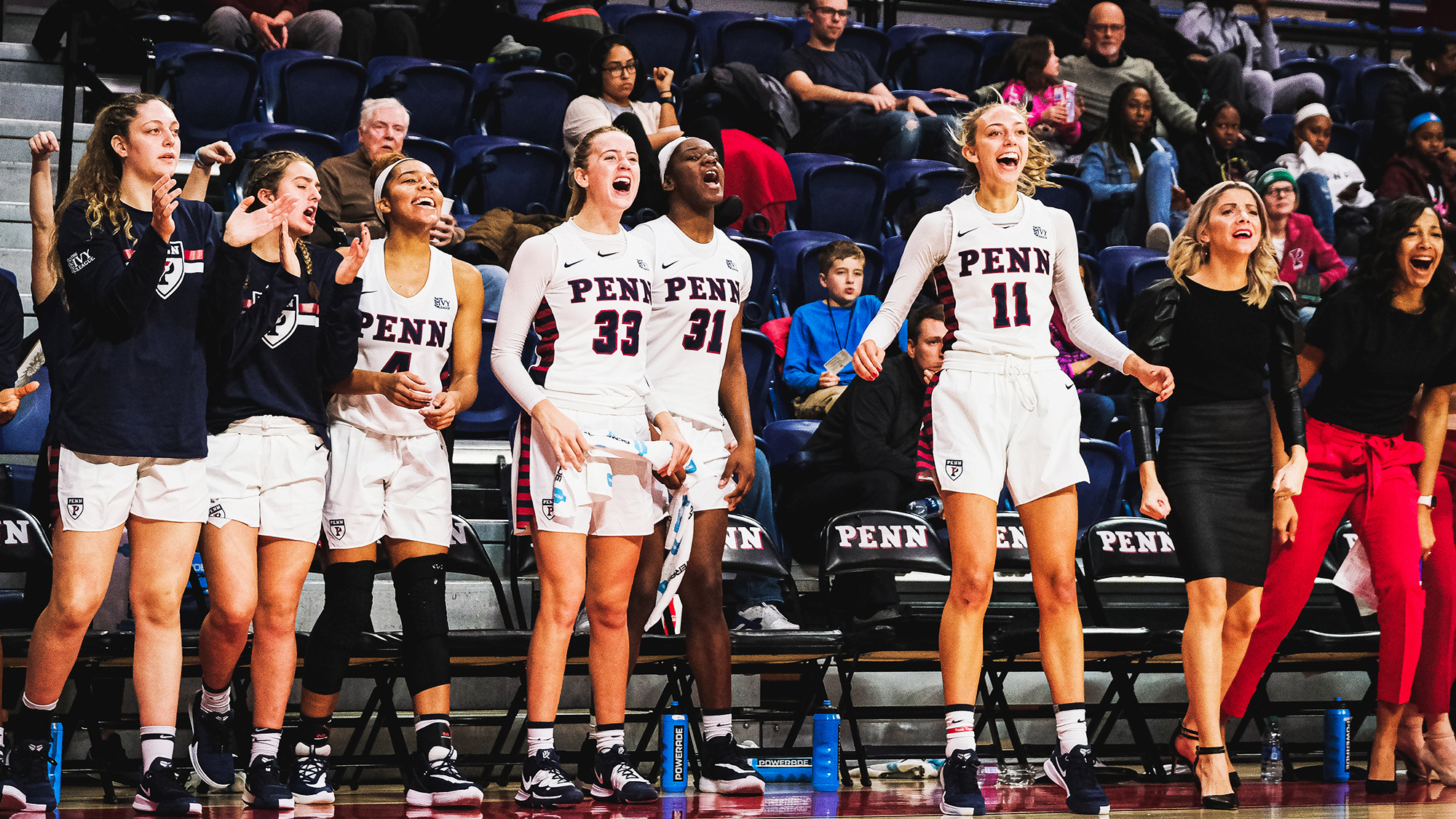 The women's basketball team surmounted a quiet shooting night on Wednesday at Saint Joseph's through excellent team defense and another exceptional game from freshman guard Kayla Padilla.
Playing their first competitive contest of the season, Penn won 55-45, its third straight victory over the Hawks and fourth consecutive Big 5 road win, a program record.
Four three pointers in the opening period—two by Padilla and one each by senior guard Phoebe Sterba and sophomore forward Kennedy Suttle—lifted the Quakers to an 18-13 lead after the first quarter. 
Junior center Eleah Parker's jumper with 6:50 left in the second quarter gave the Red & Blue a 23-19 advantage, before both teams went cold for almost four and a half minutes.
A jumper by the Hawks with 2:30 remaining in the half broke the dry spell and made it a 23-21 game. Padilla drained three jumpers in the final two minutes, and Parker swished one of her own, to put the Quakers up 31-23 at intermission.
The Hawks went on an 8-2 run to start the second half, which pared Penn's lead to 33-31. Two free throws by junior forward Tori Crawford, a layup by Parker, and a jumper by junior guard Michae Jones opened the Red & Blue's advantage to 39-31 with 2:59 left in the period. Crawford's old-fashioned three-point play with 47 seconds left gave the Quakers a 42-33 lead after three quarters.
Padilla began the fourth with a bucket in the paint to put Penn up 44-33. The Hawks cut it to five, 50-45, with 5:07 remaining in the game, but the Red & Blue held them scoreless for the remainder of the contest.
With 22 points, Padilla led all scorers and was the only Quaker in double figures. She was 8-20 from the field and 2-8 from behind the arc. She added one rebound, one assist, two blocks, and two steals.
Parker scored eight points, grabbed eight boards, and had two assists, three steals, and one block. Crawford had eight points, five rebounds, one assist, and two steals. Padilla and senior guard Kendall Grasela both played 39 of the 40 possible minutes. 
The Quaker defense held Saint Joseph's to 32.7 percent shooting from the field (18-55), including 4-13 in the crucial fourth quarter.
At 4-0, Penn is off to its best start in history. They are idle until Friday, Nov. 29, when they take on Duke in Durham, North Carolina.