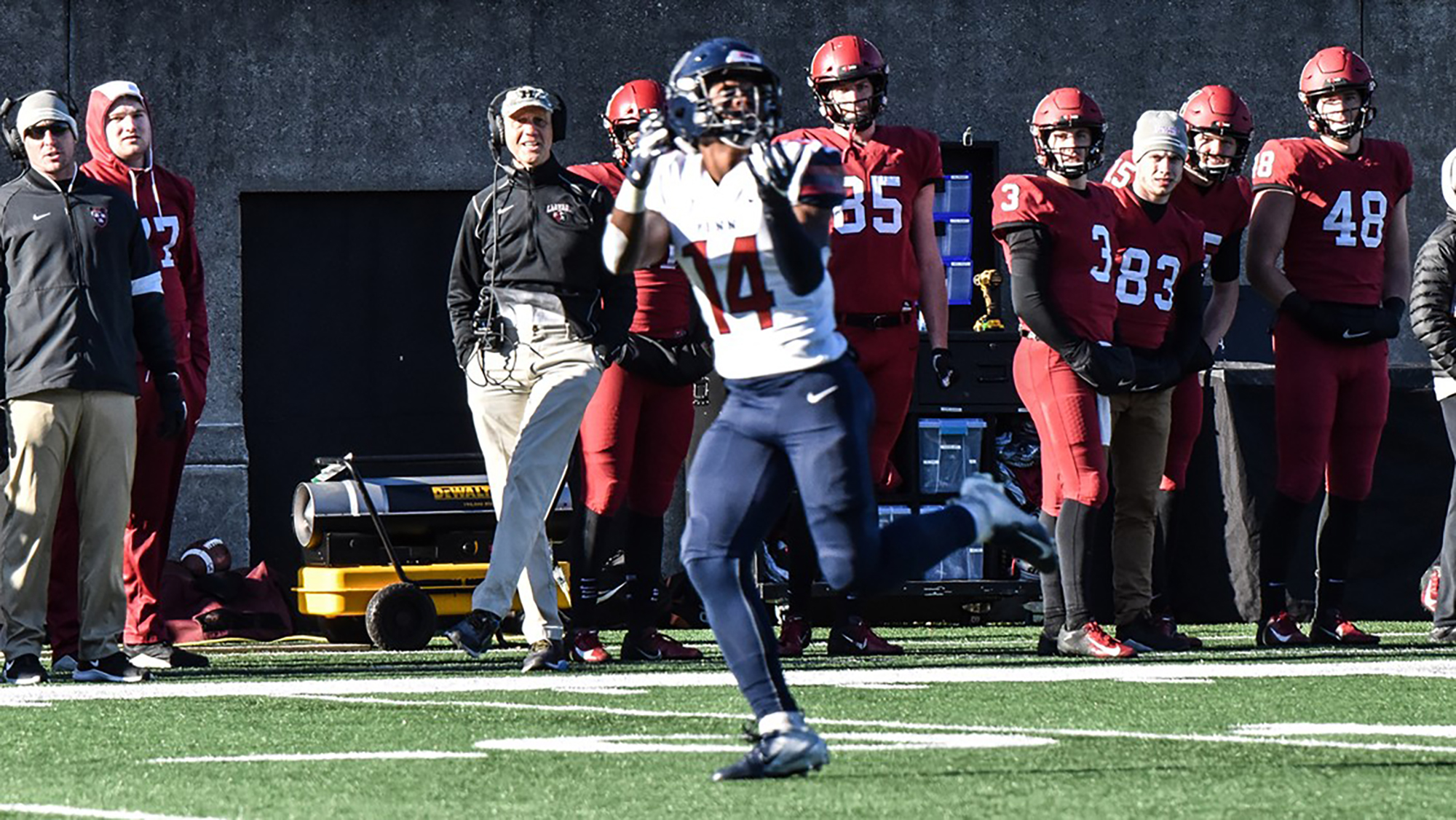 The football team won its third consecutive Ivy League game on Saturday, besting Harvard 24-20 in Massachusetts.
Senior quarterback Nick Robinson scored the first points of the afternoon, a three-yard sneak early in the first quarter. 
A muffed punt by Harvard on the following possession gave the Red & Blue the ball at the Crimson's 28-yard line. Senior running back Karekin Brooks broke for a 20-yard run, which put the Quakers at first-and-goal. Penn rushed three times, but they were stopped short. Sophomore kicker Daniel Karrash's 29-yard field goal was wide right.
The Crimson countered with a fast-moving 89-yard scoring drive, tying the game at 7-7 with a 47-yard touchdown pass.
With the ball near midfield early in the second quarter, the Red & Blue advanced to Harvard's 35-yard line via a roughing the punter penalty. Robinson rushed for eight yards on second-and-10 and Brooks fought for one yard on third-and-two to set up fourth-and-one from the 26. Penn went for it on fourth down and Brooks' three-yard run gave them a new set of downs.
Sophomore wide receiver Ryan Cragun caught a 15-yard pass to put the Quakers inside the Crimson's 10, but the Red & Blue had to settle for Karrash's 24-yard field goal.
Harvard went three-and-out on the next drive, but Penn was unable to capitalize. Robinson threw an interception deep down the field on first-and-10 from their own 15. The Crimson returned it to their 47-yard line; 10 plays later, they kicked a 28-yard field goal to even the game at 10-10.
Punting from their own 27-yard line with 1:30 left in the half, sophomore punter Jake Haggard's kick hit a teammate and Harvard took over on the 25-yard line. They added a 42-yard field goal with less than a minute remaining and entered intermission ahead 13-10.
Penn received the second-half kickoff. On third-and-five from their own 30, Robinson found sophomore wide receiver Rory Starkey, Jr. for a 70-yard touchdown pass, giving the Quakers a 17-13 lead.
The Crimson retook the lead halfway through the quarter, scoring on a reverse from the Red & Blue's 18-yard line, which made it a 20-17 game.
Sophomore quarterback Owen Goldsberry returned the ensuing kickoff 41 yards, giving Penn good field position. Four straight rushes by Brooks moved the Quakers to Harvard's side of the field. Robinson completed a 10-yard pass to junior wide receiver Mac Humble, and a 15-yard pass to Cragun to position the Red & Blue at the 17-yard line. A sack and two incomplete passes forced a 40-yard field goal, which missed left.   

On third-and-five on the next drive, the Crimson completed a 47-yard pass, which gave them the ball at Penn's 25-yard line. The Quaker defense kept them just outside the red zone, and Harvard's 36-yard field goal missed left.
Penn scored the game-winning touchdown at the end of a 13-play, 82-yard drive in the fourth quarter.
Starting from their own 18, Robinson rushed for 12 yards to the 30, and then completed a 20-yard pass to Cragun into Crimson territory. Brooks scrambled for 20 yards to the 25. 
On fourth-and-one from the 16, Robinson found Starkey for a touchdown, giving Penn a 24-20 lead.
In 12 plays, Harvard traveled 68 yards on the next possession, and had a first-and-goal from the 10. Penn stopped them on four straight plays, stuffing a run and forcing three incomplete passes.
The Crimson had one last shot, a first-and-10 from Penn's 40-yard line with 2:21 remaining. On fourth-and-one from the 31-yard line, senior defensive lineman Taheeb Sonekan stopped the Crimson running back for no gain.
Robinson finished 12-27 for 203 yards with two touchdowns and one interception, and ran the ball 10 times for 20 yards and a score.
Starkey, Jr. had three receptions for 96 yards and two touchdowns. Cragun caught three passes for 50 yards. Brooks rushed 28 times for 102 yards, moving to No. 3 on Penn's all-time rushing list with 2,752 yards. Sonekan had a team- and career-high 10 tackles (six solo), 1.5 tackles for loss, and one sack.