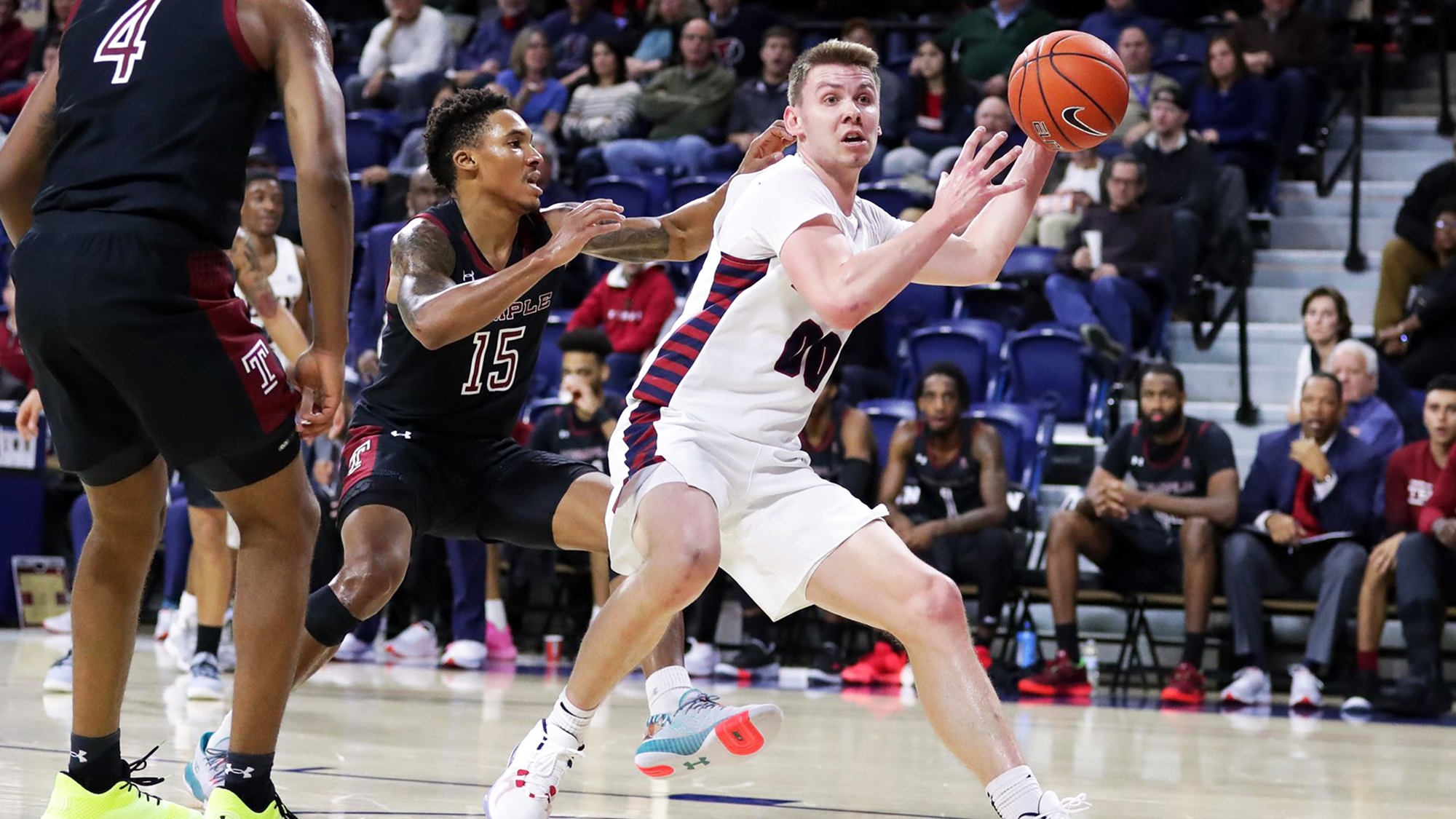 Shaking off whatever has been ailing them the past three games, the men's basketball team came out blazing against Temple on Saturday, on their way to a 66-59 victory at the Palestra. 
Penn opened the game with a 14-0 run and held the Owls scoreless for almost the first 10 minutes of the contest. 
Senior guard Devon Goodman scored the first points of the day on a fast-break layup. The Quakers were up 24-8 with 4:27 left in the half, and entered intermission ahead 25-16.
A.J. Brodeur, a senior forward, had 12 points, six rebounds, and two blocks in the first stanza.
Brodeur's bucket at the beginning of the second half gave the Red & Blue an 11-point advantage.
Temple cut the lead to six, 32-26, at the 14:34 mark. Freshman guard Jordan Dingle hit a three to increase the lead to nine, and Goodman scored a layup to push it back to 11.
Midway through the second half, Penn led 44-36. Two free throws by the Owls trimmed the lead to six, but back-to-back threes by Dingle made it a 12-point game, 50-38, with 6:56 remaining.
The Red & Blue were up by 14, 59-45, with 1:54 left in the game. Temple scored a flurry of buckets over the next 54 seconds to cut the Quakers' lead to 59-53 with one minute left on the clock. 
Senior guard Ryan Betley made four free throws down the stretch and Brodeur added two more to wrap up the win.
Both Brodeur and Betley finished with a double-double. Brodeur had 19 points, 14 rebounds, six assists, and two blocks. Betley had 11 points and a career-high 14 rebounds.
Dingle chipped in 15 points, four rebounds, and one assist. Goodman contributed 12 points, one block, and two steals. 
The Quakers shot 44.2 percent from the field (23-52) and 35 percent from three-point range (7-20). 
Penn, the defending Big 5 champions, finished the season 2-2 in the city series.
At the game, the University—including Penn President Amy Gutmann and Grace Calhoun, the T. Gibbs Kane, Jr. W'69 Director of Athletics and Recreation—honored former head coach Fran Dunphy, the winningest coach in Penn men's basketball history. In 17 seasons with the Quakers (1989-90 to 2005-06), Dunphy compiled a 310-163 record, 10 Ivy League championships, and nine NCAA Tournament appearances. Five times during his tenure, Penn went undefeated in Ivy League play ('92-'93, '93-'94, '94-'95, '99-'00, '02-'03) and he amassed a 190-48 record against Ivy League opponents. Two of his former players, Jerome Allen and Matt Maloney, played in the NBA.
Dunphy served as head coach at Temple from 2006-07 to 2018-19.
Up next for the 8-7 Quakers is conference foe Harvard on Friday, Jan. 31, at 5 p.m. at the Palestra.