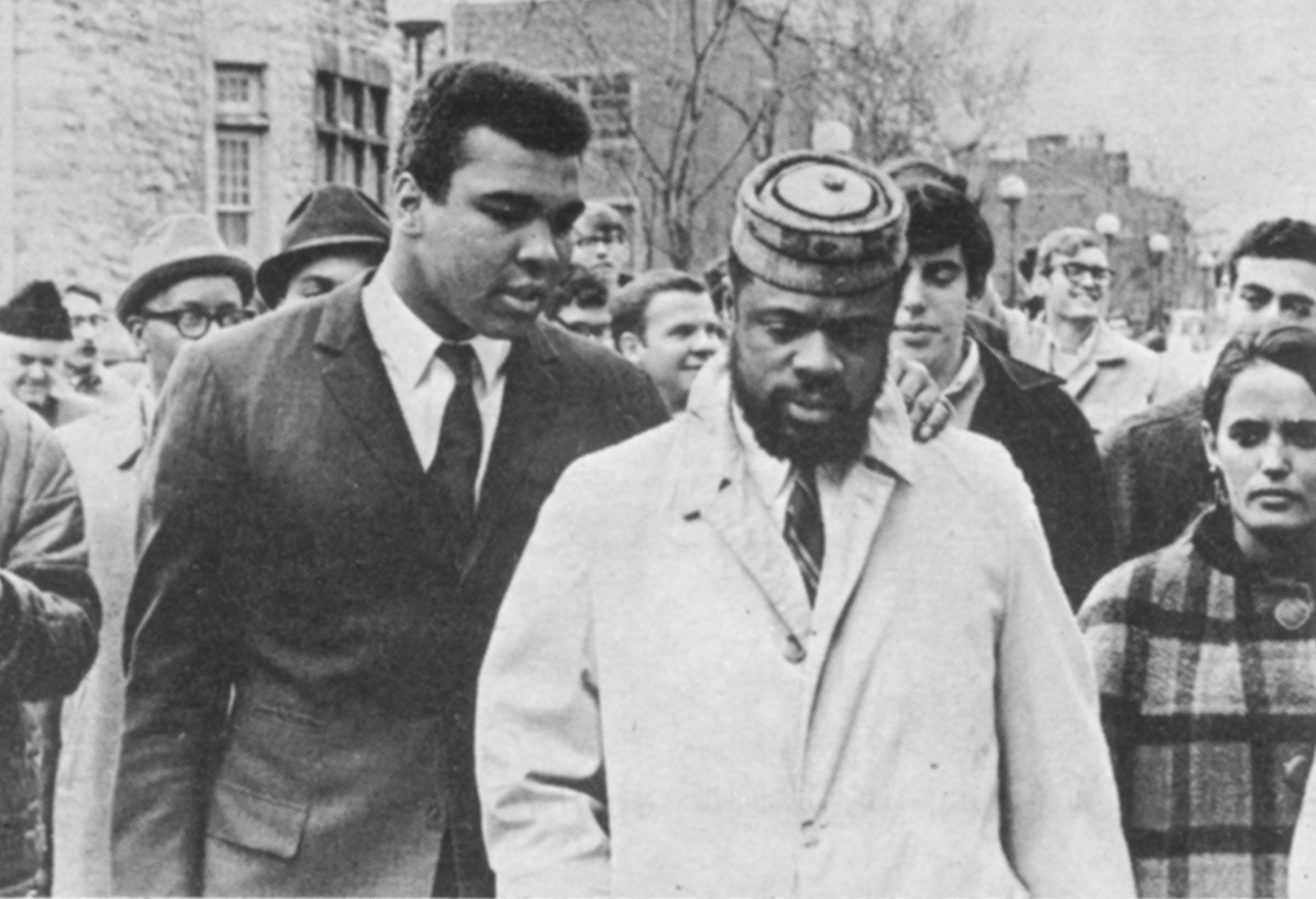 On March 6, 1968, while he was exiled from boxing for refusing to be drafted to fight in the Vietnam War, former heavyweight champion Muhammad Ali, 26, visited Penn and addressed an audience of 2,500 in Irvine Auditorium.
According to the March 7, 1968, edition of the Daily Pennsylvanian, the speech, co-sponsored by the Christian Association and Connaissance, lasted 45 minutes and was part of a tour by Ali of colleges and universities. He is pictured walking from the Christian Association to Irvine with Jeremiah X, minister of the Nation of Islam's Temple Number 12 in Philadelphia. 
The March 6, 1968, visit was Ali's second trip to Penn in less than a year. On Oct. 31, 1967, mere months after he was stripped of his title, Ali made a surprise appearance at the Christian Association and spoke for more than two hours to a crowd of around 100 African Americans. 
"We are the wisest black people on Earth since we have lived with the white man and know all his secrets," Ali told the assembled. "We worked for 310 years in this country without a payday and made this country the best place to live." He said African Americans should tell white Americans, "Don't give us nothing. Repay us."
Ali addressed a mostly white audience during his March 1968 speech, and said the solution to racial problems in the United States is separation, not integration. He accused whites of continually abusing blacks, and chastised African Americans for allowing themselves to be brainwashed, calling them "mental slaves."
In a news conference at the Christian Association prior to his speech, Ali called for African Americans to join the Nation of Islam, contrasting Islam with his former Baptist faith. 
"In Baptist churches, a Negro comes in a dumb Negro and goes out the same way," he said. "In Muslim churches, he goes in a dumb Negro and comes out a wise black man."
Ali was asked if he had watched the Joe Frazier vs. Buster Mathis fight on March 4, 1968, during which Frazier beat Mathis for the title taken from him. Ali said he hadn't and added, "If Joe Frazier dreamed he fought me he would apologize." 
For more information about this and other historical events at Penn, visit the University Archives online.
This article originally ran in the Nov. 17, 2016 edition of the Penn Current.