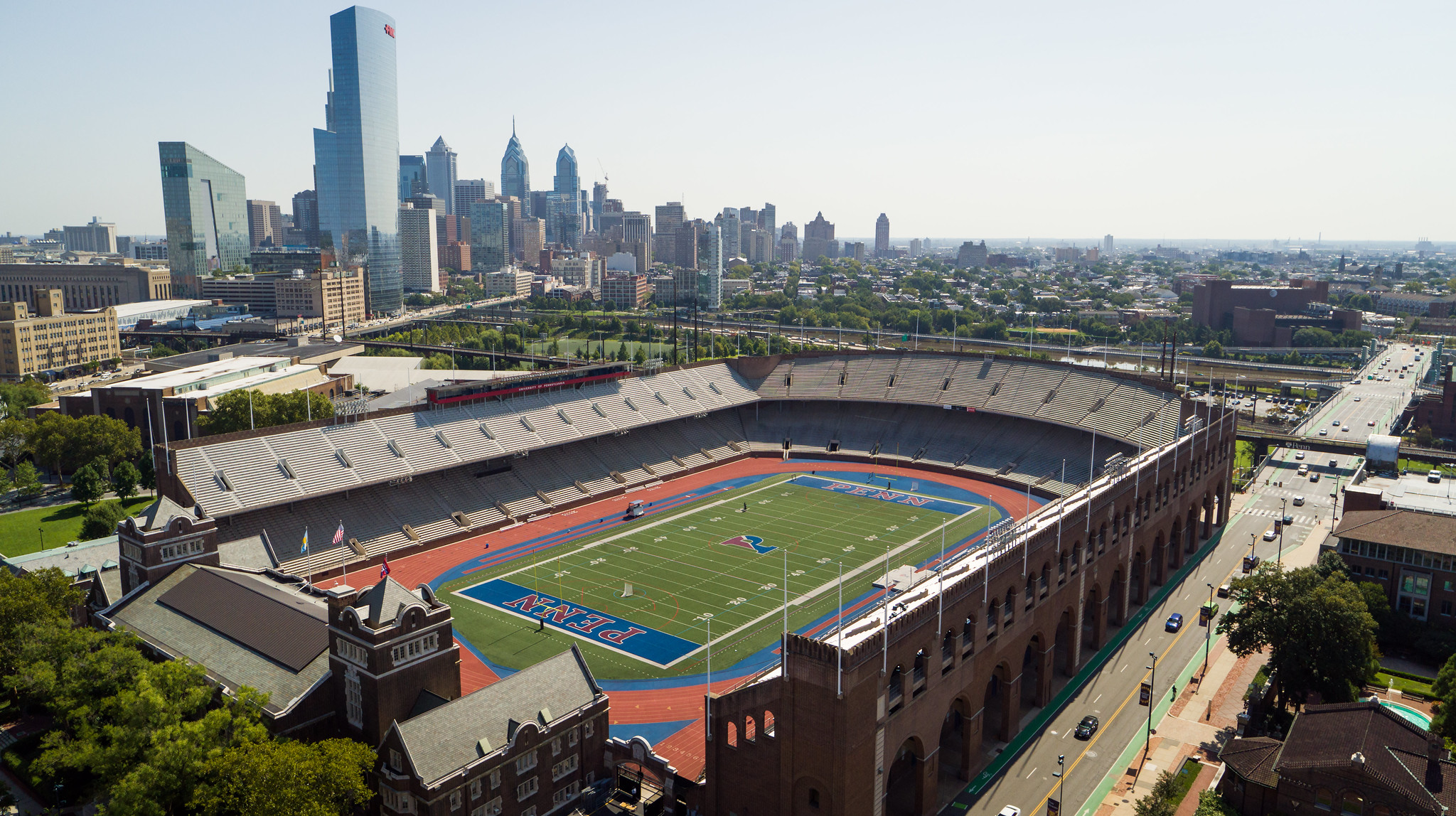 All hands are on deck at Penn Athletics to help the University's 950 or so student-athletes remain academically and physically sharp while studying and quarantining at home.
Scholastically, the Center for Student-Athlete Success continues to offer students academic support, life skills, and career development. Staff typically conduct face-to-face, one-on-one meetings with athletes; those interactions have moved online through videoconferencing platforms.
Lauren Procopio, assistant athletic director at the Center, says administrators have worked closely with campus partners at various schools and centers and utilized campus resources to try to provide student-athletes with the same level of service they were receiving on campus.
Shortly after the sports seasons were canceled because of the coronavirus, the Center surveyed student-athletes about any questions and concerns. Procopio says athletes inquired about changing deadlines, pass/fail grading, registering for classes, declaring for a major, job offers, and what is going to happen in the fall.
Drawing upon expertise from their campus partners, staff at the Center gave student-athletes the most accurate and up-to-date answers they could find.
Procopio even gave out her cell phone number, which she says student-athletes have been readily using to contact her via text. 
"We just want to help our student-athletes through this because it's just a very odd time," she says. "It's kind of disruptive to go from in-person learning all the way to remote learning, especially if you've never done something like that before."
Cory Walts, director of strength and conditioning at Penn Athletics, says right now, the mental health of the student-athletes is paramount among the strength and conditioning team. Cognizant of the academic, social, and emotional challenges students are facing, he says trainers are focused on general fitness and nothing too complex.  
"We want to keep it simple; we want to keep it engaging; we want it to be specific to their situation," he says.
Each of the 33 sports teams has met daily or weekly on videochat. Walts says all of the teams are integrating the entire sports performance apparatus—not just strength and conditioning, but also nutrition, mental health, and athletic training. 
Strength and conditioning coaches and nutritionists are involved in team meetings, trainers stay in contact with injured athletes, and sports psychologists are a video call away.
The majority of students do not have weight training equipment at home, so the strength and conditioning staff has provided a spectrum of options that athletes can do with or without equipment, such as altering tempo exercises. 
 
"Another thing is simply being creative," Walts says. "Anything around the house. Find some water bottles or books. Put it in a backpack. Hold that backpack. That adds an external resistance. The same thing with luggage."
Rarely in the history of coaching have coaches had this much time at home. Famous for being always on the go, they are ordinarily either planning for a practice or a game or recruiting.
In normal times, says Ray Priore, the George A. Munger Head Coach of the Penn football team, the Quakers would have finished up spring ball on April 11. April 15 through May 31 is the height of the recruiting season, so he would usually be on the road, visiting potential recruits around the nation. Those recruiting visits are now taking place by video or phone. 
Sunday nights were set aside by the 80 members of football team as a time to get together, check in, and converse, across various states and time zones. Normal football-focused spring meetings have been held for 45 minutes on Monday, Wednesday, and Friday.  
Players work out on their own, training together on videoconference and pushing and supporting each other through a multitude of strength development tools developed by Miguel Rivera, assistant strength and conditioning coach, head of football performance.
"Everyone's needs are different, and resources at home at different, so you want to be able to support the students and the athletes, and even the coaches," Priore says. "Truth be told, I have a large staff and a lot of them have small children at home, so it's challenging to balance everything that's going on, as we all are finding out now. So we're trying to find the proper balance." 
If not for the coronavirus, the field hockey team would have been practicing three days a week in preparation for spring tournaments.
Head Coach Colleen Fink says instead of focusing on the ever-present goal of winning the Ivy League, the primary mission of the program at present is to stay connected and be supportive of one another.
"We spend a lot of time with the team talking about winning Ivy Championships and striving for excellence on the field," she says. "While that's still a goal of our program, it almost becomes secondary during this time."
In order to maintain the shared experience of being on a team, the field hockey team has hosted game nights and the coaches assigned a team book—"Wolfpack" by former women's soccer star Abby Wambach—that they gather and discuss as a group.
The team has also held film review sessions, primarily of the women's professional field hockey league, and hosted guest speakers, such as Karen Reivich of the Positive Psychology Center, who did a presentation on optimism. 
Fink, a person who likes to keep busy, says she and her staff have been creating a lot of projects for themselves, and she recently launched a coaching webinar series for fellow field hockey coaches at the club, high school, and collegiate level. She's also homeschooling her two sons.
"That is definitely a new thing for me," she says. "Luckily I was a teacher in a past life so I feel like we're doing the best we can on that front."