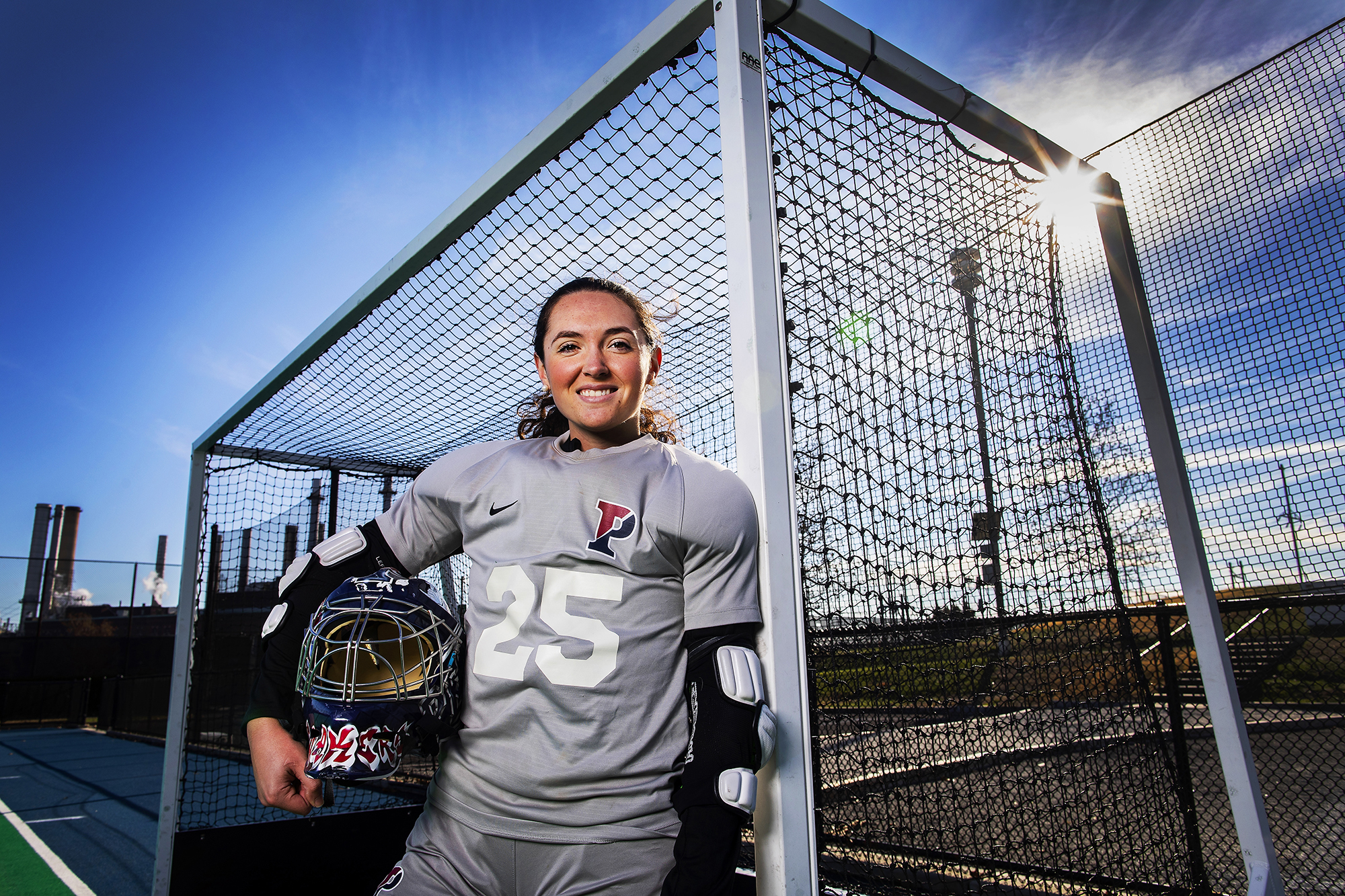 Ava Rosati's favorite memory from her four years as a goalkeeper on the field hockey team was the squad's 3-2 defeat of No. 10-ranked Syracuse during her sophomore season at Ellen Vagelos Field.
She played the entire 70-minute contest and recorded six saves.
"It was a home game so there were a lot of fans," she says. "It was a Top 10 win for the program. Throughout my time here, we've known that we can play and beat some of these great teams, but having that outcome really helped the confidence of the program and my teammates."
Rosati, from Ambler, Pennsylvania, started the final nine games of her sophomore year, and every game thereafter. For her career, she played in 47 games, logged almost 3,000 minutes in cage, saved 164 goals, collected nine shut outs, and had a 1.96 goals against average. 
During her junior campaign, she had six shut outs and was an All-Ivy honorable mention. This past season, she served as one of the team captains and had a career-high 12 saves against No. 1-ranked North Carolina.
Asked what she will miss the most about playing for Penn, Rosati replies, without hesitation, her teammates. 
"Absolutely the girls," she says. "Especially being such a relatively small team compared to some of the Penn athletics teams, you just get so close to everyone. It's going to be really hard to not have those experiences where you're waking up every morning, even though it's early, and getting to spend 20-plus hours a week with your closest friends."
Penn Today sat down with Rosati at Vagelos Field to discuss becoming a goalkeeper, her competitive nature, her older sister's influence, why goalies need a short memory, and her plans for the future.
What do you enjoy about playing field hockey? Obviously, there's so much to learn from sports in general, and I love being part of the team, especially at Penn. They are such a great group of girls. But I also am very competitive and I just love the ability to go out and play, especially here. We have a lot of opportunities to play a really tough schedule. It's exciting to be able to go out and play against some of the girls that are on the U.S. National Team.
You have been playing field hockey since the second grade, and you've been a goalie since fourth grade. How did you become a goalie? My club team at the time—because when you're that young, a lot of people don't particularly want to be a goalkeeper—our head coach had us rotate who was goalie for each game for our tournaments. And I actually did enjoy it when I was in [goal], and I was decent at it so I stuck with it.
Your sister Mia, who is eight years older than you, played field hockey at Yale. What influence did she have on you playing field hockey and attending an Ivy League school? After seeing her go through the process, I realized what great opportunities athletics can provide regarding college education, so I set my mind on really trying to work hard to be able to play at an Ivy League school. In a way, I'm a little bit different than my sister. I'm definitely more of a homebody. Being from Ambler and being close to school, I think there couldn't have been anything more perfect than coming to Penn.
My daughter plays field hockey and she's a goalie. She takes it pretty personally when she allows a goal. Is that common among goalkeepers? Every goal definitely hurts. And you do take it very personally, especially because, quite honestly, it is your job to make that big save or to come up strong if there are other mistakes on the field. So any goal is able to be saved, but you have to, obviously, not let that get to you too much to where it hurts you when you're trying to continue to perform. You have to have a short memory. I have been lucky to have such great defenders and teammates in front of me throughout my whole time here, which has made everything easier.
You are an economics major in the Wharton School and also minoring in classical studies. Why did you choose classical studies as a minor? My language—everyone at Wharton has to take a language—was Latin, which I did in high school as well. I just really love that language, and the history and culture behind it that you learn as well.
Where does your interest in Latin come from? I always gravitated towards more quantitative subjects, like math and science, in high school. I think that also goes back a little bit towards the more quantitative subjects. It definitely is more structured of a language than other ones, even though the grammar itself is actually pretty loose. I like how it's more translation-based versus other languages that are obviously still spoken where you do a lot of translating it on the spot in class and speaking and listening, whereas in Latin you're just doing a lot of reading.
You also work as the head goalkeeping coach at the Philly Hockey Club. Can you talk about your coaching and what you enjoy about teaching younger goalies? The head coach of that team is Rennie Milne and I did a lot of private lessons with him since high school and through college. He's an outstanding coach and has taught me so much. Getting to continue to work with him has been great. It's really exciting to see some of the small little tips and tricks you can tell the other keepers to start helping them as they play. When they get excited because they made a save that they weren't able to make before, it definitely makes it worth it.
After Commencement, you will work as a private equity analyst at The Blackstone Group in New York City. What are your long-term goals? I interned at Blackstone last summer and was lucky enough to be able to come back. I would love to go to business school. I definitely see myself staying in New York for a while, especially with all the opportunities that are there, but hopefully in the long term, being able to come back and work in Philly.