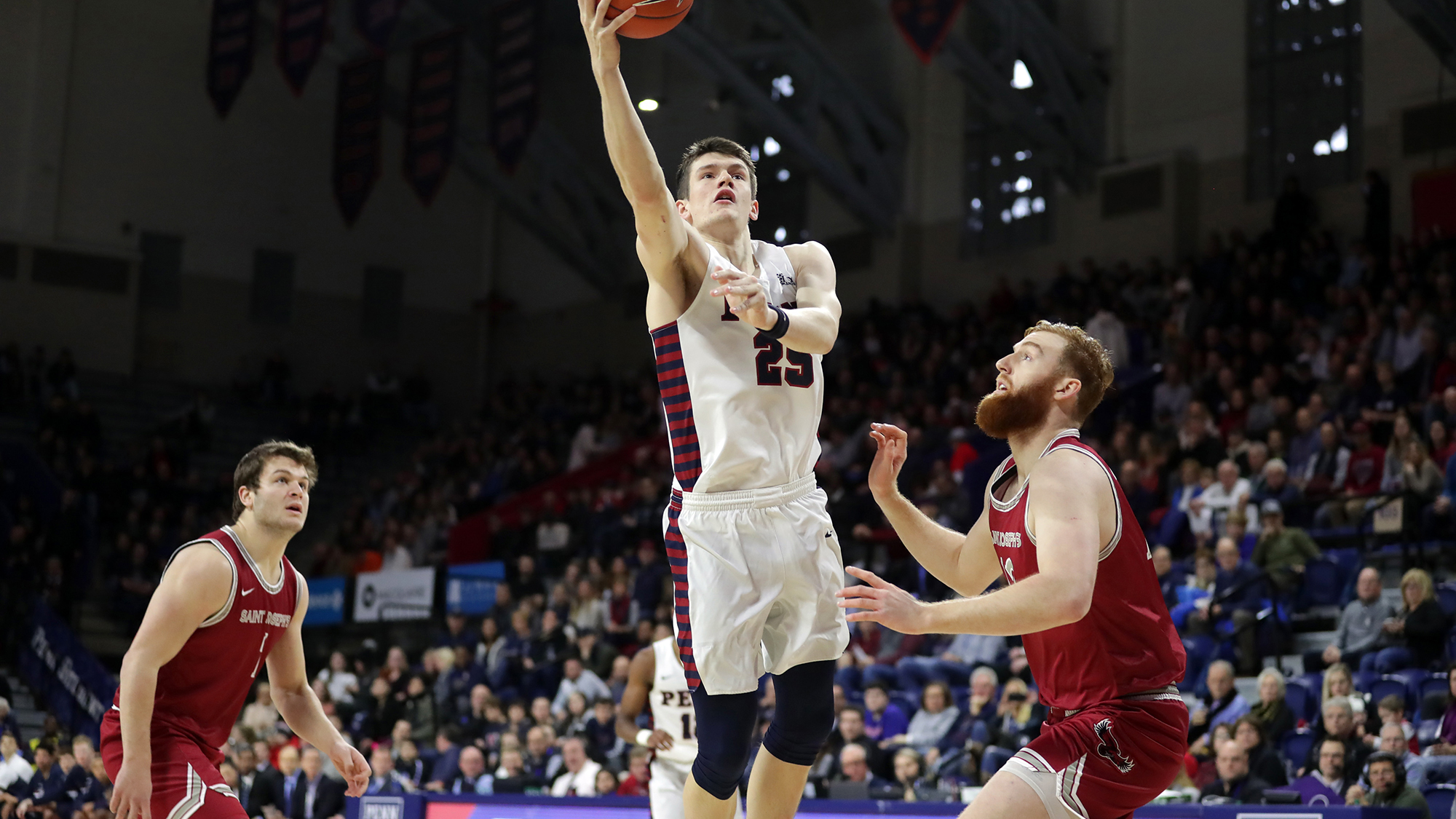 Forward A.J. Brodeur of the men's basketball team has been named co-Ivy League Player of the Year after finishing his final season in a Quaker uniform near or at the top of almost every major statistical category in the conference: fourth in points per game (17.3), second in rebounds per game (8.9), first in assists per game (5.2), second in blocks per game (1.8), fourth in minutes per game (34.6), third in field goal percentage (.504), and fifth in free throw percentage (.716). He shares the award with Paul Atkinson of Yale.
Brodeur is the University's all-time leader in points, field goals, games started, blocks, and games played, and third in rebounds and sixth in assists.
Fourteen times this season, he led the Red & Blue in scoring, and he was the team's leading rebounder 20 times. He accumulated 12 double-doubles this year, the most by a Quaker since Tony Price had 12 in 1977-78.
In what unexpectedly turned out to his final game, an 85-65 defeat of Columbia on Saturday at the Palestra, Brodeur broke the 67-year-old scoring record and also became the first player in Penn basketball history to record a triple-double—a fitting end for a future Hall-of-Famer.
Brodeur is the 17th Quaker to earn conference Player of the Year honors, and the first since Zack Rosen eight years ago. He was also named First-Time All-Ivy for the third year in a row, making him only the 11th three-time First-Time awardee in school history.
During his sophomore season in 2018, Brodeur helped the Quakers win the Ivy League Tournament and advance to the NCAA Tournament for the first time in 11 years. He scored 16 points and grabbed 10 rebounds in the 68-65 win over No. 1-seeded Harvard, and was named the Tournament's Most Outstanding Player.
Penn finished this season 16-11 overall and 8-6 in conference, which tied for fourth in the Ivy League.