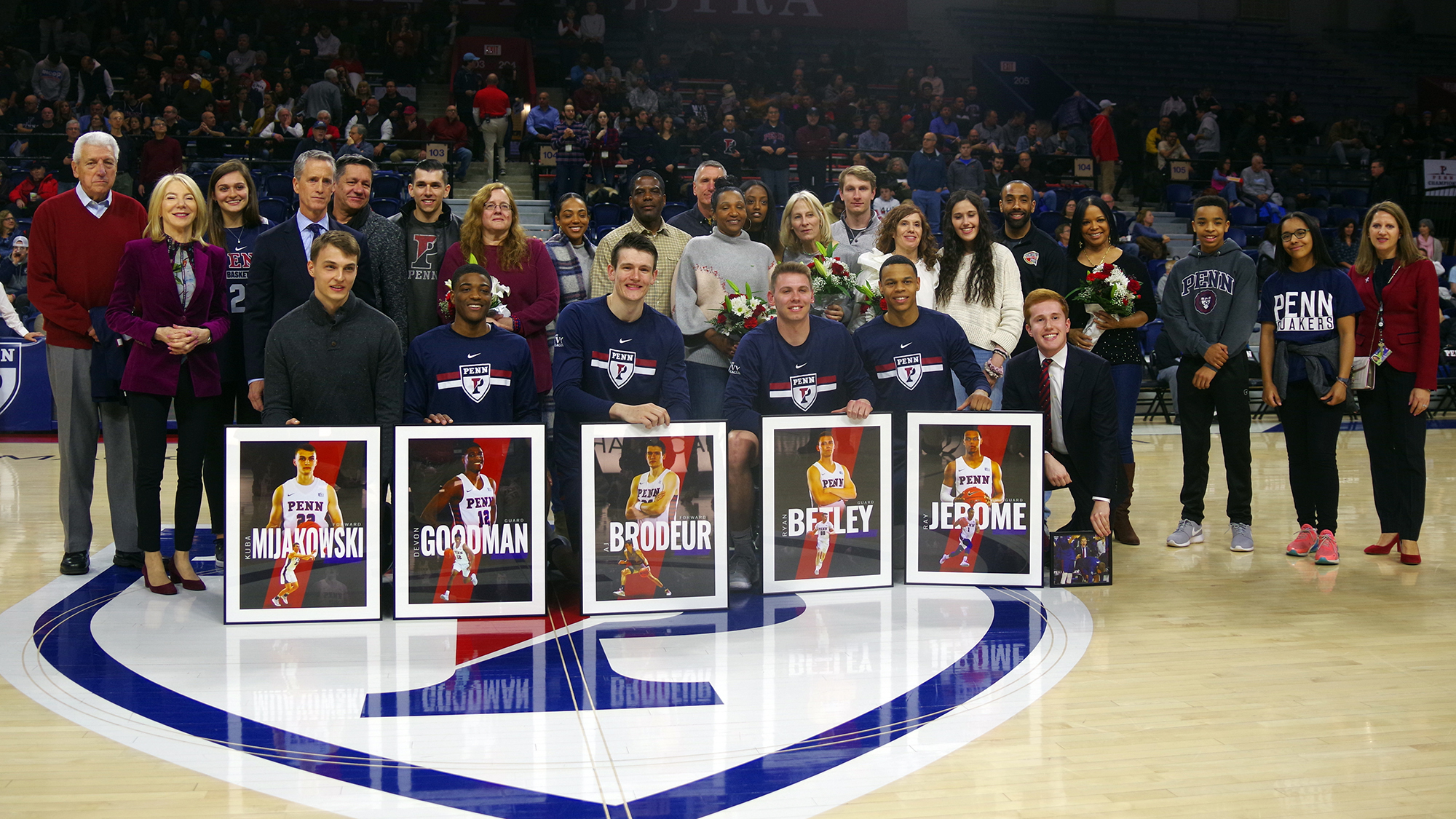 In his final game at the Palestra, A.J. Brodeur walked into history.
The senior forward became Penn's all-time leading scorer in the men's basketball team's 85-65 win over Columbia on Saturday, and the first Quaker ever to record a triple-double. 
His 21-point, 10-rebound, 10-assist effort helped the Red & Blue clinch the fourth and final slot in next weekend's Ivy League Tournament.
Columbia had the upper hand early on. The Lions were up 18-10 after a dozen minutes of play. A jumper by Brodeur, a free throw by freshman guard Lucas Monroe, and a three by freshman forward Max Martz cut the lead to two.
Senior guard Ryan Betley hit a triple with 8:30 on the clock to get Penn within one, 22-21. They took the lead on a layup by senior guard Devon Goodman—and never trailed again.
Two threes each by freshman guard Jordan Dingle and Betley boosted the Quakers to a 40-30 halftime advantage. 
Brodeur had 10 points in the first half and Betley scored 13, including 4 for 5 from three-point range. The Red & Blue shot 7-16 from behind the arc in the opening 20 minutes.
Penn went on an 8-2 run to open the second half and increase their lead to 48-32.
More threes by Goodman, Betley, and Dingle opened a 22-point lead, 59-37, with 13:46 on the clock. The Red & Blue led by as much as 25.
Brodeur broke Ernie Beck's 67-year-old points record on an assist by Goodman with 9:46 remaining. Moments later, Brodeur blocked his fourth shot of the game, which made him the Quakers' all-time leader with 196.
His rebound with 2:08 left in the contest was his 10th, and gave him a triple-double.
Brodeur finished with game highs in points (21), rebounds (10), assists (10), and blocks (four). He is also the Red & Blue's all-time leader in games played (119) and sixth all-time in assists (390). 
Follow seniors Goodman and Betley bid the Palestra adieu with 17 points and 16 points, respectively. Dingle scored 14.
Penn shot 33-58 from the field, a season-high 56.9 percent.
The Quakers will take on top-seeded Yale in the Ivy League Tournament semifinal on Saturday, March 14, at 11 a.m. at Harvard.
[Editor's note: On March 10, the Ivy League announced that the Ivy League Tournament was cancelled in accordance with the guidance of public health and medical professionals to discourage and limit large gatherings on campuses in light of the coronavirus.]