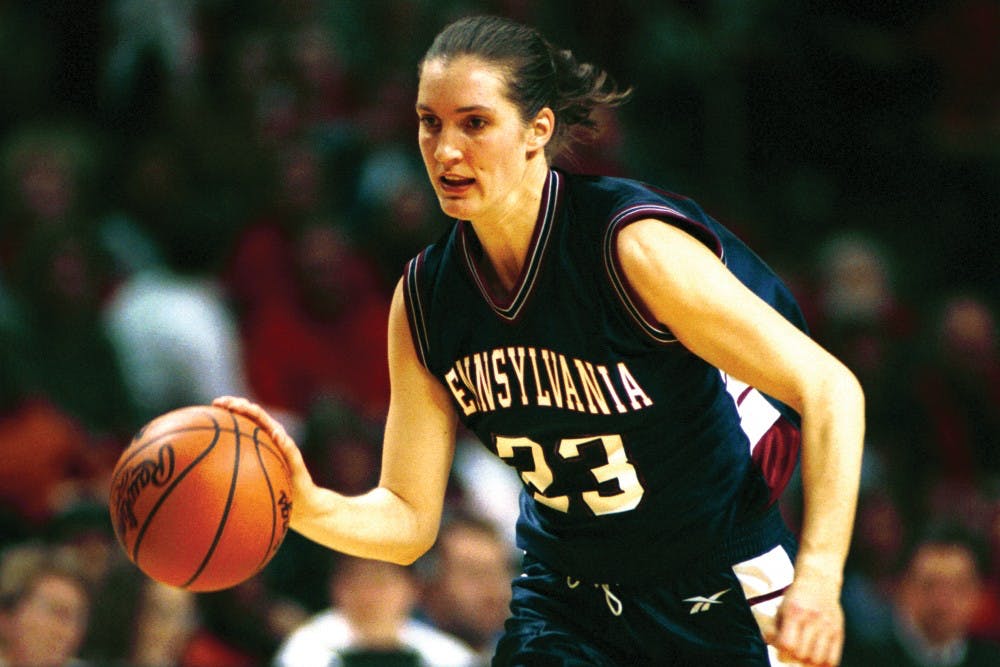 Diana Caramanico got buckets, as the kids say these days.
Buckets, and buckets, and buckets.
Bushels of buckets, so much so that she graduated in 2001 as the leading scorer in Penn basketball history, men or women, with 2,415 points, and the top scorer in Ivy League women's history and Big 5 women's history.
Her record stands, still. Likewise, she is the women's basketball team's all-time leader in rebounds (1,207) and steals (210).
Four times in four years as a Quaker, Caramanico was a First-Team All-Ivy selection, and she was a three-time Ivy League Player of the Year and Big 5 Player of the Year.
As a sophomore, she recorded 21 double-doubles in 26 games. During her junior season, she averaged 24.8 points per contest, second-best in the country. In her senior year, Penn finished with an unblemished 14-0 conference record, won the Ivy League for the first time, and advanced to the NCAA Tournament.
The Big 5 Hall of fame came calling in 2007, and the Penn Athletics Hall of Fame in 2016.
A native of Blue Bell, Pennsylvania, Caramanico is an alumna of the Wharton School and the College of Liberal & Professional Studies. Penn Today chatted with her recently about getting buckets, staying out of foul trouble, her last game at the Palestra, playing professionally in France, and what she's up to today.
Did you come to college with a scoring mentality, or was scoring something you had to focus on to help the team? I remember from a pretty young age of kind of having a knack for putting the ball in the basket. Scoring was kind of the thing that I did a lot of growing up, but at the college level, I had a lot of great coaches to help me continue to develop that ability as I changed levels because people were faster and bigger and stronger, and the pace of the game was faster. My high school coach and my college coaches really helped me to develop and continue to be able to score the way I grew up scoring, and then I just had great teammates that were unselfish. I don't put the ball in the basket without great coaches to develop me and great teammates to pass it to me, or set screens, or whatever the offense called for.
You hold the Penn women's basketball record for most points scored in a game, dropping 42 against Albany on Jan. 8, 2001 in a 64-51 win in New York. Do you recall anything about the game? I just remember getting a lot of offensive rebounds. I clearly remember getting some put-backs early in the game, like a couple in a row, two or three in successive possessions. I was pretty surprised at the end of the game when they told me that I had scored that many points because I really was just focused on watching the scoreboard and making sure we had more points than the other team. I do remember at one point, later in the first half, being exhausted and asking for a sub and they called a timeout. I remember our assistant coach, Coach [Joe] McGeever, looking at me in the eyes and saying, 'Don't get tired. You're not tired. You're fine. Take some deep breaths. Drink some water. You're not tired,' trying to convince me that I wasn't tired. That's the thing I remember most about the Albany game, is him telling me, 'Don't get tired,' which was out of character for him. Usually, he was asking me if I was tired or not, or just trying to assess how I was doing. Now I understand what he was doing, but at the time I was like, 'OK, I guess I'm not tired.'
You were rarely in foul trouble. What are some keys to staying aggressive on defensive without getting into foul trouble? Well, I was typically smaller than the person I was playing against, so my general plan of attack was to run the floor a lot to get them tired so they would foul me, and just being in good shape and just trying to keep myself as strong as possible. And I think, too, it goes back to coaching. I remember in high school my coach explaining to me where you don't want to waste fouls. The same thing in college. You don't want to waste fouls by fouling underneath the basketball unless you're fouling intentionally. Just little things like that. And I didn't try to block any shots, either, so I wasn't swinging widely, and also learning not to gamble to try to steal the ball in low-percentage situations where it was unlikely that I was going to be able to actually come away with it.
Do you remember your last game at the Palestra? I do remember my last game at the Palestra. We played Princeton at home. It was Senior Night. A couple things stand out to me. My class was a class of 10 when we came in. When we graduated, there were five of us still on the team. If you took the five seniors, we were positions one through five on the court. I remember starting the game and we went on a 14-0 run, and in that 14-0 run, every single senior scored a basket. There was no looking back from that point.
Did you say you were part of a class of 10 freshmen? My freshman year, we basically had 10 freshmen, two seniors, and a junior, and a sophomore who had gotten hurt and was unable to play.
I don't think I've ever heard of a team with 10 freshmen before. It's pretty uncommon. The two seniors and the junior said that they felt like they had transferred rather than us coming to their team.
Am I correct that you played professionally in France after college? I played in Strasbourg. It's in eastern France, like east of Paris, right on the German border. I loved it. It was life-changing. Twenty-some years later, I had two children and they both speak French now. I haven't lived in France since 2003 but I just lucked out. I ended up in a town playing for a coach who was phenomenal. He coaches the junior national team in France. I really lucked into one of the most phenomenal coaches I could have ever asked for. He cared about me as a person. You hear all kinds of horror stories about people not getting paid, people not having what they needed to live, and I just fell into the most amazing situation. I have teammates that I consider to be like family members. It was great for my basketball development, just to see a different style of play; it was great for my ability now as a coach to have different perspectives on different ways of playing.
What are you up to these days? These days, I'm married to actually a former Penn basketball player, Geoff Owens. We have two kids that are almost 9 and 11, and I teach high school math at the high school that I went to, Germantown Academy. I also coach JV girls' soccer and I'm an assistant on the varsity boys' basketball team, so I'm still involved in the game.