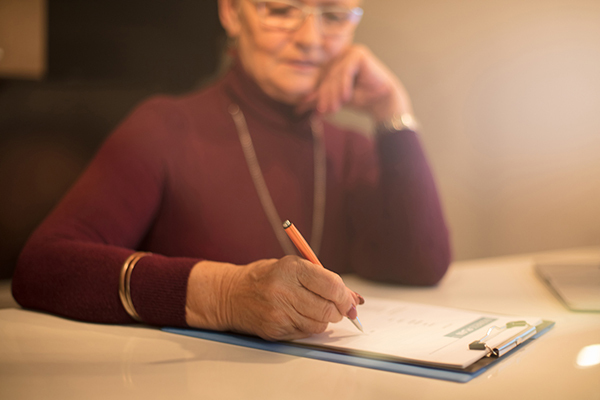 Estate planning and wills can be vexing on any given day, but Christina Fournaris, an adjunct lecturer of law, trusts and estates at Penn Law School and leader of the Private Client Group at international law firm Morgan Lewis, says it's especially crucial now during the pandemic. 
The need is immediate and pressing for front-line health care workers and first responders, but also necessary for everyone else, she says. 
Fournaris discussed with Penn Today the do and don'ts of estate planning during a pandemic.
Why is not having a will a mistake?
There are several reasons to have a will.  
First, you can determine the disposition of your assets, including your personal effects, accounts, and other assets. You may wish to bequeath certain items to specific individuals or make gifts to charity. A will provides certainty. If one dies without a will, the laws of intestacy apply, which means that your assets will be disposed of pursuant to state law. State law makes assumptions that you would want your assets distributed to certain next closest of kin, which may not be your desire.  
Second, if you have minor children, you may appoint a guardian for your minor children under your will.  
Third, you may designate the executor or personal representative of your estate. This fiduciary will work closely with your advisers to ensure the proper administration of your estate.  
Finally, a will may include trusts for beneficiaries, which may provide protection of the trust assets from the trust beneficiary's creditors.
Why is it so important to have a will regardless of income, children, or marital status?
The reasons to have a will noted above are not dependent on income or whether one has children or marital status. In fact, it may be even more important for a single person to create a will to avoid having the state intestacy laws dictate the disposition of one's assets. Charity or extended family members may play a more prominent part in one's estate plan if one is single with no children.
What are the three basic documents that are the cornerstone of every person's financial life?
As part of the estate planning process, it is important to do the following: First, review all beneficiary designations for retirement plans and life insurance to ensure they are current.  Second, each individual should also have an asset management durable power of attorney. This authorizes an agent to make financial decisions on your behalf if you are unable to make or communicate those decisions yourself.  
Third, each individual should have a health care durable power of attorney, which authorizes an agent to make health care decisions on your behalf if you are unable to make or communicate those decisions yourself. The health care durable power of attorney also contains specific directions regarding the important subject of life support and should effectively and clearly explain your intentions.
Many of us can no longer do things in person due to COVID-19. What happens if you can't be there in person to sign the papers?
Individuals may work with their attorneys on a remote basis—one need not have meetings in person. Draft documents may be prepared based on those discussions. When the final documents are ready for signature, attorneys may send the documents via electronic mail with specific instructions for signing. Ideally, documents should be signed in the presence of at least one witness and a notary public. If it is inconvenient to travel to a local notary, there are traveling notaries widely available. The witnesses need not know anything about the documents.
We have heard stories amid the pandemic where paramedics need to come into people's homes—they don't know who to call and there are no documents to be found. Talk about the importance of a health care proxy, especially during a pandemic.
I noted that the health care power of attorney or health care proxy is one of the most important documents that an individual may create. Anyone over the age of 18 should have one so that there is someone that is authorized to make health care decisions on your behalf.  
It is now becoming increasingly more common for college-age individuals to create a health care power of attorney appointing one or both parents as agents. This has become especially important due to the privacy rules.  
This document is important under any circumstances; the current pandemic has heightened awareness of this important document. I also suggest that people maintain a notebook with the names of their family members and trusted advisers: attorney, CPA, physician, together with phone numbers.
What advice would you give to those who feel it's morbid to make a will?
There are people who believe that making a will is only for older persons or persons with substantial assets. This is not true. First, the process enables you to review your assets, your accounts and investments, and ensure your affairs are in order.  
Second, the process is educational. Learning about how assets should be titled and tax implications will enable you to make sound decisions in the future.  
Finally, having realistic discussions with trusted advisers will put your mind at ease so that if there were a tragedy, the process of disposing of assets would be executed in a thoughtful manner.