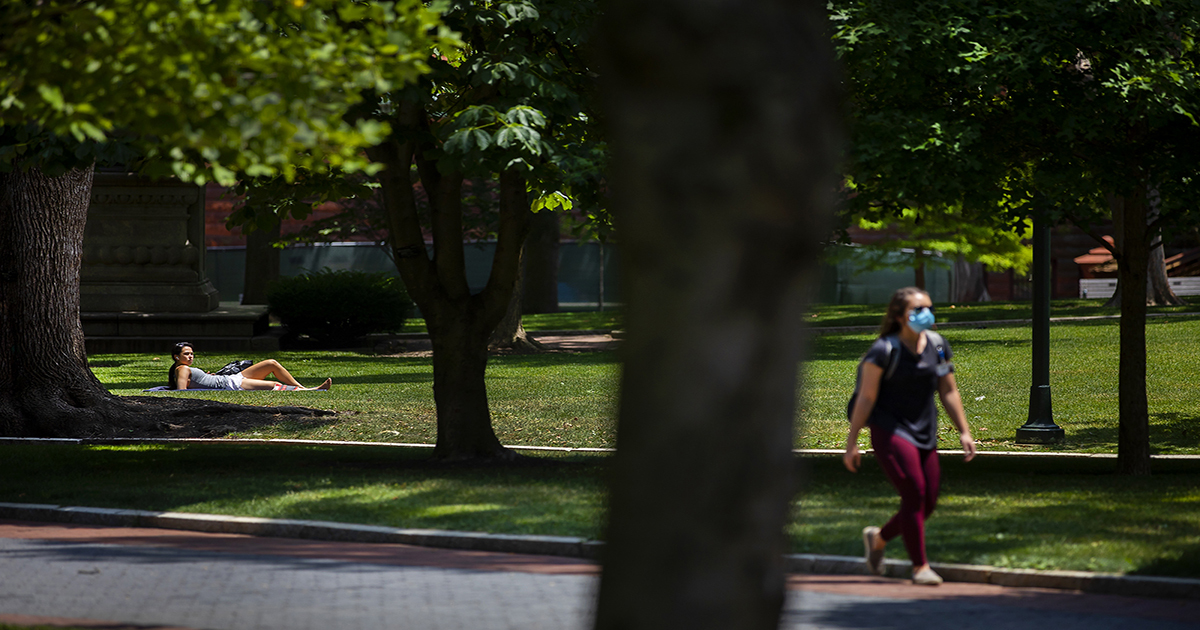 As the Penn community prepares for the transition to the fall semester, the office of Student Registration and Financial Services (SRFS) is ready to help students navigate financial programs during this unprecedented time. Penn Today caught up with Matthew Sessa, the executive director of SRFS, to talk about what students receiving financial aid can expect and where they can go with questions.
With Penn's announcement of the fall plans, how are the financial aid programs adapting to the new circumstances? 
The fall semester is going to look very different for many students, but one thing we want to emphasize is that Penn's commitment to meeting 100% of demonstrated need for undergraduate students with grant-based aid remains unchanged. Whether a student lives in on-campus housing, pays rent off-campus, or ultimately decides to live at home with their family and learn remotely, SRFS will prepare a financial aid package that accounts for their billed expenses and/or living expenses, just like any other year.
We are also anticipating areas where families will have additional financial need as a result of the COVID-19 pandemic. For instance, in anticipation that students will have a harder time finding paid employment opportunities this summer, we announced earlier this year that every student who would usually have a summer savings expectation as part of their financial aid package would instead receive additional grant funding for the 2020-21 academic year. 
How will the COVID-19 summer savings grant work?
Penn introduced this additional source of grant funding in 2020-21 in acknowledgement that many students will be unable to find summer employment this year, making it especially challenging to save funds for the academic year.
All students whose packages include a summer savings expectation will instead see an additional COVID-19 Summer Savings Grant included in their financial aid package for 2020-21. The amount of the grant will be split evenly between the fall and spring semesters.
Penn announced this plan to replace that expectation with grant funding back in April and really took early action to ease the minds of students who were already starting to worry about how they were going to make money over the summer to pay for their education. Students can read more information on our Fall 2020 Semester FAQs.
How will students' living situations affect their financial aid?
Just like any year, Penn will factor a student's living expenses into their financial aid package, regardless of where they live. We publish three standard costs of attendance on the SRFS website: one for students who live in on-campus housing, one for students who pay rent and live off-campus, and one for students who live at home with their families and do not have housing expenses. You can find them online.
Our standard formula for determining a financial aid package is consistent with previous years. A student's total cost of attendance, minus their assessed expected family contribution, equals their demonstrated financial need. We then fund that demonstrated need with grant funding and a work-study award. If a student's cost of attendance changes, say if they decide to live at home or decide to cancel a housing or dining contract, their aid package adjusts proportionally to account for the change in total costs.
With so much volatility in the economy these days, what can students do if their financial situation changes?
We are already in communication with families whose financial situations have changed as a result of the COVID-19 pandemic. Financial aid applications ask families to submit 'prior prior' year tax information (or, information from two years ago), which is normally a convenience because it means they can apply early without waiting until they complete their current year tax returns. But this year in particular, that information may have changed since submitting the application. After a family receives their financial aid package, if they have new financial information they would like us to consider that was not included in their initial application, they can submit a request for reevaluation and our financial aid counselors will determine if there is any additional aid we can provide. Sometimes families submit the reevaluation form before they receive their initial package, and in that case we will factor the new information into our initial decision. 
One thing to emphasize is that we are usually only able to make determinations based on documented changes in financial circumstances, not anticipated changes. Sometimes we will have to tell a student or family to wait a month or two and provide us with additional information before we can make a final determination, which we understand can be challenging to hear.
How will SRFS deliver services in a hybrid fall?
Whether students need in-person or virtual interaction, SRFS is preparing to serve them this fall. We are in the midst of renovating our existing space in the Franklin Building lobby as a new SRFS Service Center. While our utilization of the space will certainly be much more limited than anticipated when we first started planning for it last year, we are reimagining the space to align with social distancing guidelines and safety measures. So, we will soon have staff available for students who absolutely need to come in and speak to someone in person.  
We are also ramping up our virtual-service offerings and expect to debut a virtual lobby and increased opportunities for video chatting with our Service Center counselors and financial aid counselors so students who are studying remotely or who can just as easily have their questions answered from a distance can do so without coming in.
We're working hard to make sure we're being as transparent as possible and providing students and families information as soon as we have it and on a consistent basis. We're making a conscientious effort to ensure that staff are equipped with the latest information. It's really important to us.
How will SRFS work with partner organizations to support students this fall?
It is more important than ever that we remain in close contact with our colleagues across campus to ensure that we're meeting the needs of all students this fall but especially students who may be vulnerable financially or otherwise. We have built a strong and supportive network with colleagues from the Office of Penn First Plus Students, student-serving offices within the Division of the Vice Provost for University Life, the undergraduate school advising offices, and many more to ensure that we are able to support the needs of students as they arise, whatever they may be. We also continue our signature financial aid initiatives for highly aided students. For instance, we are still working to provide first-year highly aided students with laptop computers, regardless of where they spend their fall semester, and we continue to provide summer internship funding to highly aided sophomores and juniors working remotely this summer. 
I also want to highlight our Financial Wellness @ Penn program, which is preparing a series of virtual programs and workshops this fall to give students the opportunity to assess and make changes to their personal finance habits. While we won't be able to bring people together in person for food and conversation in the near future, we're looking forward to meeting more students online as we develop this new and exciting program.