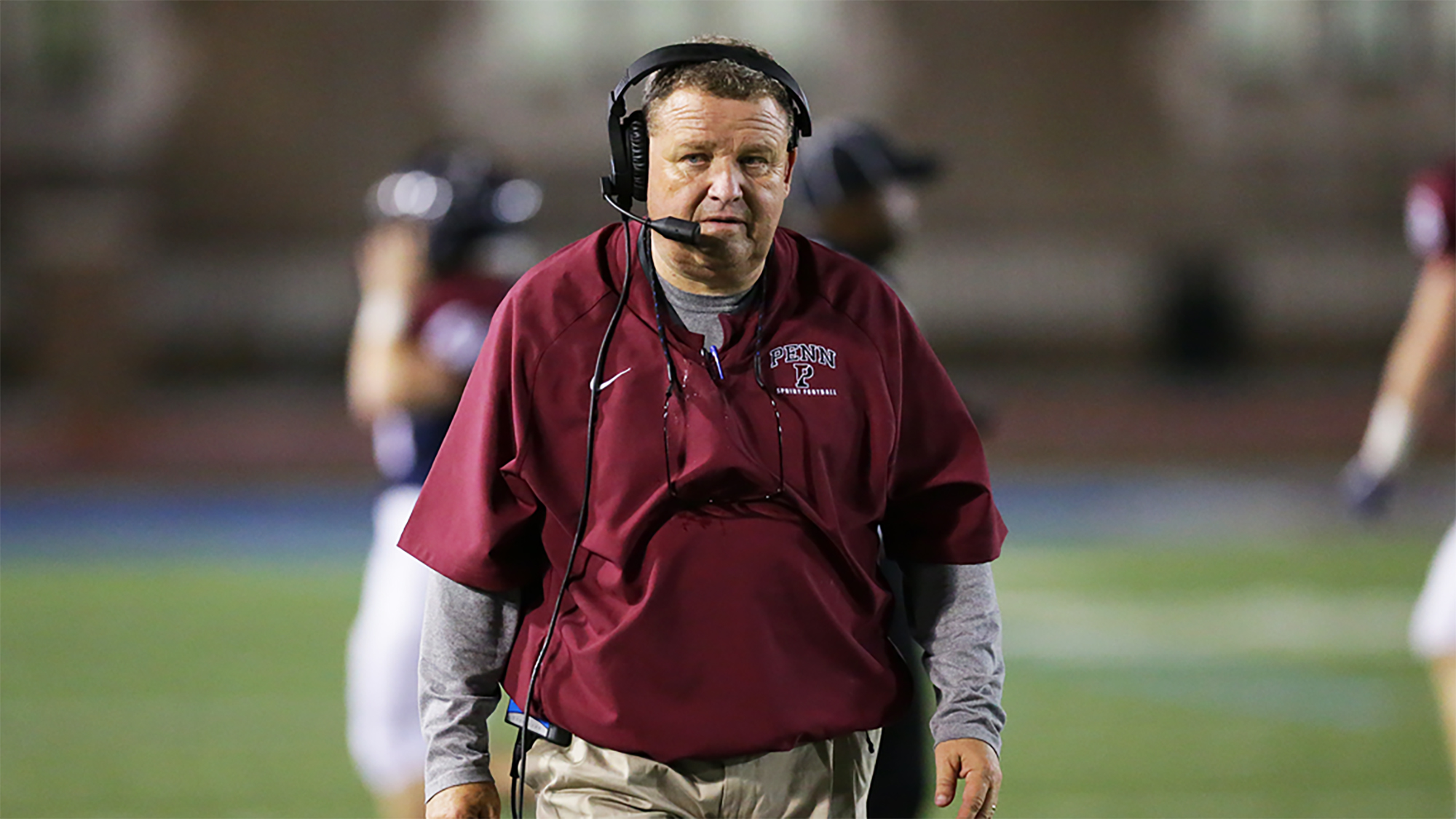 With Head Coach Bill Wagner closing the curtains on a 50-year career, the University of Pennsylvania Division of Recreation and Intercollegiate Athletics is proud to announce Jerry McConnell as the new William R. Wagner Head Coach of Sprint Football.
 
"I am incredibly pleased that we are able to continue the amazing legacy that Wags has built for the sprint football program by hiring his longtime assistant Jerry McConnell," said Grace Calhoun, the T. Gibbs Kane, Jr. W'69 Director of Athletics and Recreation at Penn. "Jerry has a deep appreciation for what the sprint football program means to the student-athletes and alumni, in addition to his coaching acumen developed at several different levels of high school and collegiate football."
 
McConnell takes over as the 16th head coach of the program after spending 12 years as the Quakers' offensive coordinator.
 
"I am honored and humbled to have the opportunity to follow Wags in leading the Penn sprint football program," said McConnell. "I would like to thank Dr. Grace Calhoun and [sport administrator] Brad Fadem for this incredible opportunity. From the moment I joined Wags here at Penn and became part of his staff, I knew this was special; coaching kids who play for the love of the game and seeing the relationships he has developed with his former players.
 
"Wags is an inspiration to all of us, and I can never thank him enough for what he has done for me and my family. I am excited to get started and I look forward to continuing the culture and traditions that Wags has created."
 
Since joining the Quakers, McConnell's offense has helped propel Penn to two Collegiate Sprint Football League (CSFL) championships in 2010 and 2016. McConnell has also produced two CSFL MVPs—running back Mike Bagnoli in 2010 and two-time honoree Mike McCurdy (2015-16).
 
"Jerry fills the position as head coach of our sprint football team with a great deal of integrity, loyalty, and superior coaching knowledge of what the sport represents: 'playing football for the love of the game's competition,'" said Wagner. "The Penn sprint football program has a leader who will guide the team forward with great success for many years into the future. Jerry has done a tremendous job developing relationships with all his players, which is evidenced by how much the current, and former, student-athletes adore him. I look forward to working with Jerry in a greater capacity in the years ahead."
 
Over McConnell's 12 years as a member of the coaching staff, the Quakers have had 105 offensive players receive an All-CSFL selection, with 37 of those players receiving First-Team honors. Also in that time, Penn has finished the season as the CSFL's leader in total offense four times (2009, '13, '17, '19).
 
Before coming to Penn, McConnell served as head coach at Holy Cross High School in New Jersey for three seasons. While at Holy Cross, he compiled a 26-8 record and won two conference titles. McConnell also spent two years as an assistant at Temple (1991-92), five years at Rowan (1993-97), and one season at La Salle (2001).