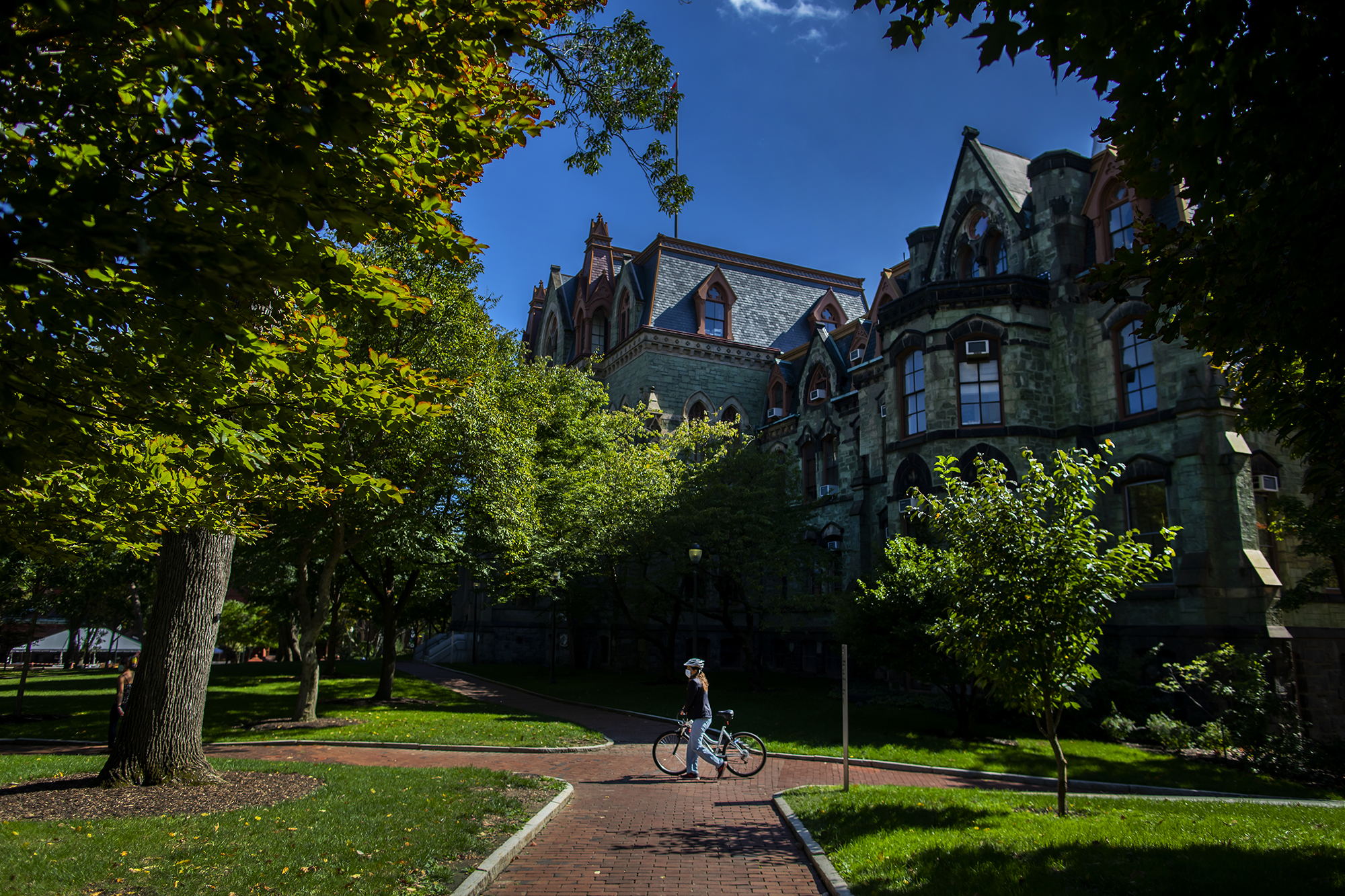 Provost Wendell Pritchett, Executive Vice President Craig Carnaroli, and Chief Wellness Officer Benoit Dubé provided an update on the efforts of Penn's recovery planning group and on COVID-19's impact on the University to President Amy Gutmann and members of the University Council at a meeting held online on Wednesday, Oct. 21.
Pritchett first highlighted key milestones in the reopening process made thus far, including the launch of PennOpen Pass, Phase II of on-campus research activities, the launch of gateway testing, and now the transition to screening. Dubé then shared additional details on testing, contact tracing, and compliance on campus, emphasizing that Penn's mitigation strategies are designed to "prioritize the health and safety of the Penn community."
During gateway testing, which involved testing people upon their return to campus, Penn conducted 16,000 tests on students, faculty, and staff, with a positivity rate of 1.2%. Dubé said anything below 2% is "reassuring" and does not trigger any restrictions to the campus population. On-campus testing is just part of Penn's COVID-19 mitigation strategy, he said, and is used in combination with isolation, quarantine, contact tracing, PennOpen Pass, and the Campus Compact.
Penn's COVID-19 dashboard is updated every Tuesday with the numbers of tests, cases, and positivity rates, and also tracks data cumulatively since the start of gateway testing. Dubé also highlighted data from PennOpen Pass "red pass" referrals, showing how many symptomatic community members and close contacts there were and how many were later diagnosed with COVID-19. "This underscores the effectiveness of our contact tracing team, who are able to quickly and efficiently identify cases and close contacts in order to minimize the spread," he said.
Data was presented to the Council showing trends in the numbers of students in isolation and quarantine, with the data suggesting that there have been no outbreaks on campus, said Dubé. "This confirms the good decisions that our students are making," he said. On-campus contact tracing efforts have also found that the average number of contacts per positive case is 5.4, lower than information reported by the Philadelphia Department of Health for similar populations.
After Pritchett provided an update about online teaching, extracurricular activities and programs, and research operations during the fall semester, Carnaroli discussed COVID-19's impact on workforce operations, finances, and how Penn is supporting faculty, staff, and the broader community through child care grants and emergency funding. In addition to discussing the ongoing student survey for developing plans for the spring semester, he also highlighted Project Quaker, a coordinated campus testing plan, developed in partnership with Penn Medicine with the goal of conducting a minimum of 40,000 saliva-based COVID-19 tests per week, with tests administered twice a week for undergraduate students, and a maximum of a 48-hour turnaround time for results. Project Quaker will be "the gateway issue that is needed to bring the community back together in the spring," Carnaroli said.
In response to a question, Dubé said asymptomatic testing is available, with invitations initially sent to students residing off-campus but is also available to other members of the Penn community. While asymptomatic testing is currently focused on members of the community with a significant on-campus presence or those living in congregate living settings, this should not preclude anyone from the Penn community with concerns about COVID-19 from accessing the testing site, he said.
Gutmann emphasized the importance of continuing safe and healthy practices across campus, which will make it possible to "plan for a spring semester when we can have more students on campus in a safe and healthy way."
Additional information and resources on COVID-19 are available at https://coronavirus.upenn.edu/.