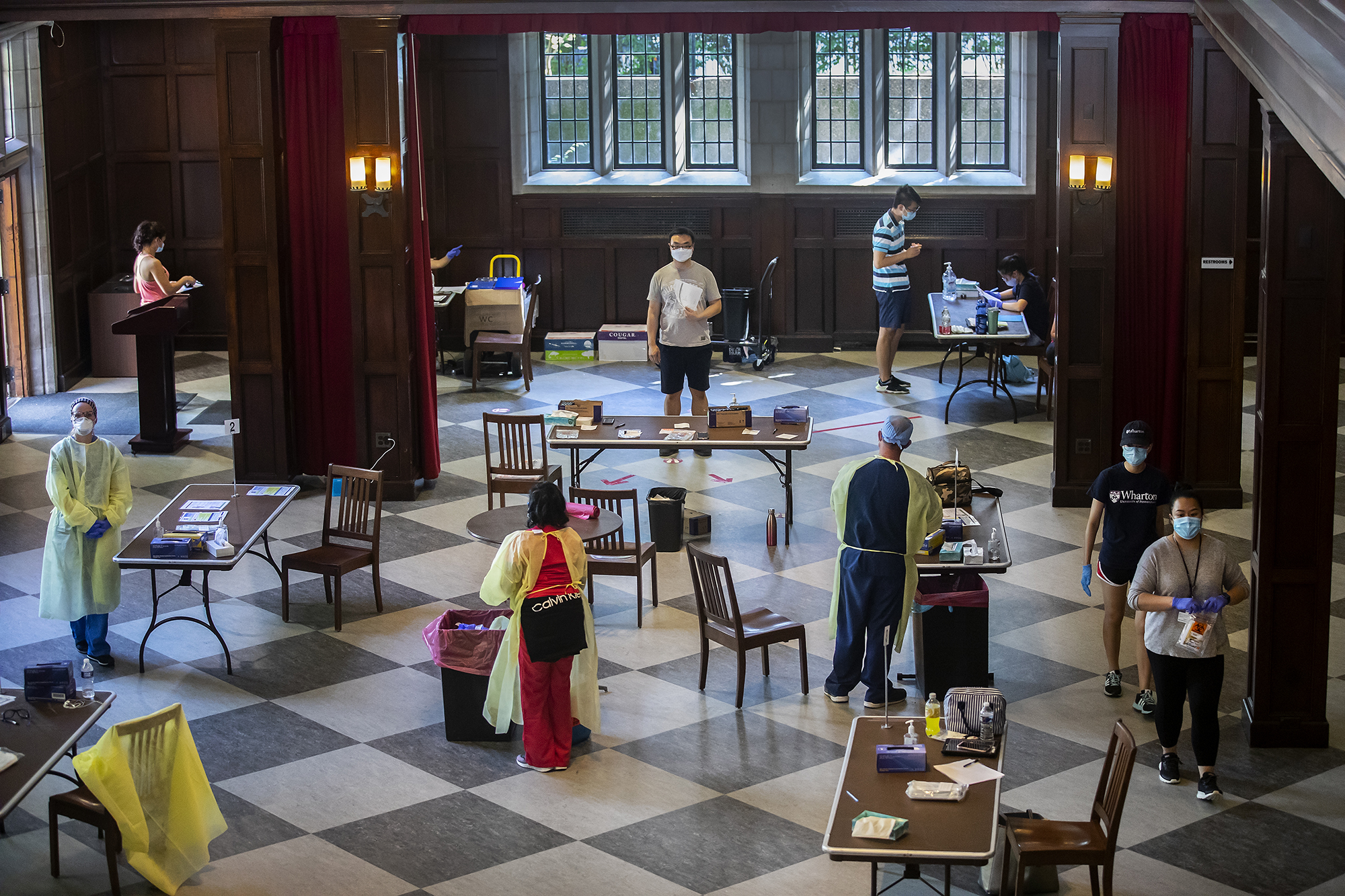 For Penn students coming to Philadelphia, "gateway testing" for COVID-19 kicked off last week in Houston Hall's Hall of Flags. Gateway testing is available Mondays through Saturdays until at least the first week in September at various times during the day.
"We are encouraging testing as an overall public health approach to addressing coronavirus on campus," says Penn's Chief Wellness Officer Benoit Dubé. "It's not just about testing. It's not just about wearing a mask. It's not just about social distancing. It's using all these public health measures to reduce the risk of spread to our community, and I am happy to be seeing students that are here really engaged in that."
All students, especially those who will be on campus regularly, are encouraged to schedule an appointment. To better ensure accuracy of tests, and to mitigate any doubt, all undergraduates, on or off campus, are being asked to schedule a second test seven days after their first one. 
To the appointment, every student is required to wear a facial covering, and bring their completed requisition form, their Penn ID, and a second form of identification. They also will have had to complete their PennOpen Pass—a daily symptom tracker for folks in the Penn community—for the day, and will have their temperature screened before entering Houston Hall. (Volunteers from Penn Nursing and Penn MERT, as well as staff from across the University, are ready and waiting to help near the white tents along Spruce Street.)
Anterior nares—lower nostril, less-invasive—nasal tests are administered by staff from Penn Medicine and Student Health Service. Most students have been in and out of the testing center within 10 minutes. Within one or two days, students, who are expected to quarantine in the meantime, will receive a secure message from Student Health Service with their test results. 
On Aug. 11, the University communicated that it would no longer be inviting Penn students to live on campus, with a few exceptions for international students and those students dealing with significant housing or personal hardships. All students living on campus, as well as those who have decided to live off campus, are required to adhere to the expectations of Penn's Student Campus Compact. Classes for the fall, which are mostly remote, begin Sept. 1.
One of the many recommendations from the Campus Compact is that all students traveling to Philadelphia were to have quarantined for 14 days beforehand. Any student who has traveled from current domestic hotspots should quarantine for two weeks upon arrival to Philadelphia, as well. This additional measure is intended to increase Penn's capacity to stop the inadvertent spread of coronavirus on campus.
In the event that a student tests positive for COVID-19, a contact tracer will follow up to ensure the student isolates and gets necessary health care. Students with coronavirus will also be asked about their activities leading up to infection and the contacts they may have had. These conversations are thorough, nuanced, and require collaboration between the student and contact tracer. Notification of contacts is performed without identification of the student source, and is done through the student medical record.
"We are all looking out for the public health of the community and by us upholding those responsibilities, we have a better chance of really reducing the risk of a large outbreak of coronavirus on our campus," says Dubé. "If we're all in it together, and if we are very clear about expectations, we can work together to get through this."
For questions about testing, using Penn Open Pass, how to quarantine or isolate, and much more, visit Wellness Services COVID-19 FAQ.