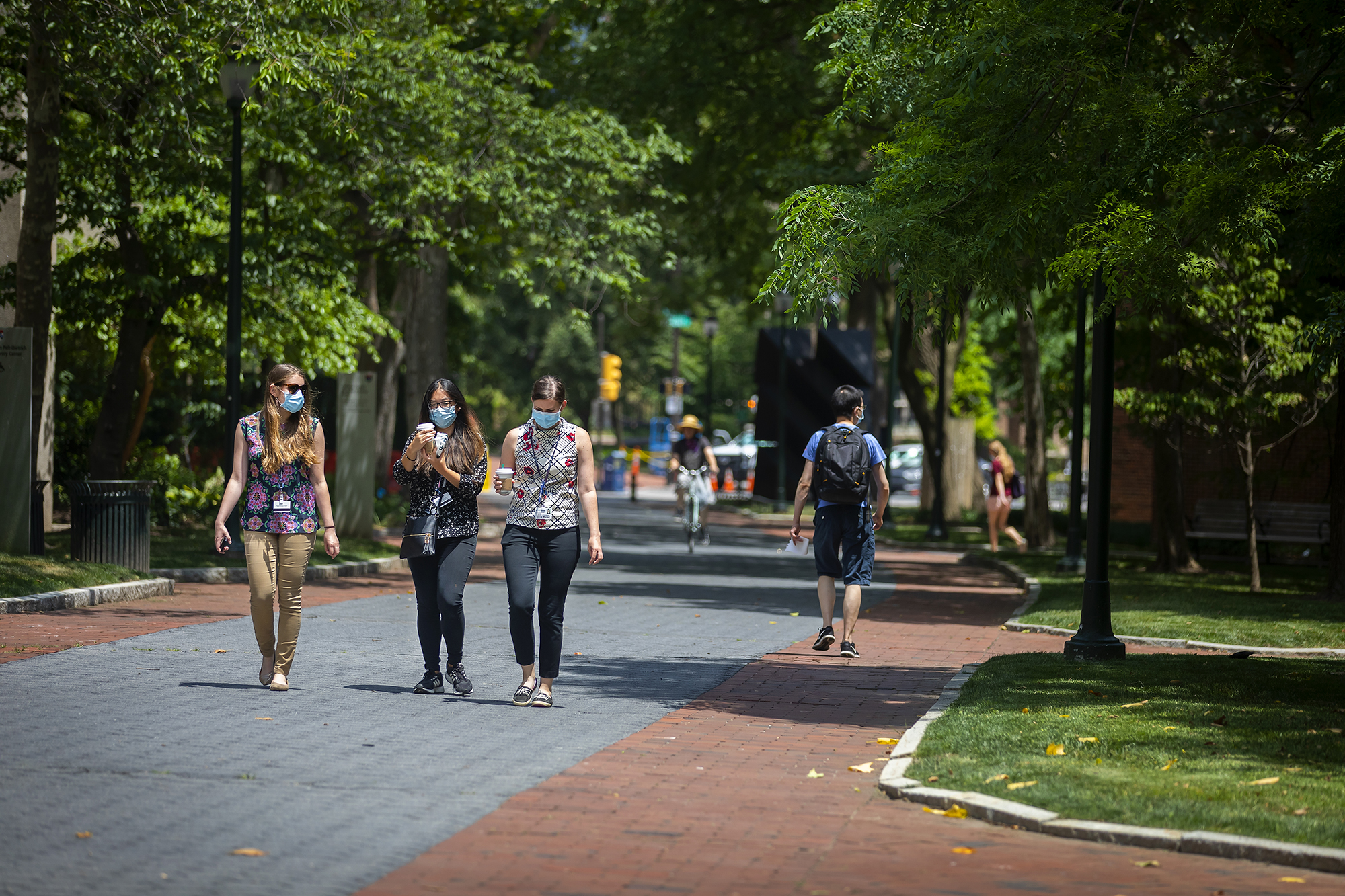 PennOpen Pass is a daily symptom tracker for members of the Penn community and is required for those engaged with on-campus academic, research, or clinical activities. The program acts as an early warning system to help reduce the spread of COVID-19 and provides clinical guidance and access to testing and contact tracing when needed. 
Participants who are enrolled in the program log in to a mobile-friendly website every day (including weekends) and indicate if they have any symptoms or if they have had exposure to a known or suspected case of COVID-19. Members of the Penn community as well as visitors, vendors, or contractors, are asked to complete PennOpen Pass every day. 
Penn Medicine's Chief Medical Officer Patrick J. Brennan says that doing these daily symptom checks, even for those who are off-campus, supports the community in numerous ways. "It's not just assuring you are safe to be on campus, it's also providing access to screening and testing and, if you test positive, to go back and to facilitate expeditious contact tracing among anyone with whom you have had close contact," says Brennan. 
PennOpen Pass is one of several tools being used to help combat the spread of COVID-19 on campus and is being used to complement other evidence-based mitigation measures. "This is the entry point, and it's part of a set of practices that have to be done together: wearing a mask, social distancing, and good hand hygiene," says Brennan. 
"It's not a substitute for taking actions that prevent you from getting infected in the first place," emphasizes Kevin Volpp, director of the Penn Center for Health Incentives and Behavioral Economics. "Doing everything you can to prevent yourself from becoming infected is something that everyone should do for the sake of the broader community. Creating this has been a great team effort by individuals across campus including the Penn Medicine Center for Health Care Innovation, the University Office of Student Wellness, Penn Medicine Corporate IS, and many others and it will be important for all members of our community to participate to make this effective in early identification of potential cases to prevent further spread."
Along with tracking the spread of COVID-19, PennOpen Pass is also being used to supplement building access requirements by providing a more efficient way to conduct health screenings, replacing the need for on-site temperature checks at some locations. 
Those who report recent exposures to known cases or who themselves have new COVID-19-specific symptoms or a combination of nonspecific potentially COVID-related symptoms, or exposure to a possible or confirmed case, will receive a "red pass," along with resources and advice on next steps. Anyone with no new symptoms and no recent contact with a known COVID-19 case will receive a "green pass," which must be shown in order to enter buildings on campus. Completing PennOpen Pass and having a green pass allows people to bypass the verbal symptom check by using "fast lanes" at staffed entrances; having a green pass, however, does not mean that a person automatically has permission to enter a campus building.
Volpp explains that the design of the PennOpen Pass program is one that incorporates all of the clinical information currently known about the epidemiology of COVID-19 while also striking a balance between identifying possible cases and triggering too many false positives. "We know that COVID spreads from person-to-person rapidly and that if you can identify potential cases and expedite testing and contact tracing, you can intercede and prevent single cases from seeding outbreaks," says Volpp. "There are many symptoms that people with COVID-19 may develop, but many are nonspecific, so the balance we are trying to strike is to catch as many cases as possible without having the system be triggered for lots of nonspecific symptoms." 
PennOpen Pass also supports users who receive a red pass, both for those engaged in on-campus activities and for members of the Penn community who are working off campus, by providing access to resources on how to get tested. If a member of the Penn community tests positive for COVID-19, the PennOpen Pass program will also trigger contact tracing efforts which will be conducted by Environmental Health & Radiation Safety (EHRS), the Center for Public Health Initiatives (CPHI), Campus Health, or Penn Medicine Infection Control.
The goal is to monitor, prevent, and contain the spread of COVID-19 on and off campus and, while required for anyone with on campus activities, members of the Penn community learning or working remotely may also participate to access clinical guidance and information. 
Patrick J. Brennan is a professor in the Department of Medicine and Chief Medical Officer for the University of Pennsylvania Health System in the Perelman School of Medicine at the University of Pennsylvania. 
Kevin Volpp is the Founders President's Distinguished Professor of Medicine and Medical Ethics and Policy in the Perelman School of Medicine and Health Care Management in the Wharton School at the University of Pennsylvania. He is also the founding director of the Penn's Center for Health Incentives and Behavioral Economics. 
To learn more about PennOpen Pass, visit https://pennopen.med.upenn.edu/.
Additional information and resources on COVID-19 are available at  https://coronavirus.upenn.edu/.
The Penn Medicine chatbot is available at: https://www.pennmedicine.org/coronavirus