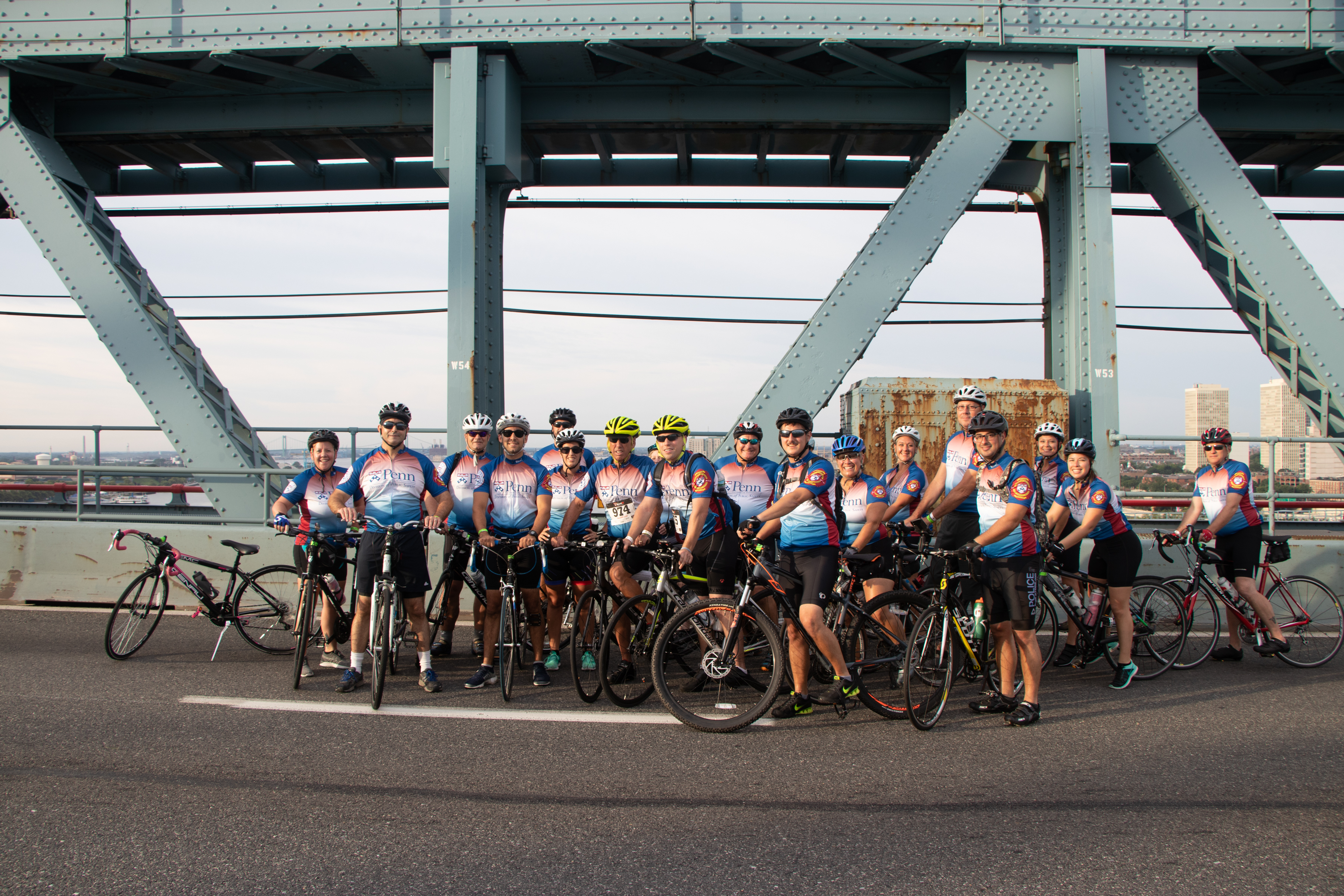 Donning red and blue jerseys as Team "Are We There Yet?" 25 riders, including personnel from the Penn's Division of Public Safety (DPS) and Perelman School of Medicine, along with their families and friends, pedaled 65 miles from Philadelphia to Atlantic City in the 31st annual Tour de Shore, which raised more than $1,127,360 for the families of fallen first responders.
In the largest ride to date, 2,600 bicyclists assembled at Franklin Square, located at Sixth and Race streets, on the morning of Sunday, July 29.
Participating in Tour de Shore is just one of DPS' many community engagement activities, says Maureen S. Rush, vice president for public safety and superintendent of the Penn Police Department. Others include leading the Penn's Way campaign, the Pennsylvania Special Olympics Torch Run, and actively supporting the Philadelphia Police Athletic League in West Philadelphia. Rush says it is important that the community sees first-responders serving in a different way—other than just doing their jobs.
"This all goes hand-in-hand with our mission," explains Rush, who adds that she's proud of the Tour de Shore participants. "Our team participation shows our community that Penn people give back. It humanizes who we are and the good we do in the world. It's very gratifying."
Riding in the Tour de Shore is something Officer Joseph Marone, a six-year veteran of the Penn Police, has always wanted to do. He has served as a member of the bike patrol unit at Penn for four years, but this was the first time he's ridden the Tour de Shore. It took him five hours to finish.
"I didn't find myself getting that tired. Good conversations with my co-workers during the ride along with the several rest stops seemed to help," Marone says, noting how the organizers did a great job at the rest stations with food and refreshments. "It was a good feeling to ride and to spend time out of the work setting with co-workers."   
One of Marone's fellow riders, Officer Matt Keller, has worked at DPS for one year.
"I wanted to be involved because it was in support of the families that have lost a loved one in the line of duty and for the officers that have been through tough times," explains Keller, who rode alongside his father, Craig Keller. It was their first time participating in the Tour de Shore.
"Riding the Tour de Shore with my dad was an amazing experience that I will cherish forever," says Keller, who remembers being just a few miles from the finish line when his dad turned to him and said, "Let's cross the finish line together."
They finished at 3 hours and 37 minutes, or about 15 miles per hour.
"It was a great feeling crossing the line with my dad. All the hard work we put in, the feeling of pride being able to ride on the Penn DPS Team, and most of all, having so much fun for the cause. It will be fun next year to try and beat our time," says the younger Keller, whose mother and wife were waiting for the duo at the finish line in Atlantic City.
One of the newest patrol officers on the Penn Police, Lindsay Barton, has a personal connection to the Tour de Shore: her friend's father, Upper Darby Township Police Officer Dennis McNamara, was killed in the line of duty in 2002. Her friend's tragic loss was always in the back of her mind as she pedaled along roads that are rarely traveled by bicycle.
"It's the ultimate sacrifice that those officers, firefighters, and first responders have made," says Barton, who has spent six years in law enforcement and rode in the Tour de Shore last year. "I just want to be able to give back and show that we're one community."
Barton says the hardest part of the ride was the last 10 miles.
"It's uphill most of the way, in a headwind," she says. "You can see Atlantic City in front of you, and you feel like you're so close, but in reality, it's a hard, hard 10 miles." 
In addition to its cyclists, DPS had a fleet of volunteers on standby to support the team. Two of those volunteers were Chief of Fire and Emergency Services Gene Janda, who has been at Penn for 18 years, and Stacy Lutner Ritchey, the associate director of operations and external affairs, who has been at Penn for 17 years. This is the first time they have volunteered with Tour de Shore, but Janda and Ritchey say that helping the families of fallen first responders is a worthy cause.
"Over the years, I worked with some of the Philadelphia firefighters who lost their lives and were pictured on the wall in Atlantic City," Janda says. "I felt I gave a little to help the children of these fallen heroes who gave their lives in dedication and service."
Ritchey says DPS is a close-knit work family supporting the academic and research missions of Penn. "To get to know people outside of the regular work environment builds stronger relationships for service on campus," she says.
The Tour de Shore ended at the Showboat Hotel in Atlantic City, which allowed for more space to accommodate the nearly 5,000 supporters who cheered the riders crossing the finish line. Rush says she is already looking ahead to next year's ride.
"We want to see a Penn army out there," she says. "I'd like to see our team continue to grow across the University, the Health System, our various divisions, and include HUP, Presbyterian, our colleagues at CHOP, our friends, and family. All are welcome, and we can ride under the Penn banner. We have more than 20,000 employees; wouldn't it be great to have 100 people coming into the finish line wearing the red and blue? That's a goal."
Rush invites all riders and volunteers who are interested in participating next year to keep an eye on the DPS website, where potential team members will be able to sign up in advance, learn from bike cops, participate in training, and more.