Putting the Palestra on film
Mikaelyn Austin remembers visiting the Palestra as a high school senior, during her Penn recruiting trip, and seeing a photo of former Penn basketball star Michael Jordan sitting atop one of the arena's hoops, swinging the recently cut net over his head after a momentus win.
Law prof gets handed a labor football
This past January, while half the country was huddled around the TV watching the Super Bowl and scarfing down Buffalo wings, David Berger Professor of Law Stephen Burbank was in sunny San Diego, taking it all in live.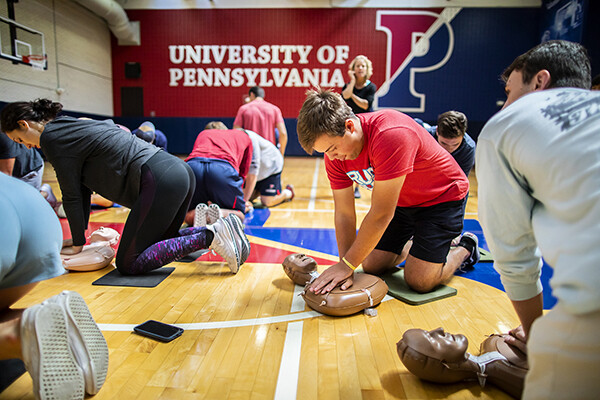 In the News
Taylor Jenkins got his start as a Penn student trying to help kids in West Philly. Now he's one of the NBA's top coaches
Jenkins, one of just two NBA head coaches who didn't play college ball. He was an economics major at Penn, coaching in a youth league at Sayre High School in West Philadelphia. Now he's a finalist for the league's Coach of the Year Award and his Grizzlies are championship contenders.
FULL STORY →
Lia Thomas wins an N.C.A.A. swimming title
With her victory in Atlanta, Thomas became the first openly transgender woman to win an N.C.A.A. swimming championship in the 500-yard freestyle.
FULL STORY →
Fran McCaffery, returning to the NCAA Tournament with Iowa, was nicknamed 'White Magic' in his Sonny Hill League days
McCaffery, who played at La Salle College High and Penn and whose game revolved around slick hand balling, earned the nickname playing alongside Gene Banks and Lewis "Black Magic" Lloyd in the famous Sonny Hill League. He will be taking the Hawkeyes into the NCAA Tournament this week for the sixth time in his 12 seasons.
FULL STORY →
Penn's Steve Donahue reflects on going from a 3-10 start to the Ivy tournament
Penn finished the regular season with a 9-5 record, good for third place in the standings, and 12-15 overall, after an injury-wracked season for key players.
FULL STORY →
'I am Lia': The trans swimmer dividing America tells her story
In her first year swimming for the Penn women's team after three seasons competing against men, Penn senior Lia Thomas throttled her competition. She set records en route to becoming the nation's most powerful female collegiate swimmer. "I just want to show trans kids and younger trans athletes that they're not alone," she says. "They don't have to choose between who they are and the sport they love."
FULL STORY →