Valarie Ena Swain-Cade McCoullum, a Philadelphia native, first stepped foot onto Penn's campus as a little girl. She remembers, quite vividly, watching her talented uncle speed around Franklin Field at the ever-popular Penn Relays.
"For some reason, in that moment, I knew I wanted to be a member of the Penn community," she says, chatting recently via Zoom.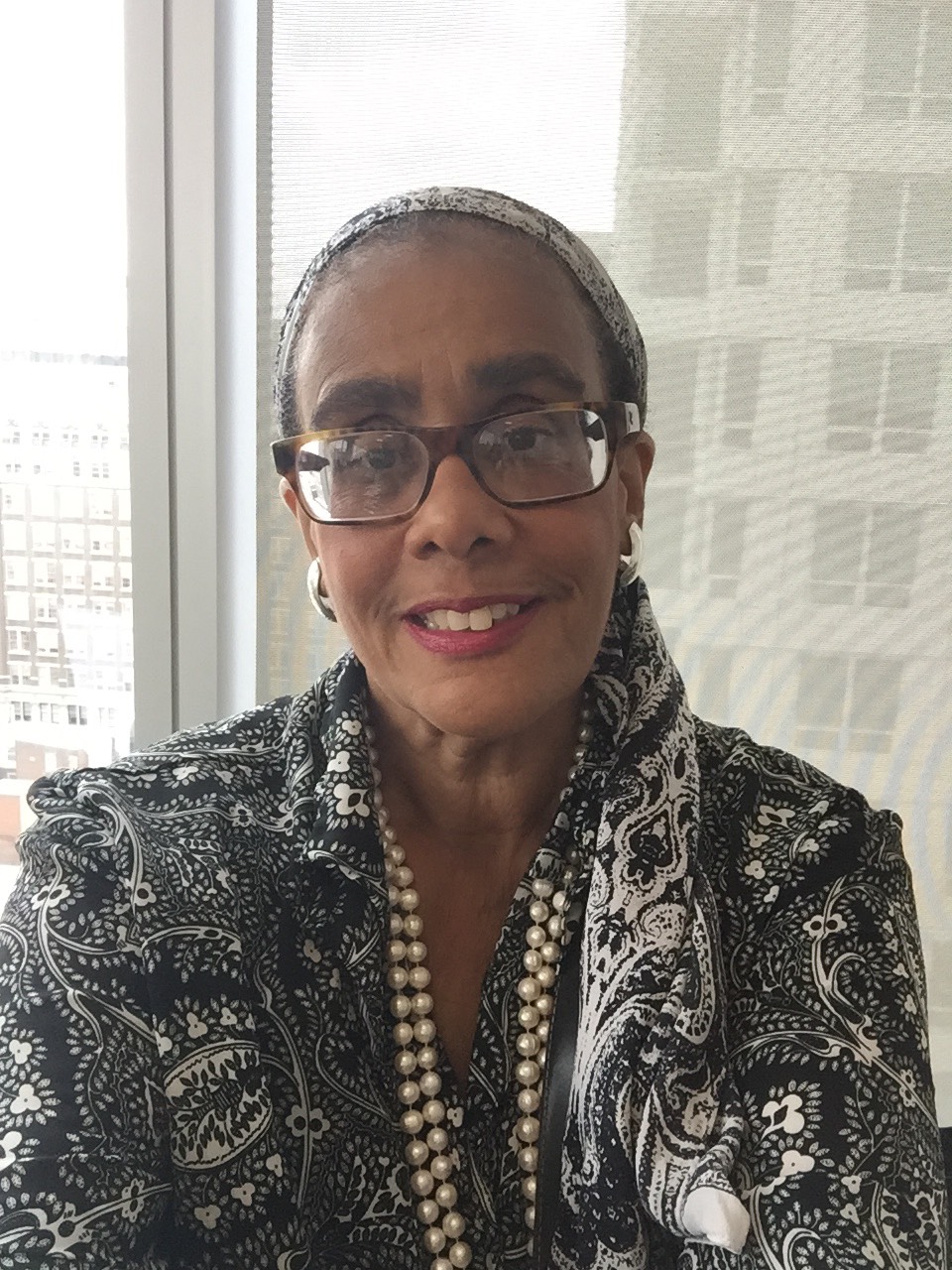 Swain-Cade said she was quite shy and spent most of her time after school studying during her high school years. She entered college at Penn State University—on a full scholarship—at age 16. She'd go off to Temple to pursue her master's in education and Ph.D. in urban education and psychology with a doctoral fellowship.
"The day after I passed my dissertation defense, I decided to just show up at Penn to see if any positions were open," Swain-Cade says. As fate would have it, the assistant to the Vice Provost for University Life had just left.
"I got the job on Sept. 19, 1977," she remembers.
More than 40 years later, Provost Wendell Pritchett describes Swain-Cade today as "one of Penn's most extraordinary leaders."
"Her work has permanently changed our University, affirming our shared mission of inclusion and shaping the experiences of generations of students and colleagues," he says. "She has been—and continues to be—an inspirational mentor to me and to countless members of the Penn community."
Swain-Cade reflects with Penn Today on her long career at the University, what still keeps her motivated each day, her new role as the inaugural Vice Provost for Student Engagement, and much, much more.
Tell me a little bit about your background.
My mom's family emigrated from the British West Indies from an island now known as Jamaica to Philadelphia with Marcus Garvey, who was a Jamaican independence fighter, in the 1920s. Both of my grandparents were officers in the Universal Negro Improvement Association movement. My dad was born in south Texas, and his mother moved in a large migration of African Americans to the north, including mid-Atlantic states, in the late 1940s. When my dad finished high school, he came to join my grandmother in Philadelphia. I was born in Philly; I was the first of four kids. I was also the first in my family to go to college. I went through the Philadelphia public school system. I was part of one of the first classes at a new school that was set up for advanced academic study called the Masterman School, and at the time it was a school for fourth grade to eighth grade students. I was one of the first Black kids at the school. At that time, if you were female you went to Girls High after Masterman. And if you were a boy, you went to Central. I went to Penn State's main campus for my undergraduate work, and my first year was 1969-70, when there was a lot of campus racial and voter rights unrest, just like we are experiencing this year. I ended up graduating early from Penn State with an individualized major in liberal arts. I went to Temple for graduate school, and also taught in the Philadelphia-Camden schools as part of that program.
Did you know what you wanted to do at the time?
My goal was to devote myself to kids in the city who were just like me: first generation, low-income students who are underrepresented in post-secondary programs. I wanted to work full time in either the Philly or Camden public school districts and teach and nurture kids like me to get them into schools like Penn.
You first started at Penn in 1977 as the assistant to the Vice Provost for University Life, and then you became the VPUL, a position you held for 25 years. Talk to me about that experience.
I think what has been really both very gratifying and fascinating is to be able to have a tenure working primarily with undergraduate, graduate, and professional students at the University during a time of extraordinary change and growth in the population and the demographics of the student population that we now have the opportunity to serve. We've also markedly expanded the reach of Penn programs actively serving our City of Philadelphia neighbors and community members. I remember being able to count the number of students of color in much lower percentages when I first came to Penn, and now that representation has blossomed, along with the number of first-generation, low-income, LGBTQI students, international students, and all of our other vibrantly diverse community members. The Division of the VPUL has had the opportunity to embrace this large demographic shift. I had the privilege of starting, with the support of presidents and provosts over the years, many new departments and programs, including PennCap, Weingarten [Learning Resources Center], Civic House, expanded Student Health and Counseling center initiatives, the Andrew W. Mellon Mays Ph.D. access program, Student Violence Prevention Initiatives. I was also able to expand student access, equity, and affairs programming, including six cultural centers, four of which were set up during my vice provostship by the president and provost, and community pre-college programs including five U.S. Department of Education TRIO programs. I have really cherished the opportunity to steward these and other departments and services.
Working with the students is the hallmark of my entire professional life at Penn, but in particular, working directly with the Undergraduate Assembly, the Graduate and Professional Student Assembly, and all of our constituent groups—we have a number of student umbrella groups like the Performing Arts Council, the 6B, the Wellness team: really, the rich diversity of the student population as it has grown has been reflected in the composition of the programs and people in the VPUL division. At the same time, I am pleased that a number of the other programs I had the privilege of starting early on, like Upward Bound Classic, Math Science Upward Bound, Veterans Upward Bound, and the Provost's Summer Mentorship Program have all also flourished through these decades. It's been amazing to be a part of that broadening of reach of our University.
Talk to me about your new role as Vice Provost of Student Engagement.
Our Penn Provost, Dr. Wendell Pritchett, approached me in January with a new opportunity to work with Penn access and pipeline programs, including both the kids of the city and my continued work with Ph.D. preparatory programs for Penn undergraduate students, and then soon after, two pandemics hit [COVID-19 and all the racial unrest]. I wasn't supposed to start until July 1, but we knew we had to get to work as soon as possible. The Provost introduced me to the Superintendent of the School District of Philadelphia public schools, Dr. Bill Hite, and they gave me the blessing to start this new program: the Penn Rising Senior Summer Academy. It's really been everything I love, turning back to my base of promoting the post-baccalaureate access of kids in Camden and in Philly many years ago with my beloved University of Pennsylvania as a partner: kids of the city, just like me. It's a no-cost, online summer program for all of the city's rising public and parochial high school seniors, with no GPA or testing requirements, with a goal of boosting academic, career, and postsecondary education. The inaugural summer program ends on July 31, and we plan to do it again next year. But, also, we're not abandoning the students at the end of the program this summer: we intend to work with the students in the Class of 2021 during the entire academic year.
What's been the best part of it, so far?
The answer for me is always the students. Whether as VPUL or assistant to the Vice Provost for University Life all those years ago, or this new role, I delight in my work with students. This role, as Vice Provost for Student Engagement, in particular, allows me to join my love for Penn and the students of the City of Philadelphia in ways that I hope will expand their access to post-secondary opportunities. Being able to work with the kids in the city during these challenging times is also amazingly rewarding and excitingly challenging to me. This is my city, and I just feel that being able to nurture the promise and possibility of the kids of our city—there is no higher calling.
I know you taught a class at Penn's Graduate School of Education last semester called 'Modeling Resilient Institutional Leadership through Campus Crisis, Calamity, Calumny, and Catastrophe.' Who would have thought you'd teach such a course during one of the most unprecedented times of our lives?
I would like to say I thought about in advance that there would be a major crisis and pandemic, but I didn't, I just thought people needed to have that background as they flourish in leadership positions in higher education. I made the course title and content up a year ago.
Did you ever teach classes at Penn before this one?
Yes, at the Penn Graduate School of Education, the School of Social Policy and Practice when it was the School of Social Work, and the School of Arts & Sciences, over 43 years in different semesters.
You seem to always have a lot of different things going on. I see in your bio you also were interim president at Cheyney University for a year?
Penn President Sheldon Hackney nominated me to serve at Cheyney University, America's first historically Black university, and I took a leave from Penn to do so. Cheyney had a number of challenges, but they had such wonderful students, faculty, and staff. When I served I was able to reduce the University's debt and work to re-accredit the institution, while increasing enrollment numbers.
You've also taught in the Philadelphia and Camden school systems.
Yes, I did. I started teaching in the Philadelphia School District while I was still at Penn State as an undergraduate. I was a substitute teacher when I would come back for breaks. I graduated early and taught at Pickett Middle School. Then when I went to Temple, I also taught full time in Camden at the Hatch Middle School. Oh yeah, I also taught at Rutgers. I did a whole lot, and I had two kids who went with me everywhere.
Tell me about your kids.
My oldest is my daughter Ena, which is one of my names, and then my son is David. They grew up with me at Penn. Literally. I was named what they then called a faculty master at W.E.B. DuBois College House in 1978 and I lived three years there. I still live in Mayer Hall of Stouffer College House. We had a house in Germantown, but all of my kids were living here with me. My daughter Ena went to Howard as an undergraduate and then came to Penn's medical school; she's a pediatrician now who serves as medical director of the Philadelphia Juvenile Justice Services Center. She has two kids and her oldest, my grandson Charles, was a founding member of the Penn Alexander Elementary School. He works at Penn now. David went to Villanova as an undergraduate and then became a student of Vijay Kumar's—he's a graduate of Penn Engineering, he has his master's in mechanical engineering. He's also got an MBA from Drexel and he's an aerospace engineer now. My daughter-in-law is a graduate of Penn's School of Social Policy and Practice. My oldest granddaughter is studying mechanical engineering now. My parents were always nearby also. I would leave campus and go have dinner with them, and then have drinks with my dad while my mom ate ice cream. I've been able to grow up at Penn with my family.
You've been at Penn so long. What's kept you here?
The years have passed rapidly in many ways, but I've also felt each of them. Another part of my life and work at Penn that I haven't talked much with you about yet is my work with the Andrew W. Mellon Foundation. In 1988 the foundation approached Penn and a number of universities to set up what is now known as the Mellon Mays Undergraduate Fellowship Program. The Foundation has worked with us to produce students who are the most underrepresented in the academy and/or whose research is in academic disciplines that are underrepresented in the academy. The Penn Mellon program, I am totally biased, is the best in the world. We have a 100 percent graduation rate from Penn for Mellon students over more than three decades. Ninety-two percent of those students go on to graduate or professional study. These students have become department chairs and faculty chairs at institutions all over the world. Our MMUF students have had movies made of their research and their life work.
What keeps you motivated each day, excited for work after so many years?
The promise and prospects of children and youth. And also, I love innovation and entrepreneurship. I love imagining things. I've had the extraordinary opportunity to dream up something that maybe I'd like to try and be able to implement it. For instance, I wrote the first Upward Bound program proposal on my kitchen table with a typewriter in 1978, and that program has persevered. I guess I just like starting stuff and seeing it through, and marveling at the outcomes. I love great outcomes. And that's because of Penn: Our institution is just extraordinary. We have the opportunity and the resources of this great university to benefit people, especially those who, for centuries, were absent from these important spaces.
I guess for me, my life, my professional and personal life have come full circle. Because as a kid growing up in Philadelphia, I never would have imagined that I would have gone through and been the first in my family to go to college or to go to grad school, or to get a doctorate, or to work at a university, or to be able to start programs that have been access programs for kids of the city and for kids around the world. And I think what I love the most is that here in Philadelphia, which happens to be my home where I was born, I've had the privilege of having a reach around the world and around the corner. That has just been just been an extraordinary opportunity that's ongoing. I just feel absolutely privileged and amazingly blessed.
Mamta Motwani Accapadi will start her role as the new VPUL on Aug. 17. What advice would you have for her?
That she has just as much fun as I have had in her service over the years. I wish her joy and fulfillment in her service, because that's how I feel. Every single day.