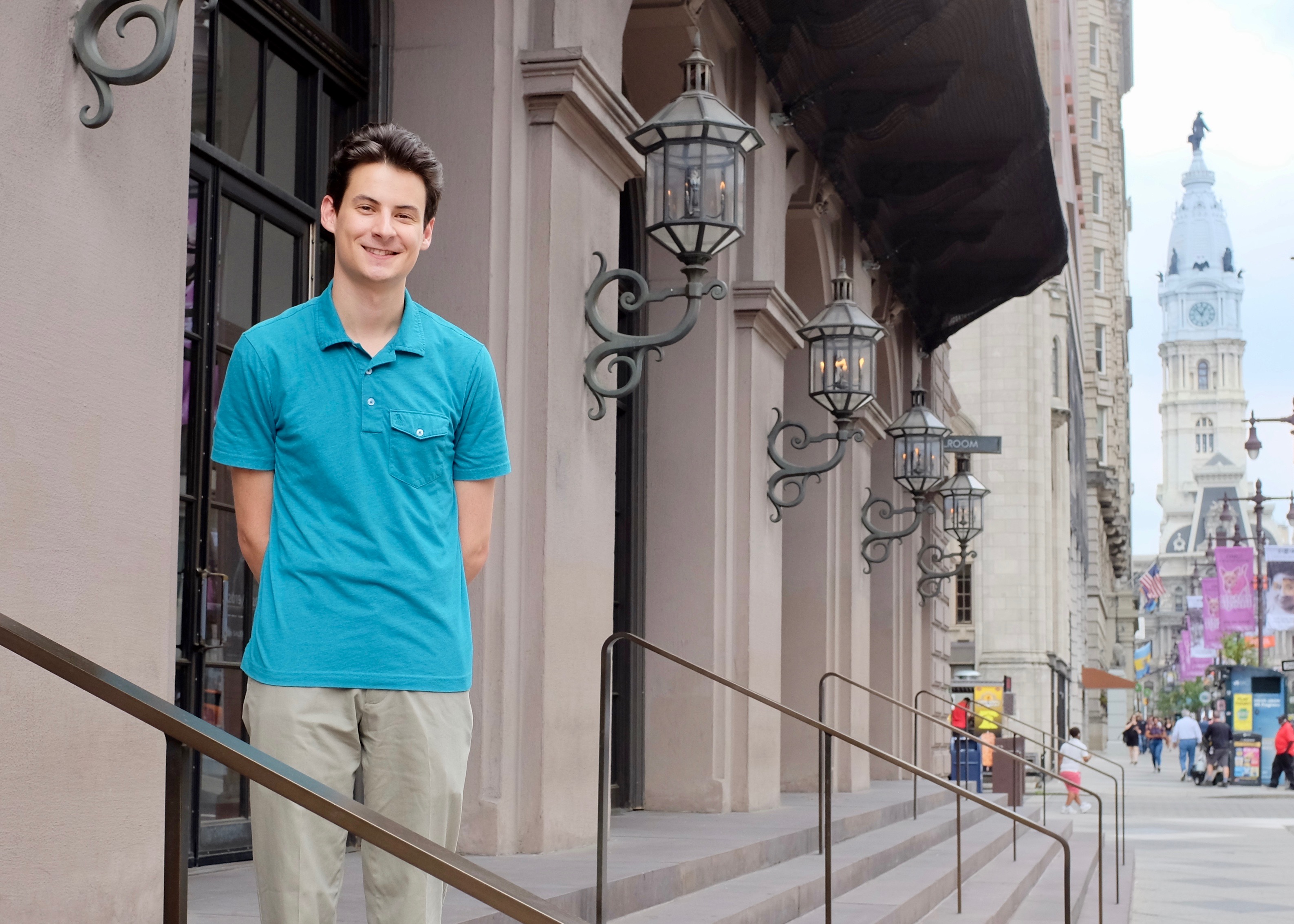 Watching livestreams from the Metropolitan Opera with his mom while growing up in Baltimore, Leo Sarbanes came to appreciate the power of music from a young age. Studying the oboe rapidly expanded this interest and led him to pursue a music major at Penn, with a goal of going into music education. 
So it is especially fitting that the senior chose an internship with Opera Philadelphia this summer, working to create a curriculum guide for city public school teachers about September's annual opera festival, O19. "For a genre that doesn't always seem the most relevant for the younger generation, it's so important to show students that opera is as modern as it gets," Sarbanes says.
Sarbanes joined the opera company through Penn's Summer Humanities Internship Program coordinated through the Center for Undergraduate Research and Fellowships, which provides a $3,500 stipend supported by the School of Arts and Sciences. Penn junior Margaret Zhang, an English major from San Jose, California, is also interning there this summer. 
"We are expanding the program in ways that will deepen Penn's connection in the community in arts and humanities and social justice," says Molly McGlone, associate director and assistant dean of academic affairs in the College of Arts and Sciences. "To see the inner workings of an opera festival is a wonderful experience before entering the work world." 
The curriculum guide Sarbanes is creating is designed to help teachers prepare about 1,400 Philadelphia public school students from grades 4 through 12 to attend a dress rehearsal of a Festival performance. 
"I've been writing and compiling articles, stories, and activities that have the potential to really engage kids with this opera and ensure they have a life-changing experience when they ultimately see it," he says. "Given the huge age range, it's been challenging but really rewarding as someone who broadly hopes to do music education at one level or another." 
The Opera Festival is the company's most important event, composed of four productions performed simultaneously in September. Sarbanes is working with "The Love for Three Oranges", a satirical opera with cross-cultural origins. It was written by Russian composer Sergei Prokofiev based on an Italian play and the opera premiered in the United States and was sung in French. This year is the 100th anniversary of its composition.
Sarbanes started the internship having already watched videos of several different performances of the little-known opera, says Michael Bolton, vice president for community initiatives. The opera has only been performed about a half-dozen times worldwide in the past 20 years, Bolton says, the last time in Philadelphia in 1991 by students at Temple University. 
"He's really turned into an incredibly valuable resource for us because he knows the piece so well. With a piece so infrequently done, his knowledge put him above and beyond," Bolton says. "It is significant for somebody to show that dedication and interest going into an internship. Not everybody would show that thoughtfulness and diligence." 
So well-versed in the opera is Sarbanes, that Bolton has invited him to give two 30-minute pre-performance lectures to audiences during the Festival, expected to draw hundreds of patrons. 
"I would say that across the board everyone has been extremely impressed with his diligence, thoroughness, excitement, and passion," Bolton says. "He consistently goes above and beyond. He's a great young man in every way possible." 
Sarbanes says one of his favorite projects has been visiting The Barnes Foundation to create a tour of the collection based on the opera. He's also helping to create a stop-motion film of oranges bouncing around city landmarks for a marketing campaign. And he has jumped into other projects, like writing program notes and blog posts, updating a database for the development team, and proofreading grant proposals. 
Working in the Company's offices adjacent to the historic Academy of Music has afforded him a literal backstage view of the opera production. Throughout college, he has made use of a student membership to listen to the Philadelphia Orchestra as often as possible, attending 19 performances this past season. 
He also camps out in Penn's music library. "I spend so much of my free time just kind of sitting around with musical scores, and seeing how much I can learn by heart," he says. "Getting to now call it work—studying and living and breathing this opera—is an absolute dream come true." 
Education is the thread that runs through all of his interests, as he pursues a path toward becoming a music teacher or professor. "I got a phenomenal music education in the Baltimore County Public Schools, and I'm eager to do anything to pass that opportunity along," Sarbanes says.
While in high school, Sarbanes volunteered with the Baltimore Symphony Orchestra's after-school OrchKids program in underserved Baltimore City schools, and he chose the Music and Social Change residential program at Penn to continue that outreach in West Philadelphia schools. He's also worked as a chamber, choir, and orchestra coach with young musicians at the Philadelphia International Music Festival.
Sarbanes has been playing the oboe for 10 years in various school, county, and state orchestras throughout middle and high school and now in the Penn Symphony Orchestra, where he occasionally helps conduct rehearsals. During his senior year of high school, he performed a concerto with the Baltimore Symphony. 
Although he considered attending a conservatory of music, he chose Penn because he says he wanted the flexibility to study many subjects in addition to music, including studying neuroscience through a minor in biological basis of behavior. He is particularly fascinated, he says, by the emerging field of the study of music and the brain.
Music runs in the family. His older sister and brother, a cellist and jazz trumpeter respectively, set an example, encouraged by their mother, Dina, and father, U.S. Rep. John Sarbanes. His grandfather is former U.S. Sen. Paul Sarbanes.
"I'm not angling to be a professional oboist at this stage, but it's something that I work to maintain in my life," he says, noting that he still regularly practices and takes lessons. 
"I am constantly reminded of how music makes life worth living. Something simple, like accessing the drama in a symphony or opera, can make our experience of the world so much more satisfying," he says. "Training the next generation of musicians is key, but I think the greatest power of music education is universal and everyday—to really connect us with what we hear."