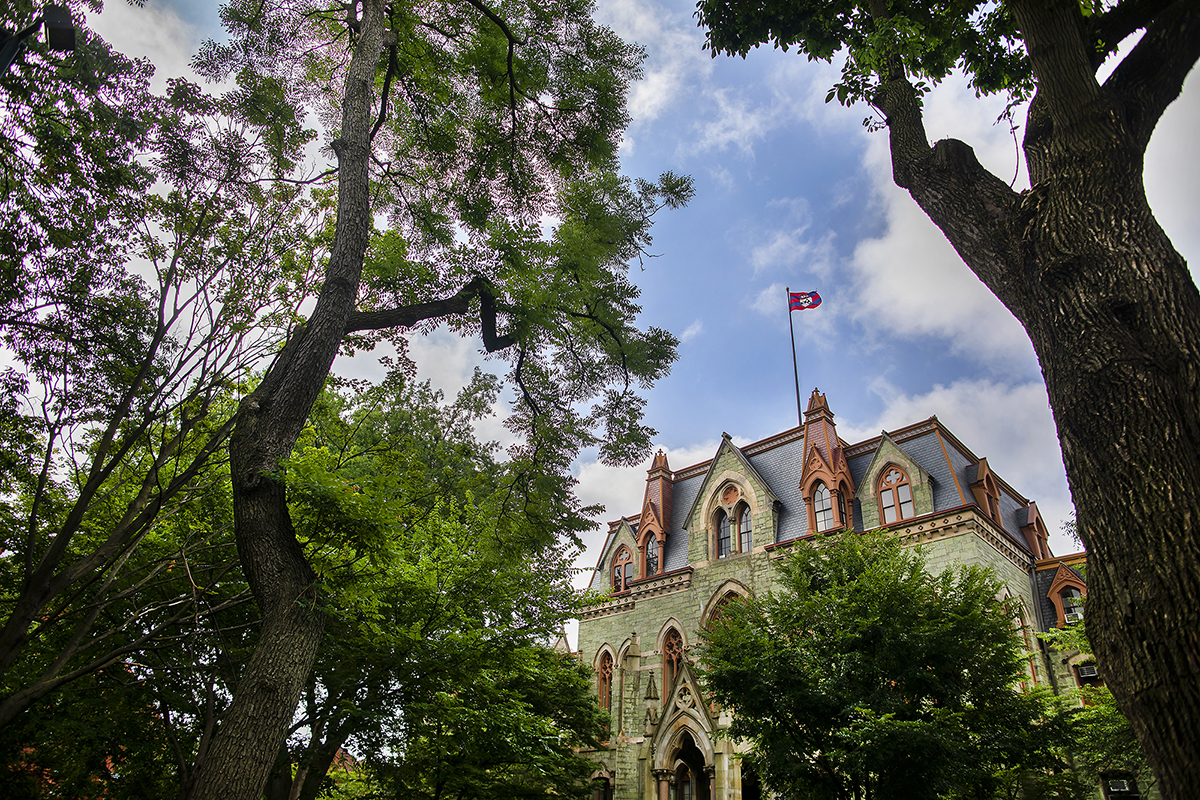 A tradition recognizing students' leadership, service, and scholarship for nearly 150 years, Penn celebrated on Sunday afternoon its Class of 2021 Ivy Day honorees. Held virtually for students, faculty, and alumni, as well as family and friends around the world, the event this year highlighted students who have modeled resilience and perseverance by thriving during a global pandemic. 
"Ivy Day award recipients regularly redefine excellence across the University, and this year is no exception," said Vice Provost for University Life Mamta Motwani Accapadi, in her opening remarks. "From inventing health care technology to dismantling oppressive systems, our 2021 winners are applying their gifts to make the world a healthier and more just place through scholarly research and spirited public policy debate. They are actively solving problems at home and abroad."
The Sol Feinstone Undergraduate Awards, Association of Alumnae Fathers' Trophy, and the Class of 1915 Award were presented by Provost Wendell Pritchett; the James Howard Weiss Memorial Award, President's Engagement Prizes, and President's Innovation Prizes were presented by President Amy Gutmann; and the Penn Alumni Student Awards of Merit were presented by Penn Alumni President Ann Nolan Reese. The Senior Honor Awards were presented by seven different members of the Class of 1996, which this year celebrated their 25th anniversary. 
The 2021 Ivy Day awardees are:
Sol Feinstone Undergraduate Awards:
Marina Dauer, C'22
Joshua Kim, C'22 & Annie Luo, C'22
Dallas Taylor, C'21
Association of Alumnae Fathers' Trophy:
Uchechi Nwogwugwu, C'21
Class of 1915 Award:
Andrew Douglas, C'21
James Howard Weiss Memorial Award: 
Karen Herrera, W'21
President's Engagement Prizes:
Carson Eckhard, C'21
Natalia Rommen, C'21
Sarah Simon, C'21
Martin Leet, C'21
Leah Voytovich, ENG'21
Christina Miranda, C'21
Amanda Moreno, C'21
President's Innovation Prizes:
Aris Saxena, W'21
Yiwen Li, C'21, W'21
Anthony Scarpone-Lambert, NU'21
Student Awards of Merit:
Sanaea Bhagwagar, C'21
Sofia Gonzalez, ENG'21
Daniel Gordon, C'21, W'21
Andrew Lam, C'21
Jennifer Richards, C'21
Emily Solomon, C'21
Senior Honor Awards:
The Spade Award (presented by Lenny Chang, W'96):
Camilo Duran, C'21
R. Jean Brownlee Skimmer Hat Award (presented by Dawn (Lanzalotti) Luedtke, C'96):
Michiyah Collins, C'21
The Cane Award (presented by Eric Tienou, C'96):
Moksh Jawa, ENG'21, W'21
David R. Goddard Award (presented by Heather Dorf-Dolce, C'96):
Carson Eckhard, C'21
The Bowl Award (presented by Gil Beverly, W'96):
Jude Dartey, C'21
Gaylord P. Harnwell Shield Award (presented by Alison (Deitch) Winslow, C'96/G'96):
Elizabeth Youshaei, W'21
The Spoon Award (presented by Lenny Chang, W'96):
Anthony Scarpone-Lambert, NU'21
Althea K. Hottel Shield Award (presented by Tamara Dubowitz, C'96, G'00):
Mercedes Owens, C'21
In her reflection during the event, Class President Elizabeth Youshaei noted how appreciative she is for all her class has been able to accomplish this year, even amidst significant hardship. 
"We grew up, we advocated, improvised, and adapted to the circumstances, making the most of the cards that we've been dealt, and the senior year we've been given," she said. 
She noted how the senior leaders recognized during Ivy Day are "so much of the reason why things came together and why things happened at all during a year like this.
They worked tirelessly to create community during the pandemic, within Penn and beyond," continued Youshaei. "If it weren't for their endless phone calls, hundreds of event proposals, and continuous advocacy, we wouldn't have had the meaningful year that we did."
Describing all the Ivy Day awardees as "brilliant and inspiring students," Accapadi said she has no doubt that they will "change the world wherever they go and in whatever they do—indeed, they have already made their mark right here in Philadelphia."
To learn more about all of Penn's Ivy Day award recipients, please visit the Ivy Day website.