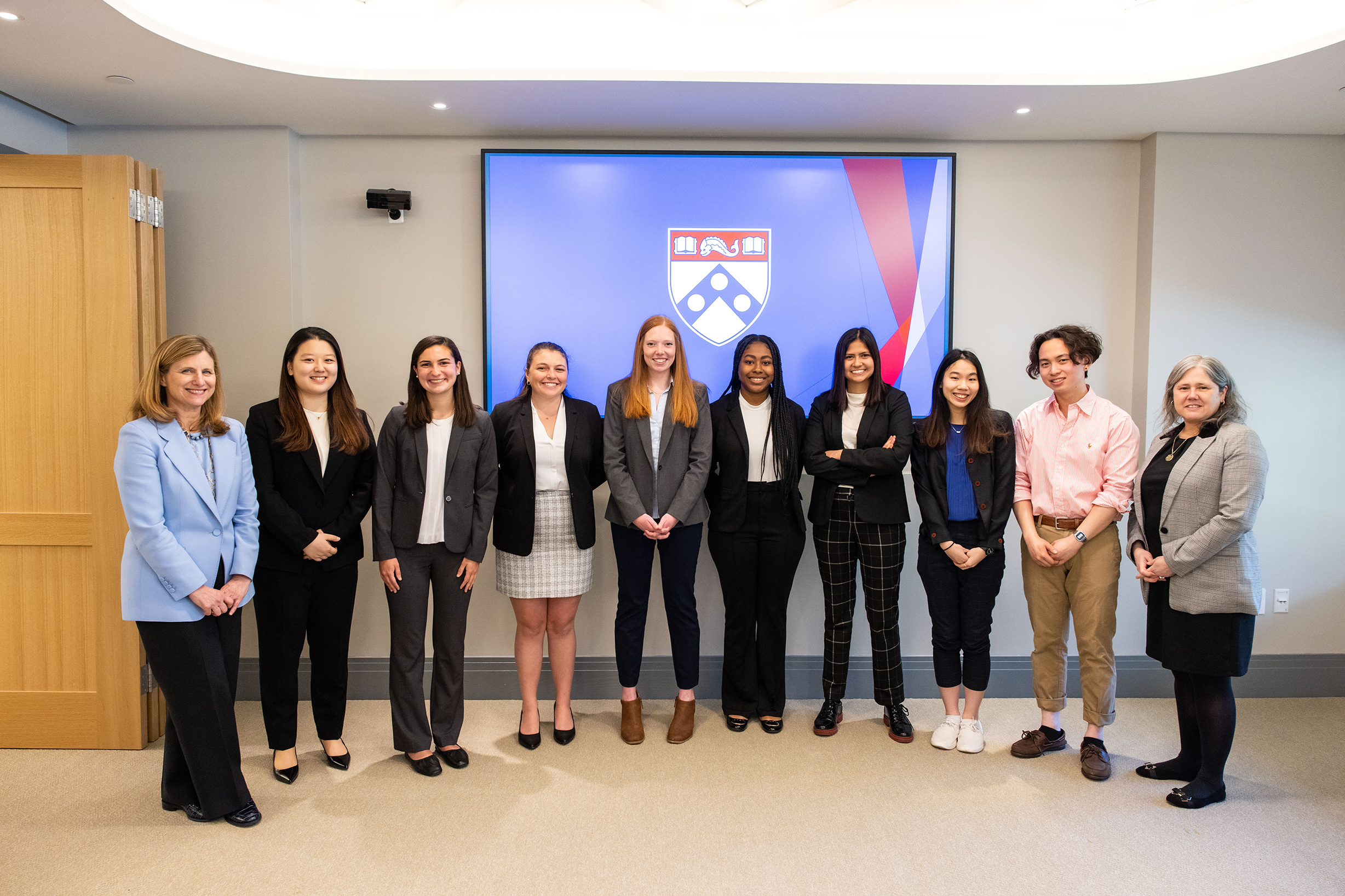 When Kenneth Pham got the call last week, he said he was "shocked."
"It's kind of embarrassing, the president's call went straight to voicemail," the fourth-year chemistry major said. "But I called her office right back."
Pham quickly learned that he and Catherine Chang had earned one of this year's President's Engagement Prizes (PEP) for their project Act First, which, once established, will provide critical first-aid training to high school students in Philadelphia. Both members of Penn's Medical Emergency Response Team since their earliest years on campus, Pham, from South Philadelphia, and Chang, from Taiwan, hope to extend the program's lifesaving education off campus, teaching others how to reverse opioid overdoses, successfully administer CPR, and prevent life-threatening bleeding.
"We feel honored to be recognized for the work we've been so passionate about, and we are so glad to finally have the opportunity to work on this," Pham said Wednesday afternoon, sitting next to Chang as well as his parents at a celebratory luncheon for this year's PEP, as well as President's Innovation Prize (PIP), winners. 
"After all our hard work this past year, it feels great," added Chang, who graduated with her degree in biology in December.
In addition to Act First, fourth-year neuroscience major Lucy Lee has been awarded a PEP for her initiative Communities for Childbirth, and fourth-year bioengineering majors Gabriella Daltoso, Sophie Ishiwari, Gabriela Cano, Caroline Amanda Magro, and Tifara Eliana Boyce have received a PIP for their startup Sonura. All three projects will be awarded $100,000 for implementation expenses, as well as a $50,000 living stipend per team member to be used in the coming year, immediately following graduation. 
"This is a uniquely Penn experience," said President Liz Magill, speaking to the awardees and their family members and mentors at the gathering. "No other university has a program quite like this, and I would like to say that's in part because no other university has the student body we have at Penn, so focused on creating solutions to pressing societal problems. That particular characteristic is a trait that we celebrate, coming down from—yes, you guessed it—our founder Ben Franklin."
Magill, often referencing Franklin's noble innovations for the public good, said the Prizes were first established to foster new ideas that improve the lives of others. The students recognized with PEP and PIP awards, chosen this year from a high-caliber applicant pool of 76, "exemplify imagination, creativity, grit, and leadership," Magill added.
The PEP and PIP lunch and meet-and-greet is a tradition that dates back several years, since PEP was first started in 2015. It's a time to come together to celebrate the great work that's already been done, and the promising efforts to come.
For Lee and her project Communities for Childbirth, which she's been working on for the past two years, she views the PEP as a "confirmation" that she's "in the right place, going in the right direction," she said. Her initiative will help save mothers' and newborns' lives during obstetric emergencies in Uganda through the organization of a more efficient transport system. 
"It's extraordinary to be here in all dimensions," said Lee, who was born and raised in South Korea. "I come from 7,000 miles away, so Penn is a dream come true in itself. To come here and be exposed to all these different resources and amazing opportunities, even before the Prize, is amazing. It's so nice to feel that your school supports you and your dreams."
In addition to being a substantial validation for Sonura's potential, Ishiwari noted that being awarded a PIP could also have a major impact on thousands of infants' lives sooner rather than later. Born out of the five students' senior design project within the School of Engineering and Applied Science, Sonura is developing tiny ear coverings to filter out auditory hazards, and instead promote cognitive and socioemotional development, for babies in neonatal intensive care units.
"At its core, this Prize money expedites our process, since we don't need to spend the next year finding funding," said Ishiwari, originally from the Lincoln Park area of Chicago. 
Ishiwari's parents flew into town for the luncheon, something her mom Trudy Cools said they wouldn't have missed for the world. 
"Starting this company is going to be a great learning experience for her," Cools said, speaking of her daughter. "And I am not sure she'd be able to do this anywhere else. This award, for one thing, but just the fact that it's a research institution and she has such fabulous mentors and the professors are all so invested in the students—I really don't think she could've chosen a better school."
Sitting on the other side of Ishiwari was Penn Engineering Dean Vijay Kumar, who said he was "particularly delighted" to see a team of women engineers—who historically have been underrepresented in the field—earn a PIP. 
The idea they have, Kumar noted, is "very creative," and speaks to the kind of engineering he hopes students at Penn pursue.
"We find out what the big problems are that we need to solve, determine the impact it will have when we solve it, and then find a way to make it accessible, find the resources to make it happen," said Kumar, adding that Sonura has assembled the "perfect team" to bring their idea to light.
Stay tuned for more detailed profiles of the three teams to be published on Penn Today in the coming weeks.