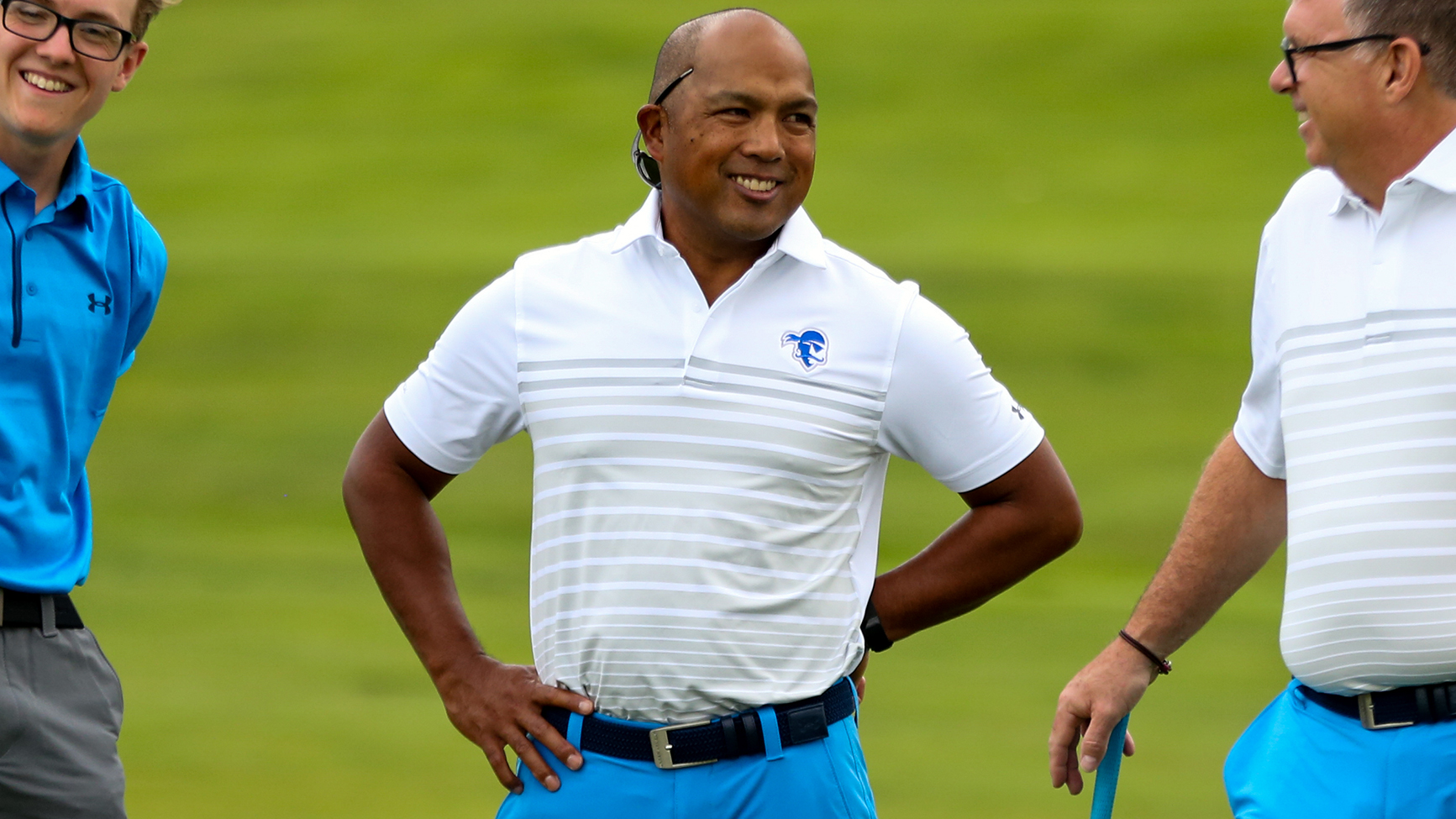 Clay White, the reigning Big East and Northeast Regional Coach of the Year, has been named the head men's golf coach. White spent the past 18 years as the head coach at Seton Hall, leading the Pirates to the 2022 Big East Championship.

"We are thrilled to be able to land an experienced and successful head coach in Clay White," says Alanna Shanahan, the T. Gibbs Kane, Jr. W'69 Director of Athletics and Recreation. "Clay's success at Seton Hall, especially in recent years, speaks for itself. But Clay's commitment to his student-athletes and vision for the future of Penn men's golf set him apart from a very talented pool of candidates. I am confident that Clay will guide the program to compete for Ivy titles and NCAA Regional appearances."

Seton Hall won its first Big East title in 22 years this spring and finished eighth out of 12 teams at the NCAA New Haven Regional, after being seeded 12th. At NCAA Regionals, Seton Hall bested No. 27 NC State and No. 31 Charlotte. Gregor Tait carded a seven-under par 65 to earn Big East medalist honors, the second under White's watch. The Pirates also won three events as a team in 2022, including the Daniel Island Invitational, where they beat a pair of top-50 programs in Virginia and Florida State. Seton Hall was ranked No. 87 in the final GolfStat rankings out of 295 programs.

"I would like to thank Director Shanahan and her 'team behind the team' for this great opportunity," says White. "My wife, Kelli, and I have both been impressed with the excitement and enthusiasm we have seen from each coach or staff member we have interacted with. We are honored and excited to be joining such a prestigious University and athletic department. I can't wait to meet the team, connect with the alumni, and get to work!"

White led Seton Hall to a Big East runner-up finish in 2017, falling to Marquette by one stroke. Lloyd Jefferson Go repeated as the Big East Player of the Year that season and made his second straight individual NCAA appearance. Two of White's recruits earned Big East Freshman of the Year honors and three were Big East individual runner-up. In the last five contested Big East Championships, Seton Hall has finished first, third (twice), fourth, and second out of nine teams.

The Pirates have had 25 All-American Scholars and more than 100 members of the Big East All-Academic team during White's tenure, and 100 percent of men's golf student-athletes graduated during White's 18 years at the helm.

When White arrived at Seton Hall in 2003, he began as the equipment manager for Seton Hall's varsity teams, a position he held until 2014 in addition to his coaching duties. He previously served two years as the assistant director of equipment at Ohio University.
While in Ohio, White was the head girls' volleyball coach of the Ohio Juniors Volleyball Club 14-and-under team, one of several coaching positions White has held during his career. His experiences encompass a variety of sports, including collegiate softball and collegiate volleyball.

White got his start in coaching at Humboldt State University in Arcata, California, where he was the assistant women's softball coach from 1993-95 and the assistant volleyball coach from 1995-97. White graduated from Humboldt State with a bachelor's degree in physical education with an emphasis in teaching and coaching.