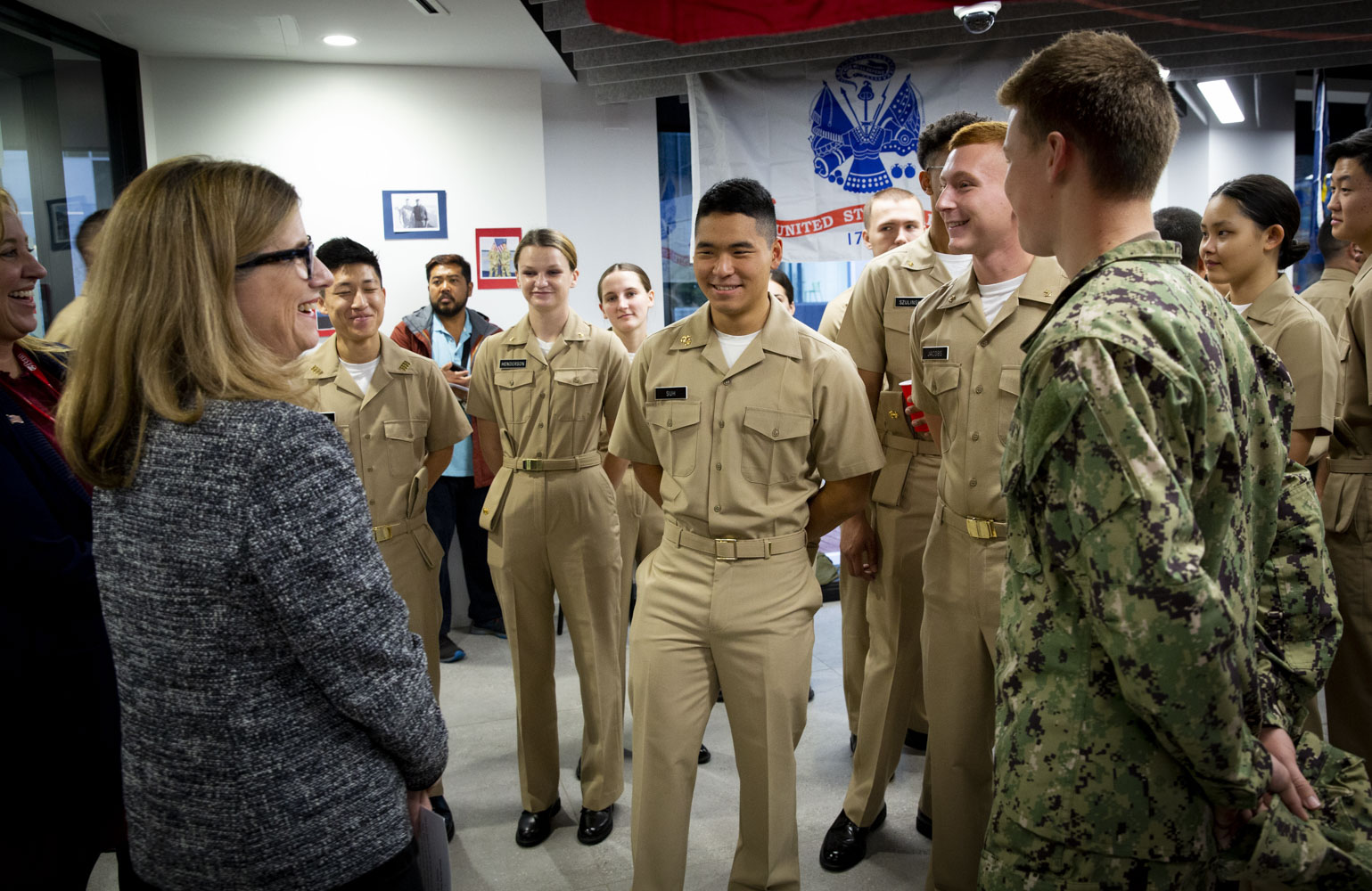 The Penn community gathered Friday morning at the Franklin Building to celebrate Veterans Day. What is traditionally a flag raising at College Green moved indoors due to the rainy weather, but the commemoration was no less meaningful.
"We set aside time this morning to show our deep gratitude and our solemn respect for our veterans at Penn and throughout the country," said President Liz Magill to the crowd of students, staff, and faculty in attendance.
Ralph De Lucia, associate director of the Office of Affirmative Action and Equal Opportunity Programs at Penn, who served in the U.S. Marines in the 1970s, was master of ceremonies for the event, which recognized all the veterans in the room and featured an invocation by USMC Veteran Cory Lotspeich of the Christian Union at Penn. In his prayer, Lotspeich said, "Many of our veterans have come home, yet we still find them on the battlefield…We pray for their peace; their peace of heart, mind, and soul."
There was also a presentation of colors by the NROTC Color Guard and a rendition of both the national anthem and "America the Beautiful" by Celia Ginzburg, a Class of 2025 Wharton student.
In her remarks, Magill invoked the University's founder, Benjamin Franklin, noting his letter to a friend after the American Revolutionary War: "May we never see another war, for in my opinion there never was a good war, or a bad peace."
"It's the same prayer we and countless people before us have recited—back in Franklin's day, in World War II when my father served in the Navy, and right up to this day," Magill said. "But the day when that prayer might come to pass has not arrived yet. Until it does, the bravest among us will step forward, will serve, will defend and fight for the freedom that we have here, and give that last full measure of devotion. We will remember and honor them always, today and in the future."
Participants mingled and enjoyed light refreshments in the space, which is home to Student Registration & Financial Services (SRFS). Lynn Manuel works at SRFS, and specifically is the Veterans and Military-Affiliated coordinator, and a former military spouse.
"As a University, we want to honor those students who are veterans and who are active duty service members," Manuel said, "and we also want to take the time to show that Penn is a very supportive place for these students."
"Our veteran students are a phenomenal group," Manuel continued. "They were leaders in the military, they're going to be leaders once they graduate from Penn. You couldn't ask for a finer group of people. Truly, they're amazing."
The 2022 Veterans Day event was brought to life thanks to the dedicated partnership of the Office of Affirmative Action and Equal Opportunity Programs, the Steven A. Cohen Military Family Clinic at Penn, Veterans Upward Bound, and Student Registration and Financial Services.