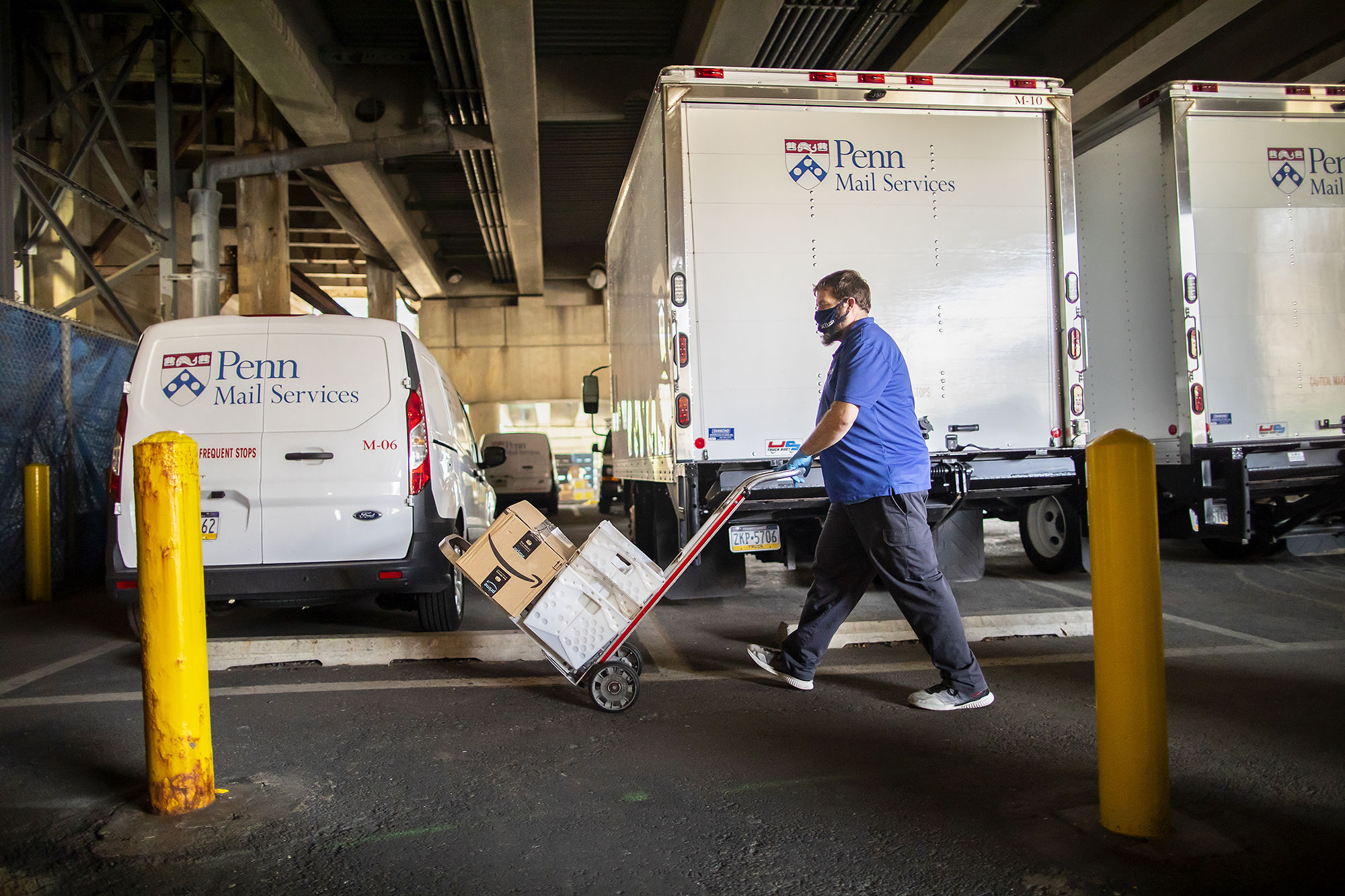 In addition to the doctors, nurses, technicians, and others supporting the heath system, essential workers include mail carriers, electricians, parking attendants, security guards, groundskeepers, and housekeepers. They are the people that keep the campus operating. As Penn settles into Phase II of research resumption and the fall semester gears up, these essential workers continue to have "mission-critical responsibilities," says Brian Manthe, senior director of business services. "We have readily aligned our services to meet the needs of the community."
Penn Today talked with mail carrier Michael Golden, plumber Gary Smith, and housekeeper Helen Mack about their typical day at work and how they're adjusting to the new normal. 
Helen Mack has been a housekeeper at Penn for 18 years. Her husband is a building manager at Wharton, and they're hoping to retire in two years. "That's our goal anyway, we'll see," she says. "House is paid; car is paid. I'd like to volunteer and help do something."
Mack and her husband commute in together, although sometimes he drops her off and comes back later. Mack's shift starts at 6 a.m., when she checks into the Vet School to get "keys, your microfiber, everything you need." Mack says that, like the other housekeepers, her "charge," the area she's responsible for cleaning, has shifted during the pandemic. With COVID-19 closing down most of the campus, many buildings don't need the same level of attention as they do when the campus is running at full capacity, so Mack and her colleagues have shifted to the spots that do, like the School of Veterinary Medicine, which is operating clinics and labs. "The biggest change is not being on my charge and going to different buildings," she says. 
Mack is part of a team of approximately 500 housekeepers and 60 managers, with about 75% of staff rotating through on-campus shifts each week, says Wendy Sparks, director of housekeeping. The staff is adjusting to new routines. "Housekeeping is an ever-changing, day-by-day world," Sparks says. "For our team, we need to make sure we are keeping our staff safe and making sure we have appropriate PPE and hospital grade disinfectant, everything we need to fight the disease and stop it from spreading."
This included working through vendor partnerships to fully stock what Sparks refers to as the "war room," with hospital grade disinfectant, plastic spray bottles, gloves, and masks. She's also securing hand sanitizer and wipe dispensers to facilitate community cleanliness, focusing on high-touch areas like elevators and building entrances. "It's really a team effort," she says. "We're going to be there doing the daily disinfecting, but we need you to do your part also."
The Penn community keeps Mack smiling. She's a "social person," she says, and enjoys talking with those she encounters during her day. "I've learned a lot since working here, between students and staff. Good conversations, lot of laughs. I just find people fascinating," she says.
After Mack clocks out at 2:30 p.m., she heads home to Upper Darby to relax. "If it's not too hot out, you can find me in my garden with a glass of wine and jazz playing," she says.  
Michael Golden was born and raised in Philadelphia. Originally from Northeast Philadelphia, he now lives in Pitman, New Jersey, with his wife, a manager at Barnes & Noble, and children aged 9 and 4. Golden is the lead mail carrier in his group and has been working at Penn for more than 20 years. Golden says he likes being able to work outside and move around. "I like being a little bit mobile, where I'm not confined to a spot," he says. "After two decades, the routine can get a little redundant, but there's always new people on campus, so I get to interact with a bit of the public."
Golden's starts at 5:30 a.m. with a cup of coffee with his wife while the kids are still asleep. He used to commute via PATCO but is now driving into work to begin his 7:45 a.m. shift. He says his biggest challenge has been "getting used to the new way of doing things, wearing gloves, and having masks on." The mailroom teams pick up mail from the post office on 31st Street and sort everything, Golden says. "Everything we deliver that day goes on our trucks."
His job also used to be a lot more social, with mail carriers working in pairs. There is less mail during the summer but more during the school year. Some of the mail is "too heavy to lift by yourself," Golden says, so they're exploring ways to meet up and coordinate, while staying in separate vehicles. "We help each other out all the time," he says. "I like Philadelphia, and I like the environment that they have at Penn. Some of the people are just great, so it makes it very comfortable to work."
After going down to a skeleton crew in March, Walt Molishus, director of trades, is getting his 241 employees and 25 managers back into circulation. These are "behind the scenes maintenance and operations staff," Molishus says: sanitation workers, gardeners, painters, carpenters, locksmiths, steam fitters, mechanics. 
Gary Smith has spent 33 years in the plumbing business. "It's been a
great life," he says. Growing up in Southwest Philadelphia, "we had a career day, and they let us solder copper pipes," he says. "I loved it." 
Smith comes in from New Jersey, where he lives with his wife and two children, a daughter finishing her last year at Drexel and a 16-year-old son who plays basketball and football. Smith doesn't see his children in the morning; he wakes up at 5:30 a.m. and is on the road a half hour later. "Just take a shower and go," he says. 
Smith came back to work full-time in early June. Like all campus workers, he uses the PennOpen Pass system and checks in with supervisors to confirm his symptom-free status before clocking in at 7 a.m. From there, he gets started. "We already have our jobs from the supervisor at night," Smith says. They come in via work order, with materials and directions on-site. "If there's a bigger job, your supervisor will delegate the manpower," he says. "We really follow what the CDC says. I wear sanitizer around my neck like a St. Bernard." Other than that, "plumbing's plumbing," he says. 
Facilities work is the same regardless of COVID-19, Molishus says. He and his staff prioritize emergencies, make improvements, beautify the campus, and support new construction. "The biggest challenge has probably been the unknown," he says. "At the same time, we thrive on change. It keeps us sharp. You'd like to come in and do the same things every day, but if you got there life will be boring."