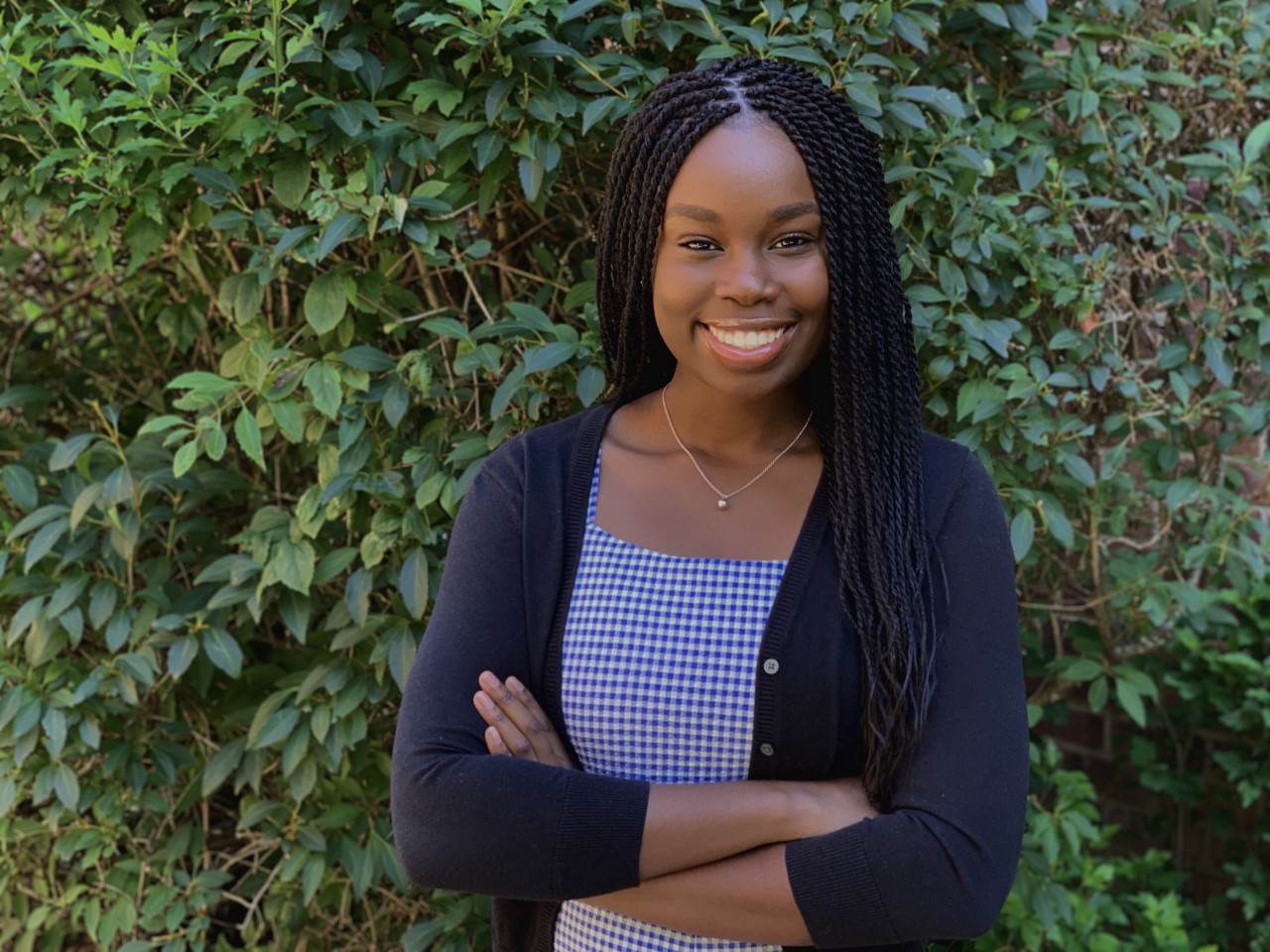 As a summer intern for Penn's public radio station, WXPN, sophomore Leanna Tilitei became an integral member of the programming team for the daily syndicated show "World Cafe." 
The experience enriched her interests in media and communications, she says, while also expanding her musical knowledge. 
"I was very pleased that I had a lot of responsibilities, not just tasks but work that was essential to have the show air," says Tilitei, who participated in the internship from her family's home in Yonkers, New York. "I was busy the whole time." 
Working from 10 a.m. to 5 p.m. five days a week for 10 weeks, Tilitei created the daily playlist, episode rundown, and a promo spot for the two-hour show, and she conducted research on upcoming guest artists.
Ellen Oplinger, WXPN talent and programming coordinator, was Tilitei's supervisor. "Despite the distanced training, Leanna took on her role quickly and effectively. Leanna was a thorough, attentive, and reliable member of the team," Oplinger says. "She was valuable in ensuring that the 'World Cafe' behind-the-scenes operations were uninterrupted during a time when we were all learning how the show would be produced from home." 
The WXPN internship was part of the Summer Humanities Internship Program by Penn's Center for Undergraduate Research & Fellowships, which provided a $4,500 stipend. "World Cafe" is produced by WXPN, 88.5 FM, and is distributed by National Public Radio to more than 200 U.S. radio stations and heard by nearly 600,000 listeners each week, billed as the "nation's most listened-to-public radio music program."  
"It was nice to know that what I was doing was making an impact," Tilitei says. "I really liked being in charge of deciding which information was relevant. And I was fortunate to get exposure to production and programming and see behind the scenes how everything comes together."
In the mornings she created the daily episode's playlist of songs, as well as the detailed episode rundown that she sent to the affiliate stations. She also wrote a 90-word episode promotional blurb with show highlights.
In the afternoons Tilitei turned her attention to the main focus of her work, research on upcoming guest artists. She wrote a substantial file on each, meant to provide essential background to the program host, Raina Douris, or contributing host, Stephen Kallao. 
"I thought that was the most fun aspect," Tilitei says. "I learned a lot about indie and alternative rock artists."
Tilitei was especially interested to learn about the drop of "Dixie" from The Chicks band name in response to racial injustice. This summer was the first time she heard Jason Isbell, who spoke and performed at Kelly Writers House in 2019. She was introduced to several other bands and artists, from Willie Nelson to Norah Jones to The Dirty Projectors. 
"I like that it's made my music tastes a little more alternative, a little less popular," she says. "I can introduce people to new artists, or in some cases, old ones." 
Usually Tilitei's research file was due to the show's host three days before the interview, but sometimes she would have to turn it around on the same day, like the one about hip-hop duo Run The Jewels. "I had to be flexible and ready for last-minute, urgent situations, something like covering breaking news at a newspaper," she says. "Those surprise elements made things interesting."
This year Tilitei plans to declare a major in communication and public service in the College of Arts & Sciences. Interested in a possible career in journalism, she is a reporter at The Daily Pennsylvanian independent student newspaper. But she is also interested in the law. During high school at the Riverdale Country School, she completed a summer internship with a New York City law firm.
At Penn, Tilitei joined Penn Mock Trial after connecting with the student group at the activities fair last fall. "Becoming part of mock trial was one of the best decisions I have made at Penn," she says. "All the friends I am living with are from mock trial. The high stress of preparing for trials brings us together."
A Benjamin Franklin Scholar at Penn, her favorite courses last year were those in the Integrated Studies Program. "I love anything that is interdisciplinary," she says. 
Tilitei says she is looking forward to her fall semester classes, which include political communication, media activism, and urban law. She's back in Philadelphia, living in an off-campus apartment with friends. 
She will also continue classes in Swahili, a language spoken by her parents, who were born and raised in Kenya before immigrating to the U.S. "I'd like to become fluent, or sufficiently proficient, so I can get by speaking with family members in Kenya," she says. 
Reflecting on the remote aspect of her pandemic internship experience, Tilitei says, "The only major thing I lost was meeting the artists in person and helping them set up. I was sad to miss that aspect of it, the relationship with the artists. But I know how fortunate I am that I got this opportunity to have an internship in a field that I'm interested in. It was a very positive experience."