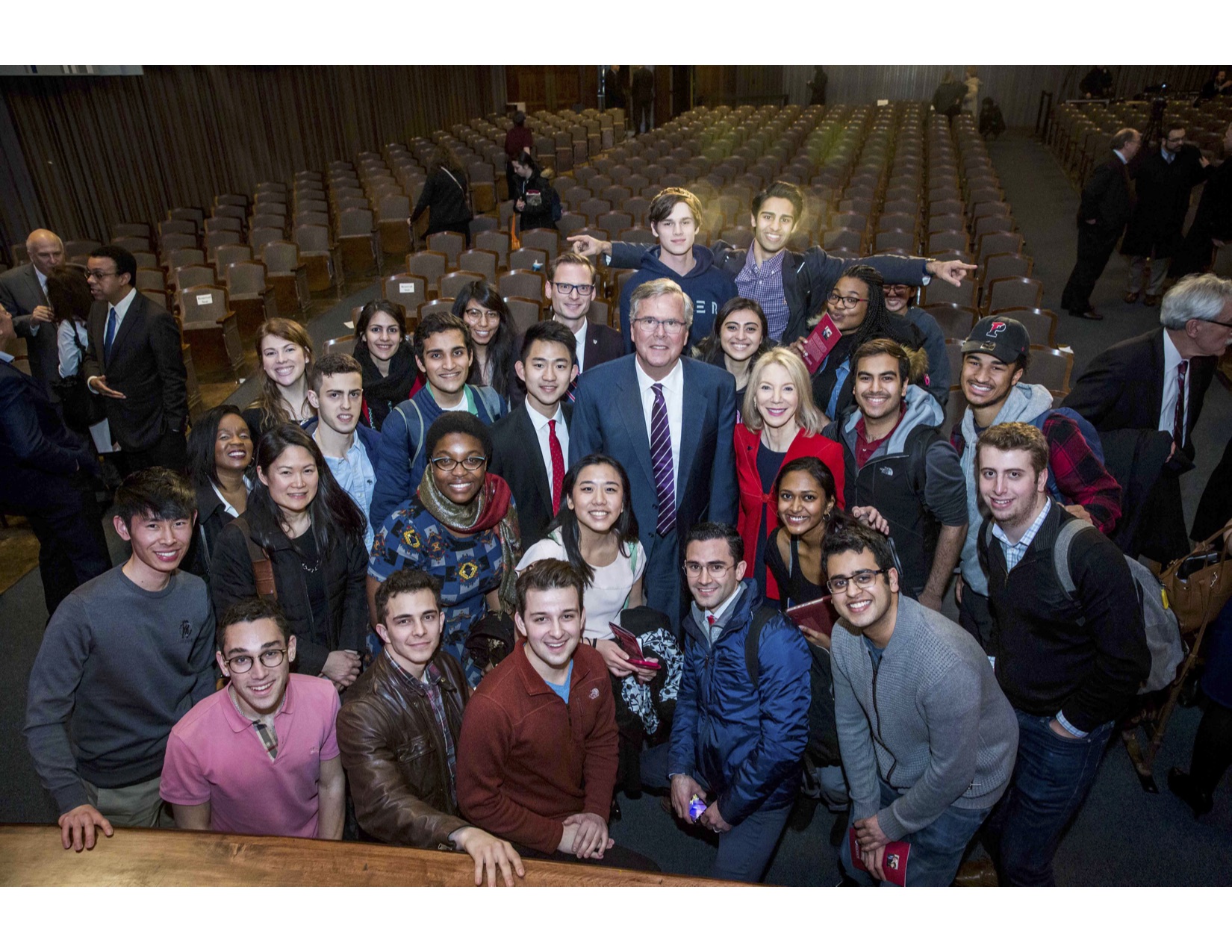 University of Pennsylvania President Amy Gutmann and Provost Wendell Pritchett today announced that former Florida Governor Jeb Bush has been named a non-resident Presidential Professor of Practice for the 2018-19 academic year.

Penn's Presidential Professors of Practice program brings to campus eminent practitioners in public affairs whose unique experiences and diverse perspectives enrich Penn's mission and culture. As Presidential Professor of Practice, Governor Bush will engage with Penn faculty and students in multiple ways, including participating in classes, lectures, and campus events, as well as select major Penn functions. He will be on campus approximately one to two days per month.

"Governor Bush is a man of exceptional character who has committed his life to public service and civic engagement," said Penn President Amy Gutmann. "As the 43rd governor of Florida from 1999 through 2007, Governor Bush championed policies to stimulate economic growth and create jobs, lower government spending, transform education, and dramatically expand conservation of the Everglades. He also earned plaudits for his outstanding leadership during the 2004 and 2005 hurricane seasons, when eight storms ravaged Florida over a 16-month period. Governor Bush will enrich our campus with the passion and expertise he brings to timely and important conversations."

"The University of Pennsylvania is one of the finest academic institutions in America, and I thank President Gutmann for the invitation to join the Penn community this year," said Governor Bush. "At a time when our politics and culture can be polarizing and coarse, there is a tremendous need to foster civil discourse on the most pressing challenges and opportunities facing our country. I look forward to engaging with Penn students and faculty on a range of public policy issues in the months to come."

Governor Bush's affiliation at Penn will be with the Andrea Mitchell Center for the Study of Democracy in the School of Arts and Sciences. Founded in 2017 through a donation from alumna and trustee emerita Andrea Mitchell and her husband, Alan Greenspan, the Center provides an unparalleled platform for students and faculty to explore aspects of democracy, while promoting open dialogue and understanding of the key issues of the day. The Andrea Mitchell Center is located in the new Ronald O. Perelman Center for Political Science and Economics.

"Presidential Practice Professorships are a significant component of President Gutmann's Penn Compact 2022," said Provost Pritchett. "Bringing national leaders from diverse political viewpoints to Penn advances knowledge-based public policy on challenging societal questions. We welcome Governor Bush's unique perspective on the important issues of our day. His affiliation with Penn will be a tremendous asset to students and faculty alike."

Governor Bush is familiar to the Penn community for his contributions as a panelist in the 2018 David and Lyn Silfen University Forum, "People and Policy Adrift: A 21st Century Framework for Asylum Seekers, Refugees, and Immigration Policy," which exemplified Penn's commitment to engaging diverse perspectives on challenging and timely topics. He is also no stranger to Philadelphia, having served as chair of the Board of Trustees at the National Constitution Center, where he helped spur more robust engagement around our nation's founding charter, and the values and ideals for which the nation stands.

Governor Bush, who earned his bachelor's degree in Latin American Studies from the University of Texas at Austin, has written three books: "Profiles in Character"; "Immigration Wars: Forging an American Solution"; and "Reply All: A Governor's Story 1999-2007." He is currently Chairman of Dock Square Capital LLC, a merchant bank headquartered in Miami. He maintains his passion for improving the quality of education for students across the country by serving as the Chairman of the Foundation for Excellence in Education, a national nonprofit education reform organization he founded to transform education in America. Governor Bush lives in Miami with his wife, Columba. They have three children and four grandchildren.