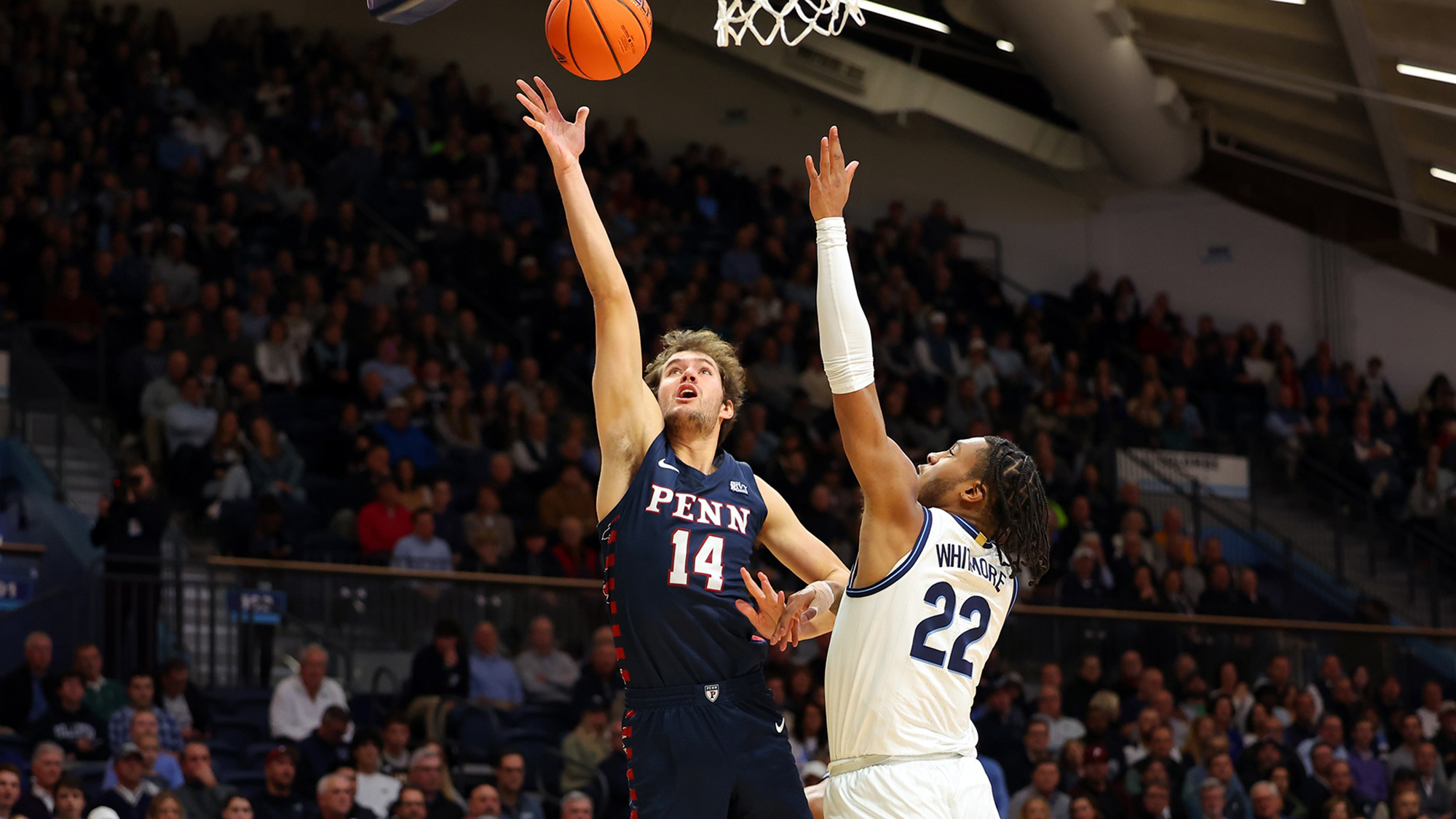 Fourth-year forward Max Martz of the men's basketball team has announced that he will take a medical retirement and not suit up for Penn in 2023-24.

"This was a difficult decision, one that I have wrestled with since the conclusion of last season," says Martz. "Ultimately, after talking with family and friends, I have decided that a medical retirement is the best course of action for me and especially for my body. I will always cherish my time at Penn and am thankful for the positive impact my teammates and coaches have had on me these last four years. I will miss being on the court with the guys this season, but I look forward to cheering them on."
Martz, from Upper Arlington, Ohio, was a key contributor to the Quakers since his first-year season in 2019-2020. He played in 26 of 27 games as a first-year and started 14. His 7.9 points per game ranked fifth on the team and his 3.7 rebounds per game ranked third. He led the team in three-point field goal percentage (.432) and drained the third-most shots from behind the arc (41).
The 2020-21 season was cancelled by the coronavirus, but Martz returned in 2021-22 with an improved game. He played in 24 of 25 games and made 22 starts. He was the team's third-leading scorer (10.0 points per game) and top rebounder (5.0 per game). He also made 36 three-pointers, third-best on the team.
Last season, Martz was an All-Ivy honorable mention. He averaged 10.8 points and 4.2 rebounds per game, both third-highest on the team. He also had 32 assists, 17 steals, and seven blocks. His .412 three-point percentage ranked third on the team and his 42 three-pointers ranked second.
Martz scored a career-high 22 points twice in his Penn career. On Dec. 30, 2019, against Howard University in Washington, D.C., he shot 7-9 from the field, 6-8 from the three-point line, and 2-2 from the foul line in the Quakers' 81-62 win. Last season against Dartmouth on Jan. 14, 2023, in New Hampshire, he shot 8-12 from the field, 4-6 from the foul line, and 2-3 from the charity stripe in the Red & Blue's 75-71 loss.

"Max gave us three great seasons, and while we were hoping for one more, I respect his decision to take a medical retirement," says Steve Donahue, the John R. Rockwell Head Coach of the men's basketball team. "I know that he did not come to this decision lightly, so we wish Max well and we are glad he will graduate with his Penn degree."
Penn will open its season on Nov. 6 without two of its top three scorers from last season. Leading scorer Jordan Dingle transferred to St. John's.