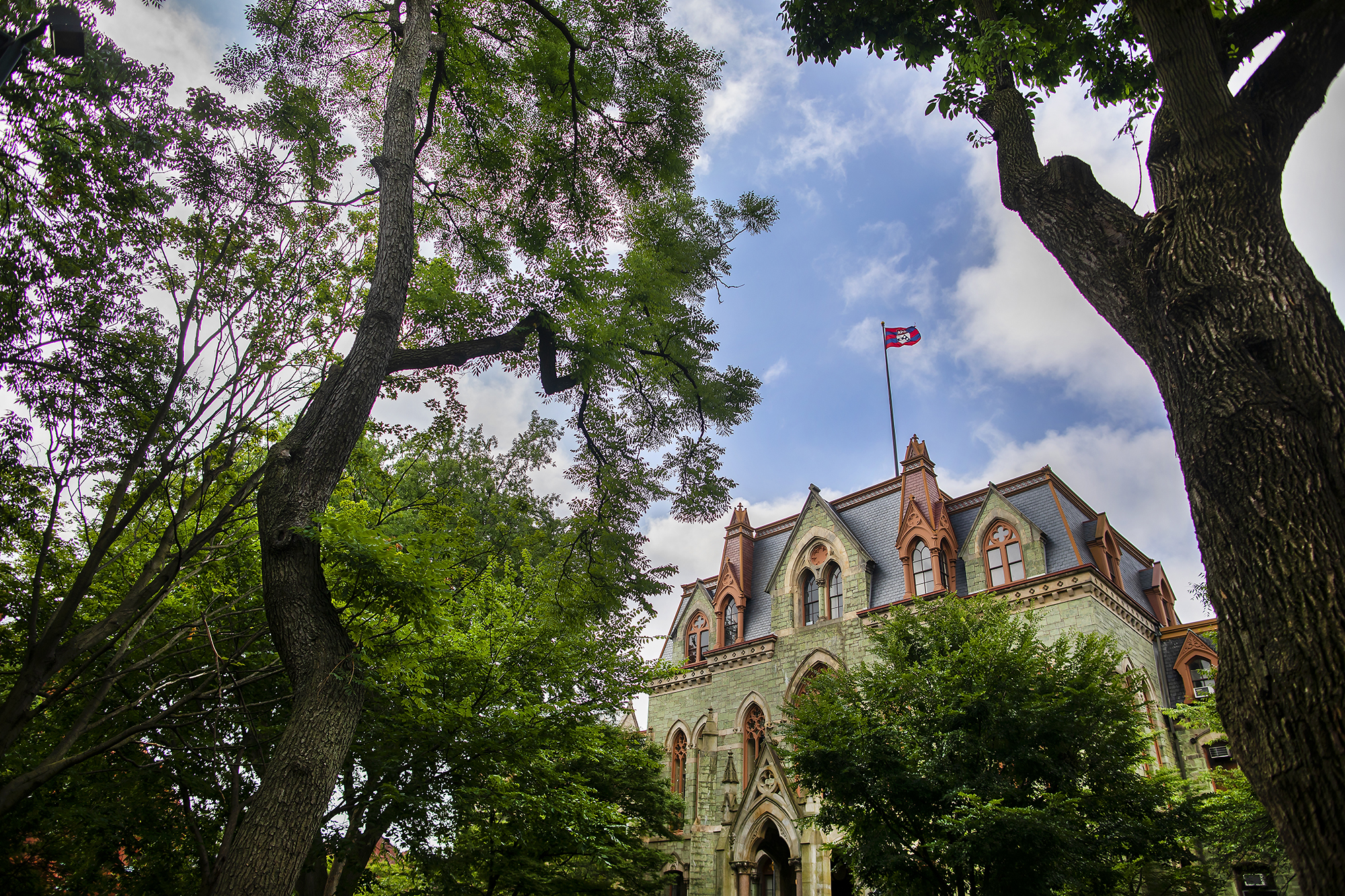 A historic occasion, the Presidential Inauguration of Liz Magill will take place Friday, Oct. 21, 2022. A string of events will unite all in the Penn family, and draw guests to campus from across the city, state, and country in celebration of the University's ninth president.
In announcing the Inauguration festivities, Trustees Chair Scott L. Bok said President Magill is "a leader of proven strength and a person of unquestionable principle to lead Penn into the future." In his message, Bok continued: "Her upcoming Inauguration will reflect both the solemnity of this historic moment for our centuries-old University, as well as the wonderfully festive spirit that we all have come to know and love about Penn."
Following tradition, an Academic Procession through campus will depart from the Annenberg Center at 9:30 a.m., just before the Inauguration Ceremony. Participants will process down Locust Walk and through Penn Commons, ending at Irvine Auditorium. All are invited to cheer on the procession.
The Inauguration Ceremony begins at 10 a.m. at Irvine Auditorium. Once Irvine's capacity is met, faculty, staff, students, and alumni are encouraged to view a livestream of the event together in a tent at Penn Commons. Those interested in watching but unable to be present in person will have the option of viewing via webcast.
After the Inauguration Ceremony, College Green will be the base for a fun-filled picnic from noon to 2 p.m. for the Penn community, showcasing Philadelphia food from CookNSolo restaurants (Zahav, Federal Donuts, Goldie, and more) and desserts including a special Penn-augural Berry Chocolate Chunk flavor from Bassetts Ice Cream. A concert will feature musical guests Jeff Tweedy and Sheryl Crow—two of President Magill's favorites.
At 2:30 p.m., back at Irvine Auditorium, an engaging Academic Symposium—President Magill in conversation with U.S. Supreme Court Justice Elena Kagan—will take place. Like the Inauguration Ceremony, the Symposium will be livestreamed under a tent at Penn Commons and online.
President Magill's Inauguration also coincides with Homecoming Weekend, highlighting a mix of traditional alumni events including QuakerFest and the Homecoming football game on Saturday, Oct. 22, and a surplus of specially curated arts and cultural activities, featuring a gallery hop, band slam, arts fair, sculpture tour, and much, much more.
On the morning of Oct. 22, before the annual Penn Relays 5K around Penn Park, which begins and ends at the iconic Franklin Field, President Magill and her Goldendoodle Olive—along with the Quaker mascot, the Penn Band, student athletes, and members of the Division of Public Safety and the Penn Vet Working Dog Center—will lead a walk through campus (starting at 8 a.m. at 38th and Locust Walk) to Franklin Field, where she will help kick off the 5K.
During the Inauguration and throughout this year, President Magill also intends to shine a spotlight on service. In addition to celebrating the 30th anniversary of the Netter Center for Community Partnerships in the days leading up to Inauguration Ceremony, President Magill will highlight service opportunities and organizations in the coming academic year.
Visit the Penn Inauguration website for a detailed schedule of happenings and event registration links, which will be continuously updated in the months ahead. Also find information about Penn's new president, how to view the Inauguration Ceremony and Academic Symposium online, and more.