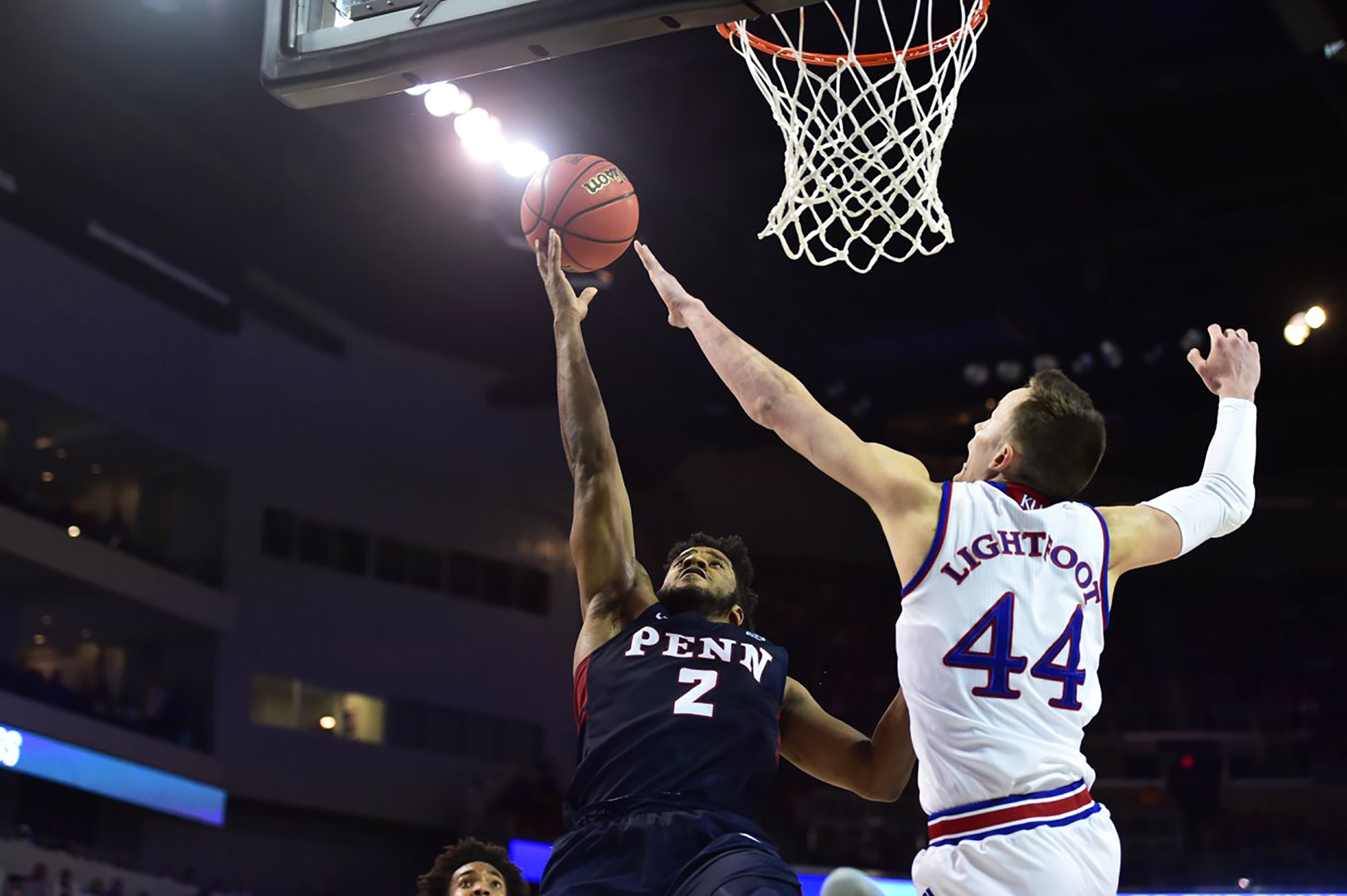 The 16th-seeded Penn men's basketball team played with heart and showed no fear in their first round NCAA Tournament game against No. 1-seeded Kansas on March 15, and sent a chill through Jayhawk Nation when they took an early 10-point lead.
Alas, behind 29 points by senior guard Devonte' Graham, the unanimous Big 12 Player of the Year, Kansas was able to hold back the Quakers on their way to a 76-60 victory.
Showing the great teamwork, drive, and intensity that propelled Penn to 24 wins and the Ivy League title, the Quakers came out blazing and used a 14-4 run to take a 21-11 lead with eight minutes remaining in the first half. Graham answered with 15 points in the final 8 minutes of the half to put the Jayhawks up 33-26 at the break.
The Quakers cut the lead to four in the second half, but the Jayhawks were a bit too much and left with victory. 
Four Penn players scored in double figures. Sophomore A.J. Brodeur led the Quakers with 14 points, 9 rebounds, and 3 assists. Junior Antonio Woods scored 10. In their final collegiate games, seniors Caleb Wood had 14 points, Darnell Foreman contributed 10 points, 6 rebounds, and 3 assists, and Sam Jones added 3.
Bill Self, head coach of Kansas and a 2017 inductee into the Naismith Memorial Basketball Hall of Fame, said he was happy his team won, "but it wasn't a 16-point game.
"It was much closer than that," he said. "We got off to such a bad start and they were so much better than us early. We were forcing it. We were only down I think 21-11. We felt like we could have been down, you know, 12 or 15 easily at that point."
Steve Donahue, the John R. Rockwell Head Coach of Men's Basketball and Ivy League Coach of the Year, said the Quakers, with more than a dozen underclassman, played hard and have a great future.
"I couldn't be more proud of my guys and how we played and competed, and did everything I would hope," he said. "It was a great college basketball game, in particular, for about 35 minutes, and they finished us off."
Foreman, who scored in double figures for the sixth straight game, said the Quakers left everything they had on the court.
"We played as hard as we could play," he said. "And that's all that I ask for. That's all that the coaches ask for. It's just that we try to give our best effort."