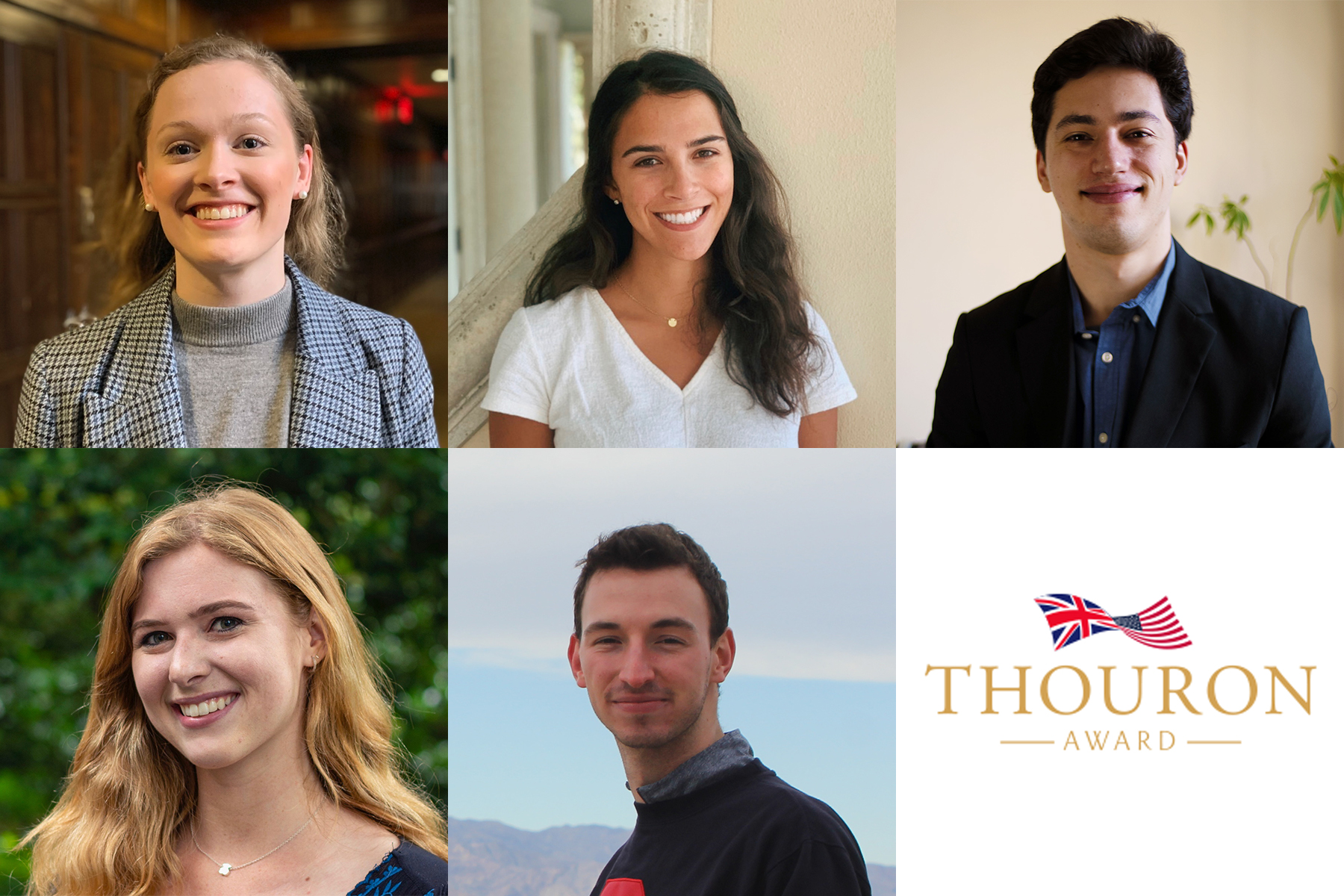 Four University of Pennsylvania seniors and a 2019 graduate have received a Thouron Award to pursue graduate studies in the United Kingdom.
Each scholarship winner receives tuition for up to two years, as well as travel and living stipends, to earn a graduate degree there. Because of pandemic restrictions, this year's scholars can start their degrees in 2021 or in 2022.
Established in 1960 and supported with gifts by the late John Thouron and his wife, Esther du Pont Thouron, the Thouron Award is a graduate exchange program between Penn and U.K. universities that aims to improve understanding and relations between the two countries.
Penn's five 2021 Thouron Scholars are:
Emily Davis, from Gainesville, Florida, is majoring in biology in the College of Liberal & Professional Studies. In addition to being a full-time student, Davis is a full-time professional ballet dancer in her sixth season with the Pennsylvania Ballet. She has performed numerous corps de ballet and soloist roles with the company and is a passionate advocate for integrating dance and health. A trained instructor for Dance for Parkinson's Disease, she has developed and taught dance programs through partnerships with Art-Reach, Puentes de Salud, the Magee Rehabilitation Hospital, and Nemours Children's Hospital. Davis conducts research at the Children's Hospital of Philadelphia on pediatric neuromotor rehabilitation for children with cerebral palsy, and at the University of Florida's Center for Arts in Medicine. She serves as the director of Shut Up and Dance, an annual benefit performance put on by Pennsylvania Ballet dancers that raises more than $150,000 for Philadelphia's Metropolitan Area Neighborhood Nutrition Alliance. Davis plans to pursue a Ph.D. exploring the biopsychosocial benefits of social dancing, with a goal of using research to legitimize the use of evidence-based dance interventions to improve health.
Carson Eckhard, from Tampa, Florida, is majoring in history and English, with minors in urban studies and Africana studies in the College of Arts and Sciences. She is a Mellon Mays Undergraduate Fellow and a University Scholar. At Penn Eckhard is chair of the Student Committee on Undergraduate Education and vice president of engagement for Beyond Arrests, a campus criminal justice reform organization. An Andrea Mitchell Research Fellow and member of the Penn & Slavery Project, Eckhard aims to use academic research as a vehicle for social justice. Passionate about educational equity and criminal justice reform, Eckhard interns for the Conviction Integrity Unit at the Philadelphia District Attorney's office, where she supports efforts to combat wrongful convictions in Philadelphia. She has advocated for returning citizens as an intern for the Philadelphia Reentry Coalition. She is also a founding board member of The Liberation Foundation, a grassroots Philadelphia-based organization dedicated to overturning wrongful convictions and advocating for those serving disproportionate sentences. Eckhard plans to pursue a master's degree in history, with a goal of returning to the U.S. to pursue a J.D./Ph.D. and a career as a law professor, advocate, and organizer for comprehensive justice reform.
Ben Friedman, from Lexington, Massachusetts, earned a bachelor's degree in political science and communications with a minor in survey research and data analytics from Penn in 2019. Friedman has worked on a number of political campaigns, most recently as New Hampshire press secretary for the campaign of President Joseph Biden. At Penn, Friedman was president of Penn Consumer Assistance Support & Education, or Penn CASE, a student organization devoted to consumer protection and advocacy in Philadelphia. He played on the varsity sprint football team, which won a Collegiate Sprint Football League championship in 2016, and was a three-time all-league selection at offensive line. Friedman received the Annenberg School for Communication's C. Nicole Dickerson Award for public service and was an Academic All-Ivy League selection for Fall 2017-2018. Friedman plans to pursue a master's degree in a policy field and then return to the U.S. to pursue a career in public service.
Lauren Kleidermacher, from Miami Beach, Florida, is majoring in biology in the College of Arts and Sciences. She has been interested in studying Alzheimer's disease since her grandfather died of the disease when she was in fifth grade. She created PJ Pillows, a nonprofit that raises funds for Alzheimer's research, and has donated time and resources to several nursing homes. She is currently conducting research on Alzheimer's at the Penn Neurodegeneration Genomics Center. A crisis counselor for those suffering from anxiety and depression, she also volunteers at the Ronald McDonald House and the Bethesda Project homeless shelter. A nationally ranked chess player, she has been a teaching assistant in Penn's Statistics Department. Kleidermacher plans to pursue a master's in global health science and epidemiology at the University of Oxford, with the goal of pursing a medical degree in the U.S. and a career combatting Alzheimer's disease.
Beau Staso, from Hermosa Beach, California, is a majoring in management at the Wharton School, and in international relations with a minor in Russian studies in the College of Arts and Sciences. He is a research assistant at Wharton, a research assistant and Russian translator at Penn Medicine, and a teaching assistant in the Russian and East European Studies Department in the College of Arts and Sciences. An ROTC cadet, Staso serves as wing commander of the Air Force cadets in the Philadelphia area and advocates for the LGBT+ community in the military. He was awarded Department of Defense scholarships for study in Eastern Europe and Central Asia, and he was elected secretary-general of the University of Pennsylvania Model United Nations Conference. A Wharton Research Scholar, Staso is a recipient of the Military Officers Association of America Liberty Bell Award, Military Order of the Purple Heart National Leadership Award, Sons of the American Revolution Leadership Award and was selected by his peers for the Field Training Warrior Spirit Award. He also has worked with Russian immigrant patrons of food pantries in North Philadelphia to conduct studies on their health and diet. Staso will pursue a master's degree in Russian and East European studies. After completion, he plans to begin his career as a U.S. Space Force officer.
The Center for Undergraduate Research and Fellowships serves as Penn's primary information hub and support office for students and alumni applying for major grants and fellowships, including the Thouron Award.