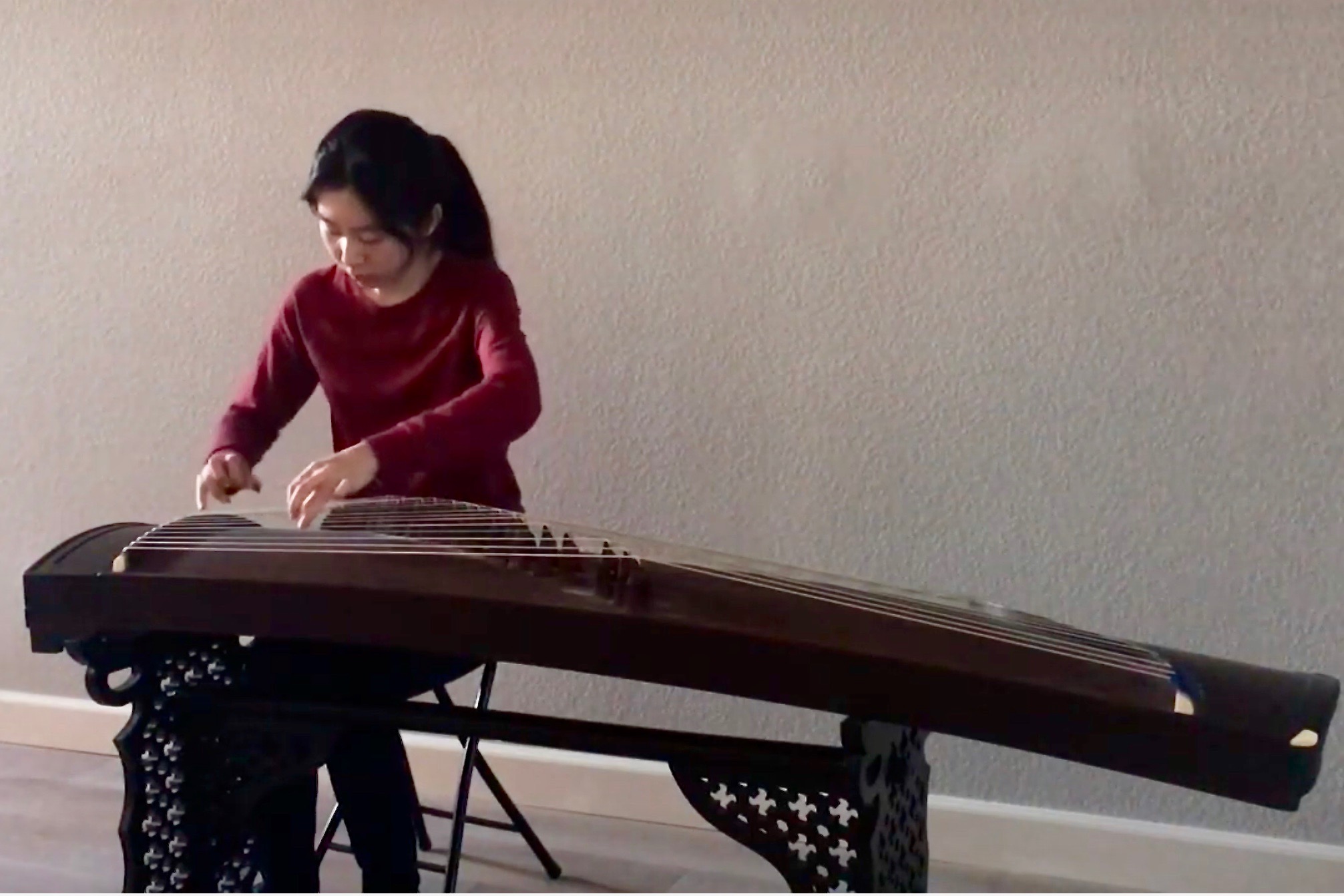 Founded in the fall semester, the Penn Flow Chinese-Western chamber music ensemble juxtaposes traditional Chinese instruments like the erhu and guzheng with Western instruments like the violin.
Their April concert canceled, two Penn student members played their erhu and guzheng in videos they created in their homes that the Music Department posted.
"They do not only present their beloved instruments but also demonstrate how they themselves are connected to a deeply rooted musical culture in a modern and domestic setting," says Bess Xintong Liu, co-director of the music ensemble. "As a dynamic culture, Chinese instrumental music is still relevant at the current moment, as playing solo in a quarantine setting can be seen as a meditation, an act of self-care, or a mode of communication within our surroundings." 
Senior Flora Feng, a mathematics and economics double major in the College of Arts & Sciences from San Jose, California,  plays the guzheng, a plucked instrument with 21 strings. In the video, she plays a piece named "Dance of the Yi Tribe," which is based on the traditional music of the Yi minority group in China. 
Qixuan Liu, a first-year intercultural communication major in the Graduate School of Education from Tianjin, China, plays the ehru, a two-stringed instrument played with a bow. In the video she plays several pieces, including "A Flower" and "The Ballad of Lan Huahua," and she demonstrates how the instrument can mimic the sound of horses and birds and even the human voice. 
The 23-member Penn Flow ensemble is made up of Penn undergraduate and graduate students, as well as a few musicians from Temple University. A Temple graduate, Aris Yuqing Tang, is included in Feng's video.
"Like any other ensembles who cannot physically gather at the current moment, we miss those times of group rehearsals and literal engagement with the local community at Penn," says ensemble co-director Liu, a fourth-year graduate student in musicology. 
"It seems like the current quarantine is a silence, a pause, a rest with a fermata on the musical score. However, silence, according to ancient Chinese Taoist philosophy, should be heard and experienced as another form of music in a higher state. In modern-day concert settings, silence prepares for the start of another movement," she says. "While we find solace at our fingertips by keeping practice at the moment, we also look forward to the day we can literally reunite and start with a stronger beat."