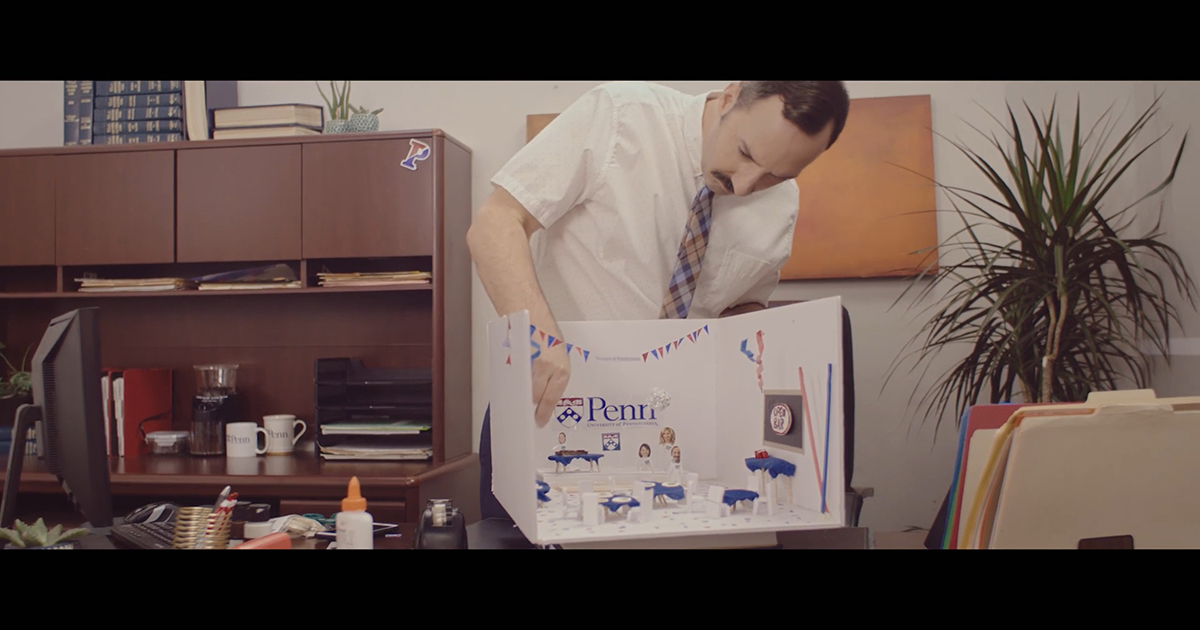 In the new feature film "Eat Wheaties!," Tony Hale—best-known for his roles in "Arrested Development," "Veep," and "Toy Story 4"—stars as a Penn alum trying to organize a class reunion and reconnect with a special classmate. Hale and Producer/Director Scott Abramovitch chatted with Penn Today about the film and its Penn connections.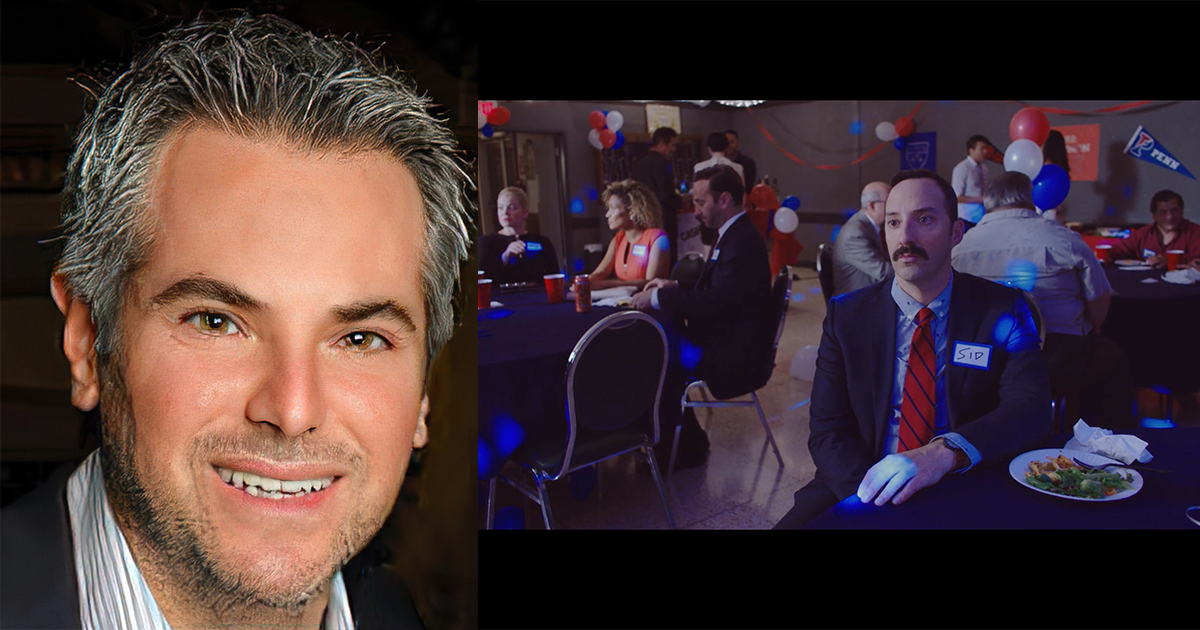 Tony, your character, Sid Straw, plays a Penn alum organizing a class reunion. In preparing for the role, did you learn anything about Penn that you might not otherwise have known?
Tony Hale: Alas, no. I should have Daniel Day Lewis'd it and signed up for some Penn classes or become the mascot. But doing independent film, there's only enough money to maybe get a round of Starbucks every now and then.
Scott, as producer/director, you had to bring this film together in the midst of the pandemic. How was that different from your past projects?
Scott Abramovitch: Thankfully we had shot the film before the pandemic began, but the timing was far from ideal. Our post production was primarily in Montreal, where our crew was minimal and under strict curfews. We had to work remotely on Zoom, which is really challenging for the technical elements like the sound mix and color correction where every nuance can make an impact.
Without giving away any of the story, one of the characters in the film is Elizabeth Banks, who happens to be an actual Penn alum [a 1996 College of Arts and Sciences graduate]. Did she share any secrets with you about her alma mater?
Abramovitch: The movie is based on the brilliant epistolary novel 'The Locklear Letters' by Michael Kun where the celebrity in question who Sid Straw went to college with was Heather Locklear. In adapting the story it was important for me to find somebody who really went to and graduated from college. We were so lucky to have Elizabeth Banks give us her blessing. The most interesting thing I learned about Elizabeth's college experience was that not only did she graduate magna cum laude, but on her first day she met her husband (and producing partner), fellow Penn alum Max Handelman. Since the version of Elizabeth Banks that Sid Straw talks about in 'Eat Wheaties!' is fictional, the door is open for Elizabeth and Max to make a romantic comedy about their true Penn love story.
How did you develop the idea for the film?
Abramovitch: After reading the novel when it was published, I loved the unique voice and perspective of the main character Sid Straw, but wasn't sure how it could be a film. The lightbulb moment came years later after hearing stories of so many people's lives upended by things they wrote on social media. Combining Sid's tendency of trying too hard and saying too much to get people to like him with the way social media makes celebrities appear accessible felt relevant enough to be the launching point of a movie. Of course, ideas are easy. When the wonderful Tony Hale said he wanted to bring Sid Straw to life it become something more.
Tony, what was your personal college experience like?
Hale: Great. I loved college. I went to Samford University in Birmingham, Alabama. And some of my best friends came from those times.
Have you ever been to a class reunion? Our guess is that it would have been quite different from the one portrayed in the film.
Hale: I have. It was different than Sid's experience but honestly, the same groups of people that hung together in high school and college hang together at these reunions. Some things never change.
What was unique about playing Sid Straw compared to all the memorable characters you have played on screen?
Hale: A lot of the characters I've played are stuck and don't grow from their mistakes or tough situations. But Sid goes through a rough patch, bounces back and learns from it. I love that.
Do you think there is any chance that loyal Penn alum Sid Straw will be returning to the screen in a sequel?
Abramovitch: Well, Michael Kun wrote a sequel to 'The Locklear Letters' called 'Everybody Says Hello' about Sid Straw moving to Los Angeles. So, if enough people love 'Eat Wheaties!'...
"Eat Wheaties!" will premiere on Friday, April 30, in theaters and on demand.