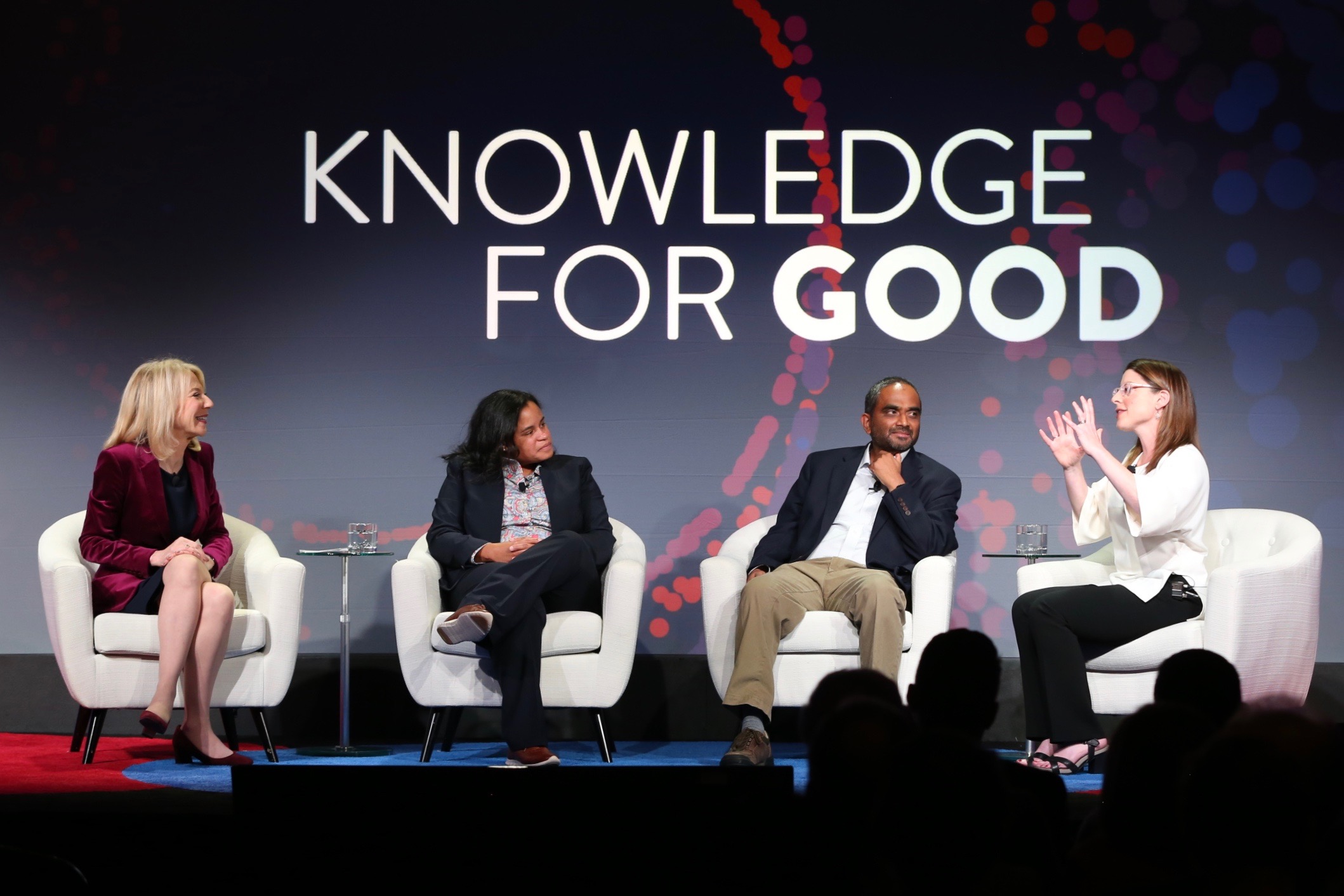 From discoveries about the role of metals as micronutrients for cancer cells to the origins of medieval language and its resonance on social media today, the range of research and teaching at Penn was the center of conversation with President Amy Gutmann and professors at an event in Boston for alumni, parents, and friends. 
"Tonight is all about opportunity—opportunity that transforms people's lives into action that will change the world," Gutmann said to the more than 250 people. "We will use the power of Penn to build an incredible future."
The "Power of Penn" event on Oct. 2 is one of several being held in major cities to work toward raising $4.1 billion for the University's priorities, underpinned by the commitment to innovation, inclusion, and impact. 
Gutmann led a conversation with three professors on a "Knowledge for Good" panel about how their work embodies and furthers those goals. 
Donita Brady, the Presidential Professor of Cancer Biology in the Perelman School of Medicine, was recruited to Penn in 2015 to create a laboratory that now has six researchers. 
"What my lab has recently discovered is the fact that particular types of cancers utilize copper to actually communicate and allow the cells to continue to grow," especially melanoma, Brady said. "With this new knowledge that copper can actually function as a fuel for cancer cells, we are trying to start to repurpose ways to reduce the availability of copper to these cancer cells."
Brady's description of her research resonated with May graduate Alexander Ross, who was in the audience with several Penn friends who also live in Boston. He majored in health and society in the College of Arts and Sciences, and is now pursuing a certificate in social justice at Harvard University. He's preparing to take medical-school entrance exams this spring to pursue his goal of becoming a surgeon. 
Like Brady, Ross worked in a lab during his years at Penn, and is an underrepresented minority. "Penn provided the platform for me to make my research possible," Ross said. 
At Penn, he researched the higher rate of diabetes in the Native American population, which he hopes will be published this year. Ross is Native American; his mother is a descendent of the Cherokee and Choctaw nations. He worked with Margaret Bruchac, an assistant professor of anthropology who coordinates Native American and indigenous studies.
Promoting access and diversity throughout Penn is a critical priority, Gutmann said. Half of Penn's students receive financial aid, and one in seven will be the first generation in their families to graduate from college. She also noted the launch of Penn First Plus, an initiative for first-generation students on campus.
Brady said that commitment was important to her in choosing to come to Penn. "I knew Penn was a very inclusive and diverse environment where my thoughts would be valued in terms of collaboration." 
Her team is trying to help underrepresented-minority students, or those whose schools didn't afford them research-intensive opportunities, by inviting them to work in the lab. She said, "That allows them to see the real potential and impact that they can make in terms of doing basic science and research." 
Starting her independent career and lab at Penn, Brady said, "allows us to continue to grow diversity and inclusion, which is such a fabric of what Penn is about." Gutmann replied, "We truly believe that we also demonstrate diversity and inclusion, and excellence and eminence go together."
Also leading a new research effort at Penn is Vivek Shenoy, the Eduardo D. Glandt President's Distinguished Professor in the School of Engineering and Applied Science. He is director of the Center for Engineering Mechanobiology, an innovative project with a consortium of seven other universities funded by the National Science Foundation.
Using mathematical tools, they are researching the way cells are influenced by the physical forces in their environment, with implications for cancer, heart disease, traumatic brain injury, and tissue engineering.
"At the end of the day a cell cannot be looked at in isolation," because interactions with surroundings "impact everything within the cell," he said. "We are trying to piece together all of these events to create a story."
Finding the backstories of medieval language and literature is at the center of work by Emily Steiner, an English professor in the School of Arts and Sciences, who focuses also on the history of the book. With nearly 14,000 followers on Twitter, she is sharing her knowledge and love of the medieval with the world.
"For me, this is the ultimate teaching challenge to be able to communicate something deep and effective on Twitter," Steiner said, describing the global community of #medievaltwitter. Countering misconceptions of the medieval period is one of her main goals; for example, most people in medieval times were "round earthers," and did not believe the earth was flat. 
"What I try to find are the most beautiful manuscript images that I can of a spherical earth and show the complexity of the medieval," she said, and when tweeting to give "little lectures in 280 characters" in the posts. "People love seeing these things they would never be able to see on their own."
Lexi Caffrey, who graduated from Wharton in 2010, said she was impressed with the range of pursuits at Penn. "I like the diverse nature of what Penn is investing in, everything from medieval research to the Penn Museum to cancer research," she said. 
"It's interesting to hear what the Penn experience means to each speaker and how they connect with the University," said Aileen Benson, a 2000 graduate and president of the Penn Club of Boston. "It is so interesting to learn what is significant for them."
The encouragement and opportunity to pursue various interests like those represented on the panel were central to the Penn experience of alumnus Christopher Crawford, who has been on the host committee for the Boston alumni club for 15 years. He graduated in 1991 with a dual management and technology degree from the Wharton School and Penn Engineering, and had enough credits to get a degree from the College as well. In 1997, he earned a graduate degree from Wharton and a master's degree from Penn Arts and Sciences.
"Combining different parts of the University together, that's when you get creativity, that's where you get really interesting new things happening," Crawford said, noting his support for the new dual-degree programs at Penn. 
"Penn's impact is going further and further," Gutmann said, highlighting Penn's latest initiatives for global outreach through the Perry World House, Penn Wharton China Center, and Penn Biden Center for Diplomacy and Global Engagement. 
New efforts for research and global inclusion impressed Lisa Scopa, who graduated from Wharton in 1992. It was at Penn that she met her husband, Matt Beagle, who graduated from the College in 1993. 
The highlight of Scopa's years at Penn was studying abroad in Spain. "Going to Spain that semester was the best thing I ever did. It really opened my eyes to the world," she said. "And then being able to be able to work internationally, to be able to relate to people, and to speak Spanish. I wouldn't have been able to do any of that without Penn."
Gutmann mentioned a number of building projects including the multi-year renovation and reimagining of the Penn Museum's Egyptian Galleries on one end of campus and a new college house on the other. "We have bold plans to transform every part of our campus," she said. "It will be even more beautiful and sustainable and more connected."
Frederick Steiner of the School of Design was one of three deans at the event in Boston, where he met with several architecture and landscape-architecture alumni, along with prospective students. 
Also attending the event to show the academic and research breadth of the University were J. Larry Jameson, dean of the Perelman School of Medicine; Vijay Kumar, dean of Penn Engineering; and Constantia Constantinou, new vice provost and director of Penn Libraries. 
On a final, personal note, Gutmann asked each of the three professors on the stage what was the one item that defined who they were when they were freshman. 
For Brady it was her softball mitt, as she was a Division One player. For Shenoy it was his first sweater he got for his move from his home in India to go to college in the United States. For Steiner it was her poster of rocker Axl Rose. 
The panelists' personal stories resonated with those in the audience, said Benson, the alumni club president who graduated from Penn Engineering. 
"When the president comes to town, this is when alumni feel most connected to the University and with each other," Benson said. "This is when you feel the connection align."
Click here to view a video of the Power of Penn presentation and conversation. 
Click here to view more photos. Photos by Kevin Birch.