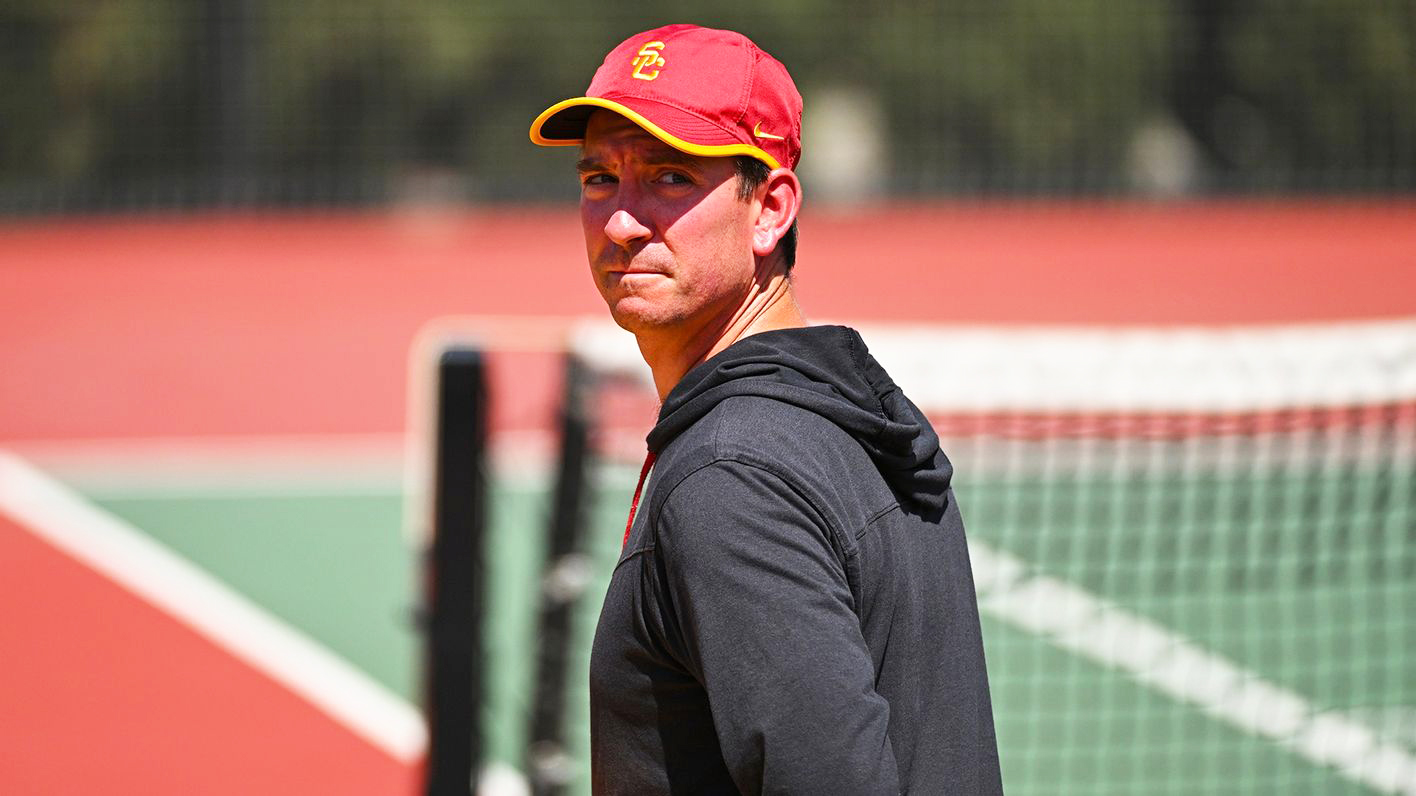 Rich Bonfiglio, who most recently served as an assistant coach at national power USC, has been named the Albert G. Molloy Head Men's Tennis Coach at Penn. Bonfiglio also has experience in the Ivy League as an assistant coach at Columbia for two seasons and has been a college coach for more than a decade.
 
"Rich rose to the top of a competitive applicant pool," says Alanna Shanahan, the T. Gibbs Kane, Jr. W'69 Director of Athletics and Recreation. "He is a proven winner at the highest level and is a strong recruiter, as evidenced by his numerous nationally ranked recruiting classes. Throughout his career, he has developed strong relationships with his student-athletes both on and off the court. Our men's tennis program is coming off one of the most successful seasons in program history, and I'm confident Rich is a great fit to lead our student-athletes moving forward."
 
"I'm extremely excited to become the head men's tennis coach at Penn," Bonfiglio says. "I would like to thank Director of Athletics Alanna Shanahan, Senior Associate Athletic Director Rudy Fuller, and the rest of Penn's athletic department& for this amazing opportunity to work at such a prestigious academic and athletic institution. I'm looking forward to building on Penn's rich tennis tradition in the Ivy League and on the national stage. Go Quakers!"
 
Bonfiglio began his tenure at USC in 2021 and helped lead the Trojans to their 15th straight NCAA Round of 16 appearance, a third straight Pac-12 Tournament championship, and a national ranking as high as No. 5. He coached the Pac-12 Singles Player of the Year in Stefan Dostanic as well as the Pac-12 Doubles Team of the Year. USC posted a 23-6 overall record and 7-1 mark in the Pac-12 in 2021-22.
 
This past summer, Bonfiglio was selected as the USTA National Collegiate Coach and traveled with the top five U.S. players as a transition to the professional level.
 
From 2019-21, Bonfiglio was an assistant coach at Columbia, where he recruited the nation's No. 2 recruiting class before leaving for USC. In his first season, Columbia was ranked as high as seventh nationally before the season was canceled due to the COVID-19 pandemic. His second season was also canceled due to the pandemic, but he assisted in recruiting the nation's fourth-best recruiting class.
Prior to Columbia, Bonfiglio was an assistant at the University of San Diego, where he helped lead the Toreros to three West Coast Conference regular-season and tournament championships from 2017-19. He mentored nine all-conference selections, including the 2019 WCC Player of the Year in Gui Osorio. San Diego reached the NCAA Round of 32 in 2018 and 2019 and was ranked 25th in the final ITA national rankings in 2019. Bonfiglio was named the ITA Southwest Region Assistant Coach of the Year in 2018.
The Bronxville, N.Y., native began his coaching career as an assistant men's and women's coach at Trinity from 2011-14, helping lead both teams to national rankings. He moved on to Ithaca as an assistant coach for the men's and women's teams for one season, with the women's team capturing the Empire 8 championship. Bonfiglio then went to Amherst from 2015-17 to become an assistant men's tennis coach, helping the team reach as high as seventh in the national rankings and recruiting the top class in Division III.