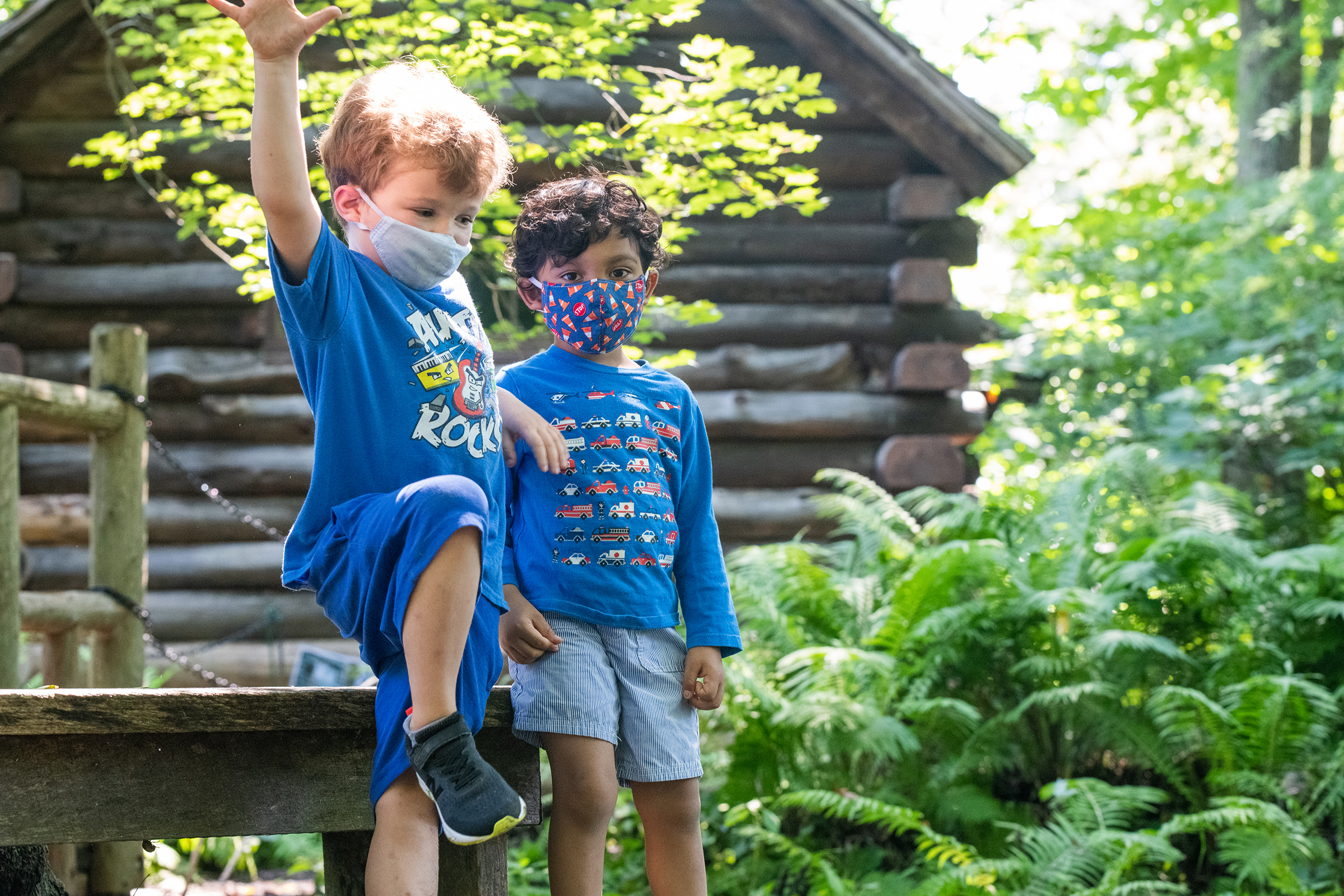 As the snow recedes and the temperatures climb, parents are thinking about summer camp.
Among many other disturbances wrought by the pandemic, many children lost the opportunity to attend camp last summer. What this summer will look like on the pandemic front is still unclear, but at Penn many are busy planning enriching activities for young people to play and learn, both online and in person.
"I think camps are so valuable for kids," says Ilana Grubin, summer camp supervisor at the Morris Arboretum, where camp registration is already full for 2021. "After a year where many kids did only remote schooling, I think people are definitely looking for something to do this summer. Parents are excited; kids are excited. Kids want to connect with other kids."
Last year's last-minute shifts
Grubin is looking forward to welcoming campers back after concerns about how groups of young people could trigger COVID-19 transmission led to many camps, including those at the Arboretum, being canceled last year. But not all had to take such drastic steps. Other programs that had been designed to be held in-person realized that they had an opportunity to switch to a virtual model, just as schooling had done.
Jamie-Lee Josselyn, director of the Summer Workshop for Young Writers at Kelly Writers House, says she had already received all the applications for the 10-day workshop last March before "everything changed. None of the applications had even a glimmer of anyone thinking of the change that was about to come," she says.
But just a few weeks later, by the time Josselyn's team had reviewed the applicants' submissions and began notifying those accepted, they were also sharing the news that the workshop would be held online for the first time. Only one student they invited to join the program declined.
While Josselyn wasn't too concerned about shifting the program's curriculum to a virtual model, she did have trepidation around building connections "to bring this group of 25 students together in a way that felt really authentic and genuine and generative." Making use of an informal and nonhierarchical pedagogical approach, a student-led GroupMe chat, evening social gatherings online, and Netflix watch parties, Josselyn says she saw a sense of community form. Last year's success has given her confidence for the upcoming summer, which will also be proceeding virtually.
"I hesitated in making that decision, and I was hoping to somehow have the program in person, but as the date got closer, and I saw peer universities making the call to do a virtual offering again, we decided to hold the program remotely," she says.
Safety in smaller numbers
Catered toward younger students, certain other programs at Penn have moved forward with in-person gatherings for the summer. The Morris Arboretum, graced with lush expanses to support outdoor exploration, allows children to spend nearly all of their days outside.
Grubin is keeping group sizes to 10-15 children, who will remain together with their counselors throughout the day. Everyone will wear masks except when eating. For inclement weather, each pod will have a separate area where they can take shelter.
"We will be following all of the Centers for Disease Control and state guidelines, and those can change so we're going to be keeping an eye on things," Grubin says.
Registration opened this week for the Penn Museum's Anthropology Camp for ages 6-13, which is following similar precautions, dividing participating campers into pods of 10-12 and enforcing mask wearing. Each week of the camp will explore a different theme, from myths and legends to ancient games. A virtual open house on April 13 will answer families' questions about the camp, for which a limited number of full and partial scholarships are available.
"Here, children discover much more than the initial basics of anthropology; they also find new friends and challenge themselves to think differently," says Allison Krisch, summer camp director. In addition, the Museum is offering online Summer Exploration Kits, available on a pay-what-you-wish basis, with different themes each month for at-home crafting, games, and experimenting.
Creating community online
Other programs, including academic enrichment activities aimed at older kids, are looking forward to another engaging summer of online programming. Budding writers may consider the Summer Workshop for Young Writers (applications are due March 7) workshop, as well as programs from the Graduate School of Education's Philadelphia Writing Project that encompass humor writing, journalism, or a virtual exploration of the city's history and landmarks through the written word.
The Philadelphia Writing Project, normally an in-person program, switched to a remote model last summer. Michael Mannix, a fifth-year doctoral student at GSE, led the weeklong humor writing program, which he began as a pilot a few years earlier as part of his dissertation.
"In humor writing, there is perhaps no greater form of feedback than seeing people react; it's a powerful thing," Mannix says. "The in-person element of that was always really valuable, and I wanted to capture it in the online summer camp as well."
To make sure the group felt connected, he encouraged campers to have their cameras on during particular activities so the group could see their peers' laughs and responses. Working with a co-counselor, he utilized video breakout groups for small group feedback, sometimes giving the students space to just be with one another. He aims to employ similar strategies this summer, with one significant change being to admit more students, after realizing larger numbers could lend the group a greater energy and allow participants more feedback on their writing.
Such silver linings to online programs are more common than one might expect, says Diane Waff, who directs the Philadelphia Writing Project. During the Project Write experience, a partnership with Independence National Historical Park, students were able to see a greater variety of sites than they might have if they were traveling there in person, including virtual trips to the Edgar Allan Poe National Historic Site, often unseen spaces at Independence Hall, and Eastern State Penitentiary.
"They were able to do the tour at Eastern State and see images of prisoners," Waff says. "They would write the back stories of the prisoners and then would go into breakout groups and share their writing."
There's still a possibility that Project Write may operate in a "hybrid" status if certain park sites open to the public by the summer, but Waff feels either way will be meaningful. "Students are getting an outlet to express their voices through these writing experiences," she says. "So many students are grappling with the difficulty of their situations during the pandemic through their writing, and creating community in that way."
Considering the possibilities
Still up in the air is whether the portfolio of Penn Athletics camps and clinics will be offered this summer, after all were canceled last year.
"In normal times we generally operate the most camps on campus," says Joe Haughey, director of business development for Penn Athletics. "About 25 or so of our variety sports do their own camps and clinics throughout the year, not just the summer, which ends up being around 125 camps."
Athletics is currently awaiting guidance from the University about whether the camps can move forward, but Haughey and colleague Kathryn Yannes are planning for a variety of outcomes. "Right now we are getting coaches to provide their dates and ensure the offerings would comply with health and safety needs, and that spaces would be available to accommodate participants comfortably and safely," Haughey says.
Yannes says that ever since last spring, she and colleauges have "dived into" health and safety planning. "I'm impressed by our teams' and groups' respect of rule enforcement and making sure everyone is doing what they're supposed to do," she says.
One potential new offering, should it be allowed, is an on-site recreation camp organized by the Campus Recreation department, geared toward ages 6-12. "It's an opportunity for staff and faculty who are on campus this summer and need an outlet for their kids to give them a chance to have fun and socialize."
Updates on Athletics offering will be available on their website.
See The Almanac for a more comprehensive list of Penn's summer camp and program offerings.