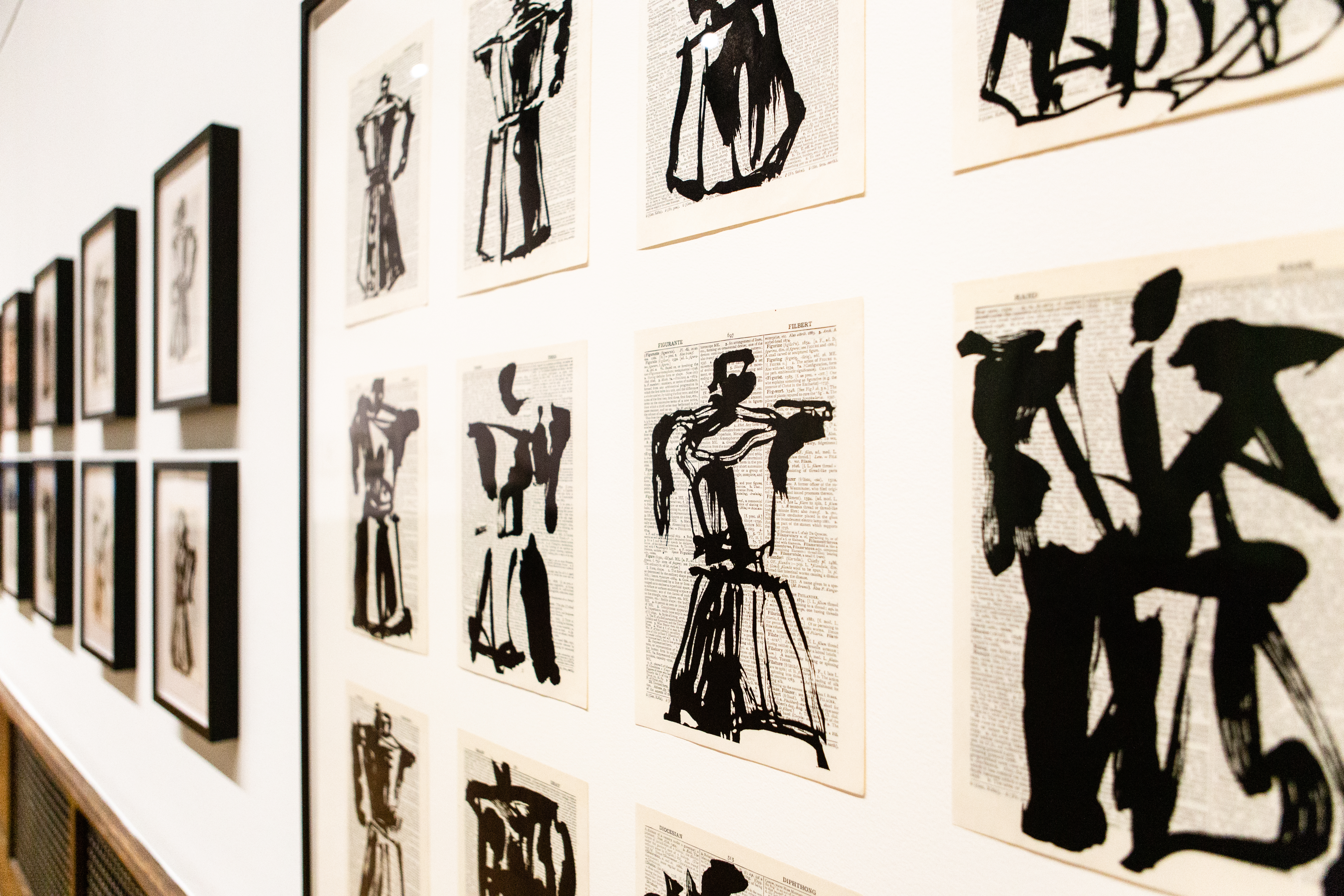 Coffeepots, printed in black ink on type-filled pages, line the white wall in the latest Arthur Ross Gallery exhibition, featuring the work of South African artist William Kentridge. 
Also on view are typewriters and birds and trees and cats and other engaging figures iconic to the artist's work. Created first in sketches with brushstrokes like calligraphy and then re-created in linocuts, the images are printed on pages from dictionaries. 
The exhibition, "William Kentridge Universal Archive," will be on display until Nov. 11. There will also be several related programs and events, including a concert on Oct. 16 by visiting South African jazz musicians in collaboration with Carol Muller, a Penn music professor. Students will be giving docent tours on the weekends. 
Lynn Marsden-Atlass, University curator and executive director of the gallery, says, "Kentridge is first and foremost a political artist who has witnessed social conditions of apartheid. His work is always about social justice and inequality. In some ways all of his work speaks to that."
Kentridge is known for his range of media, including drawings, prints, murals, sculptures, opera, theater, film, and puppetry. 
An important aspect of this exhibition is that the pieces demonstrate Kentridge's process, Marsden-Atlass says. The 58 linocuts are arranged in the gallery by subject, the objects in each series becoming more and more abstract, even morphing into another form. 
"It's very rare to see an artist's artistic process in a form that is so easily accessible for people to watch the creative process," Marsden-Atlass says. 
While walking through the gallery, she explains the process represented in this exhibition by the entire series of individual coffee pots, birds, and trees. "He usually starts with this first image more in detail and then morphing over here to a bird man, just like the coffee pot has morphed into a human figure," she says.
The sketches were created by Kentridge in 2012 while the artist was writing six Norton lectures in his Johannesburg studio to be presented at Harvard University. Videos of the lectures are on view in a corner of the gallery.
When Kentridge was blocked in the writing, he drew. "He calls them his procrastination pieces," says Marsden-Atlass, who has met the artist. 
Anita Allen, vice provost for faculty, said in her remarks at the opening reception on Sept. 7 that she had that aspect in common with Kentridge. While writing her doctoral dissertation, she, too, created linoleum cuts, of the cats who were distracting her.
"Sometimes artists from very different backgrounds are difficult to relate to, but, if you look at their work closely and allow yourself to be drawn in and reflect, you may discover that you and someone very different may have experienced a common problem," said Allen, displaying her own linoleum cut to the crowd. "I once coped with a problem in a very similar way as a great artist coped with a problem. With linoleum." 
Born to Lithuanian-Jewish parents, Kentridge belonged neither to the ruling Christian white minority nor the oppressed black majority in South Africa while growing up in Johannesburg during apartheid. 
"I am interested in a political art, that is to say an art of ambiguity, contradiction, uncomplicated gestures, and uncertain endings," reads a Kentridge quote at the beginning of the traveling exhibition, which was organized by the Gund Gallery of Kenyon College.
Allen said she did not expect to connect so deeply with work by a white South African artist. 
"I enjoy art because it makes me think harder and deeper about the world, including myself in the world," Allen said. "Art encourages memory and discovery."
Photos by Dominic Mercier.