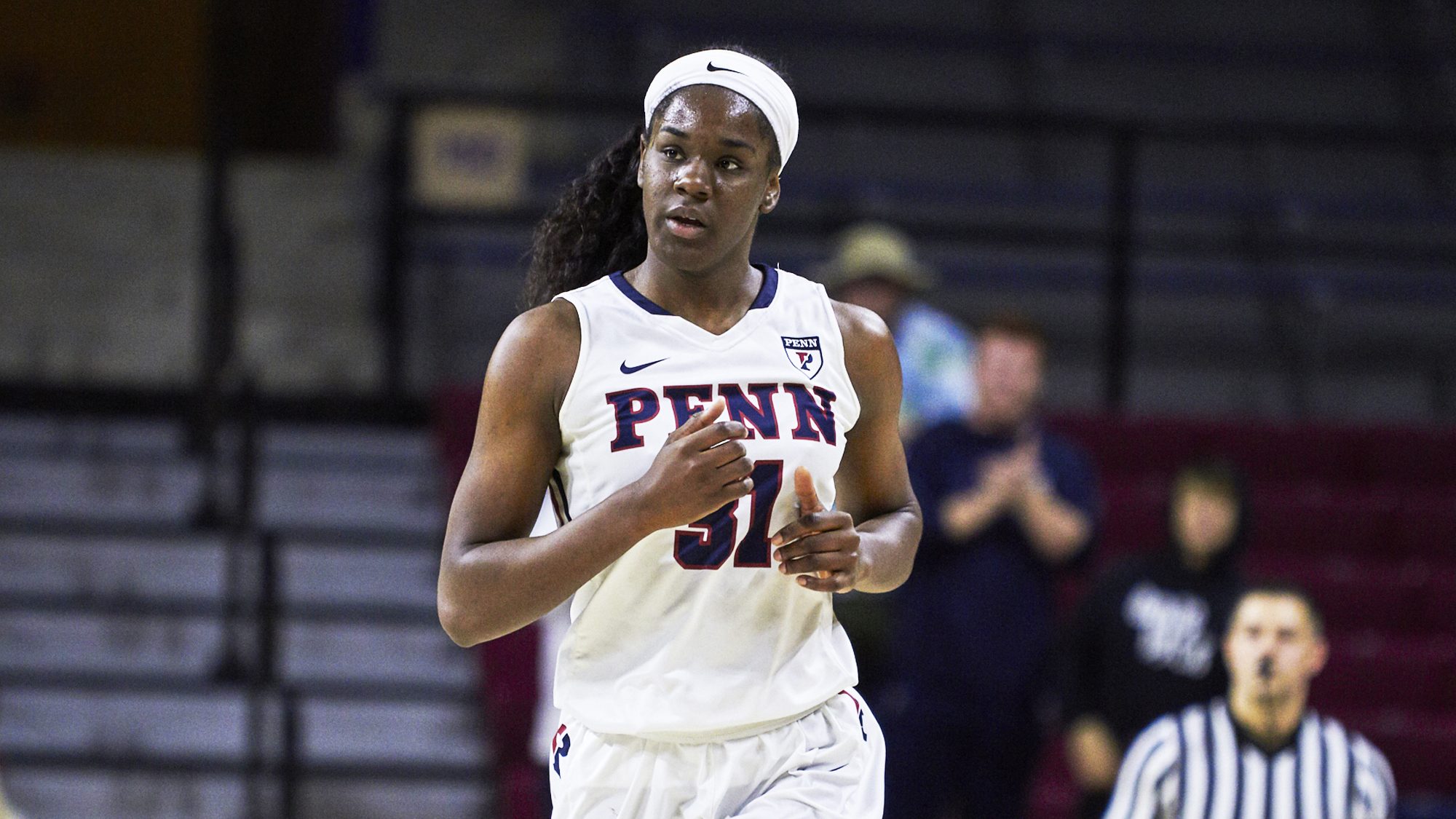 Sophomore center Eleah Parker had herself a day on Friday, Feb. 1, putting up 26 points, 12 rebounds, and six blocks in Penn's 59-46 win over Cornell in Ithaca, N.Y. Her points and block totals were both career highs, and she collected her 13th double-double. 
The score was 12-12 after the first quarter. The Quakers outscored the Big Red 15-6 in the second quarter—holding them scoreless in the final five minutes of the period—and 21-11 in the third to pull away.
Junior guard Phoebe Sterba added 11 points and senior forward Princess Aghayere had 10. Senior guard Ashley Russell stuffed another stat sheet with seven points, four rebounds, five assists, and five steals. 
In New York City on Saturday, Feb. 2, four Quakers scored in double figures in Penn's 72-60 defeat of Columbia. The Red & Blue raced out to a 19-7 lead in the first quarter behind three pointers from Aghayere, Russell, and junior guard Kendall Grasela. Using a 9-0 run and a three-point barrage of their own, the Lions outscored the Quakers 21-12 in the second period. At halftime, the Quakers were ahead 31-28.
Three-pointers from Sterba and Russell on back-to-back possessions pushed the Red & Blue's lead to 41-32 in the third, but Columbia showed heart. They cut the lead to four with 5:40 left in the third, and tied the game at 46 a piece with 52 seconds remaining in the period. A late layup by Aghayere gave Penn a 48-46 leading entering the fourth.
Columbia opened the final period with a three-pointer, which gave them a 49-48 advantage. Sterba answered from behind the arc, making the score 51-49. She drained another three around the seven-minute mark, which put the Quakers up 58-54.
The Lions made it a two-point, 60-58 contest with 3:29 remaining. Parker hit a jump to extend the lead to four, followed by a bucket in the paint by Aghayere. With two minutes left, Penn was leading 64-58. Successful shooting from the charity stripe by Parker, sophomore guard Michae Jones, and Russell enabled the Quakers to prevail.
Russell had a team-high 16 points and added five rebounds, seven assists, and five steals. Parker contributed 13 points, eight rebounds, and three blocks. Sterba was 4-11 from three-point range and had 12 points and five rebounds. Aghayere chipped in 11 points and eight rebounds.
The 13-3 Quakers have won 15 straight games against Columbia, and are 3-0 in the Ivy League headed into Friday's battle with Brown at the Palestra.