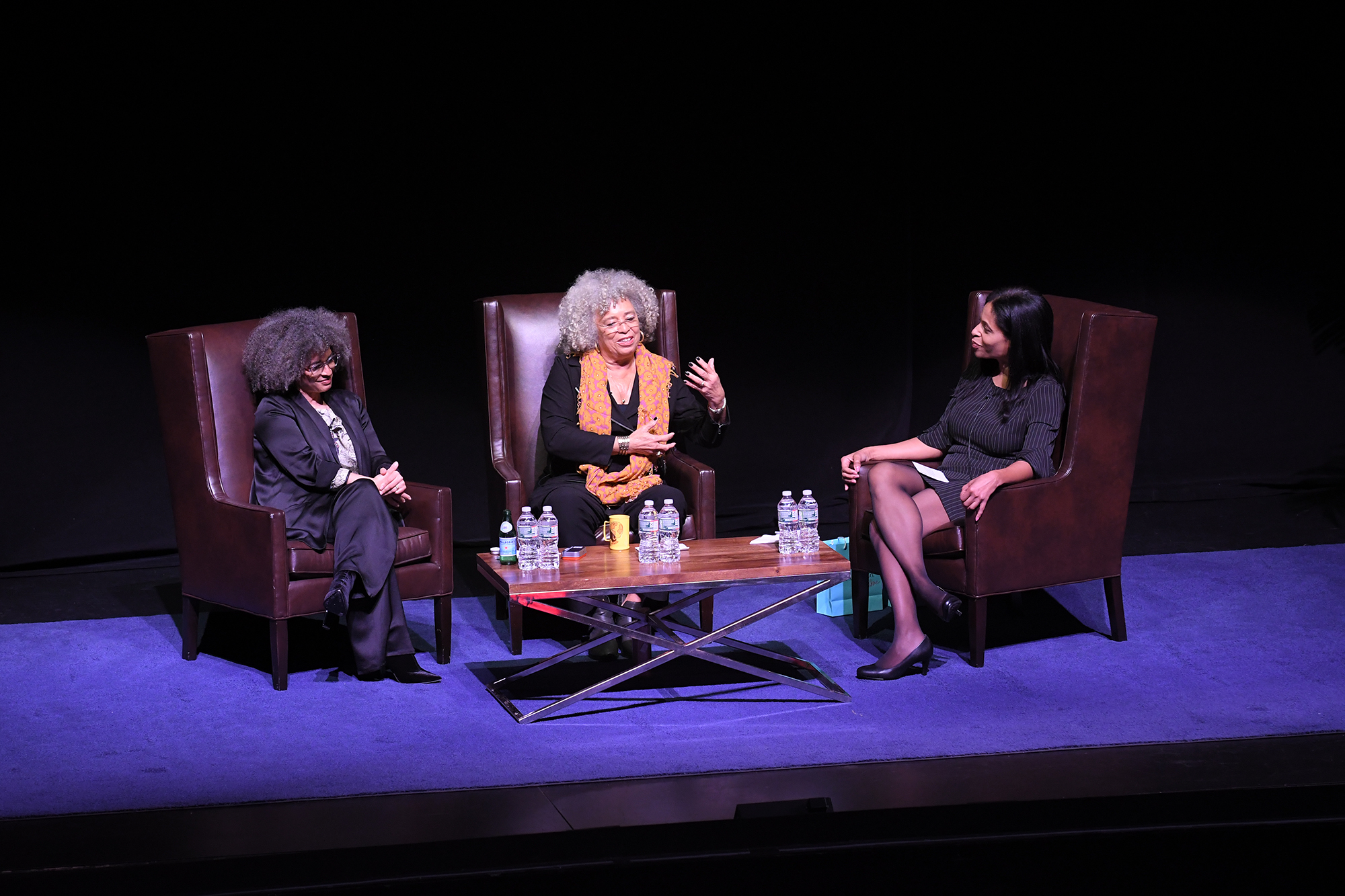 When Nina Simone visited Angela Davis in jail in 1971, she brought with her a red balloon. Davis, who was acquitted in 1972 on charges of aggravated kidnapping and first degree murder, was deeply touched by Simone's visit and kept the balloon. Davis says that at the time, Simone expressed concern that she did not know enough about social justice and felt overwhelmed and intimidated by all the books in Davis' cell. 
"Your music," Davis responded, "does more to persuade people to struggle than any book can ever do." It is this intersectionality, this connectivity, and this struggle that Angela Davis and Gina Dent discussed with Margo Natalie Crawford during the Jan. 15 Reverend Dr. Martin Luther King, Jr. Lecture in Social Justice. The discussion, which kicked off the 2020 Martin Luther King, Jr. Commemorative Symposium, touched on feminism, trans issues, prison abolition, and the history of social justice movements. "Black people have been struggling for centuries and refuse to give up," Davis said.
The guest speakers were introduced by President Amy Gutmann, who described the evening as "a welcome chance to join together in spirit and practice, to make space for sharing and understanding this important world that is our community and that we need to engage with against social injustice." 
Both Davis and Dent echoed Gutmann in emphasizing King's words from his "Letter from a Birmingham Jail"—"Injustice anywhere is a threat to justice everywhere." Much of their recent work has focused on the prison abolition movement, which holds significance to Davis not only because of her personal history and the history of black people in the United States but also because of the ways in which capitalism, nationalism, and misogyny exert penal influence throughout the world. What would it mean, Davis asked, "to live in a world that did not require such violent means as a punitive solution to problems of insecurity? What would it mean to live in a world without prisons?"
Davis urged the audience to think about "how we have all been deeply affected by ideologies of the state, and how in our very interactions with one another we often carry out the work of the state. We often respond with the same kind of punitive impulse that is incorporated into the so-called criminal justice system," she said. 
Davis and Dent have travelled extensively, visiting prisons from Palestine to Argentina—anywhere they could gain access. In Palestine as well as South Africa, there is such pervasive use of prison for political purposes that it is an accepted and destigmatized aspect of life in those countries, Davis said. More complicated, however, is what happened in South Africa when apartheid ended in April 1994. Rather than having a decline in prison usage as many assumed, cells continued to fill. "What we've observed from all of our travels and from U.S. history," Davis said, "is that the more prisons you build, the more you'll fill them." 
Prisons are part of a colonial legacy and seen as a humane alternative to corporal punishment, Davis said. Part of her and Dent's work is to counter the ways in which the U.S. is responsible for this paradigm. In many parts of the global south, countries are building prisons in order to keep up with "the so-called developed nations," Dent said. According to Davis, "an abolitionist stance allows us to declare a greater vision, allows us to imagine different modes of justice and ways of addressing power but also calls upon us to think more deeply about the reason for the fact that the U.S. incarcerates more people than any other country in the world." Both scholars object to the idea of prison reform, arguing that "reforms have served to strengthen and render more permanent the institution of the prison," said Davis.
If King were alive today, he would be involved in the "the campaign to end the prison-industrial complex," Davis said. She noted that towards the end of his life, King saw how issues affecting black people in America were deeply connected to what he characterized as an unjust and unwinnable war in Vietnam. "If indeed that justice is indivisible," Davis said, "it means that the abolition movement…cannot simply occur in one country." She said our understanding of social justice encompasses a much broader swath of issues than it did in the 1960s. "Many of us," Davis said, "assumed that it was possible to eliminate racism without being attentive to issues of class exploitation, war, misogyny. ... And now we can no longer afford to do that."
Davis reminisced that the Civil Rights Movement was "a larger movement." She said she has a hard time referring to the Civil Rights Movement by that name, because she recalls it being called the Freedom Movement, adding that the issues addressed, while including civil rights, were much broader. "One of these days," she said, "we'll correct that." 
"Maybe today," Crawford responded. 
During a Q&A session, students wanted to know how the Black Lives Matter movement connects to and differs from previous movements. "We should really be thankful to all of those who came before us for creating new terrains of struggle," said Davis. "Just as Black Lives Matter created yet another terrain, there will be more terrains in the future. And I think it helps us to imagine ourselves on a continuum that extends centuries in the past and includes the Haitian Revolution, for example." 
Many of the leaders of Black Lives Matter had histories of organizing around domestic labor, immigration, and immigrants' rights, Dent said, calling this "a really deep union of issues." She urged the audience to think in an intersectional way beyond the paradigm of individual achievement "so that we're not only focusing on one person and we're not only targeting one person. Everyone is responsible and can contribute." 
Davis added that black movements have always been multicultural. "This is why," she said, "When you say 'black lives matter,' you're not excluding anyone. As a matter of fact, what you're saying is that if ever black lives were to truly matter, then all lives would matter."
The endeavor to have Martin Luther King Jr. Day proclaimed as a national holiday, said Davis, was a struggle itself. "Whole states were boycotted as a result," she said. "The Super Bowl was moved ... Stevie wrote his amazing song that we all know and love. That's our birthday song! So, the struggle itself is an integral part of the struggle for black freedom. But Dr. King stands in for all of those whose names we do not often pronounce or those whose names we do not know." She also acknowledged the black female domestic workers that were the backbone of the Civil Rights Movement. It was these women, Davis said, who made the sacrifices and made the success of the 1955 Montgomery bus boycott possible. 
Davis and Dent concluded the evening with a question from the audience on voting rights. "Interestingly enough," Davis said, "black women are the most strategic voters." She talked about the coming presidential election and advocated for engagement, saying, "We are all going to have to drop everything. That is about our survival. That is about our future capacity to engage in struggles for social justice." Dent agreed, and spoke about the need to be considerate of one another. "In this political moment, we have to be more generous with each other," she said. "Make your action items ones that you can accomplish."
Crawford presented Davis and Dent with the Martin Luther King Jr. Lecture in Social Justice Award "for your tireless and unyielding commitment to social justice." Dent said she that although she does not consider her life to be one of sacrifice, she tries to recharge, recalling that many black female scholars in the generation above her passed before their time. "The question is," she said, "how do we arrive at a collective notion of self-care?" Dent rejected the idea of "freeing yourself from struggle. ... There's always going to be some horizon. And for me, that's part of self-care. Being aware that we are interconnected."
For her part, Davis practices mindful eating, trying to be attentive to the practices that bring food to table. "If we think deeply about it," she said, "we recognize the violence that it's done to the earth, the violence that's done to animals." One of the great future social justice movements will be centered around food, Davis said, "and that helps us feel connected to efforts to save our planet and efforts to solve the climate issue."
Davis also incorporates music into her self-care. "For me, music is being attentive to the needs of the spirit," she said. This includes, of course, Nina Simone. 
The 19th annual MLK Lecture in Social Justice was sponsored by the Center for Africana Studies and the Annenberg School for Communication and co-sponsored by the Office of the Provost and the Black Alumni Society.
Images by Ellis Photography, Inc.